An Officer and a Gentleman: Col. ML Abubakar, ADC to President Muhammadu Buhari (2015-2021)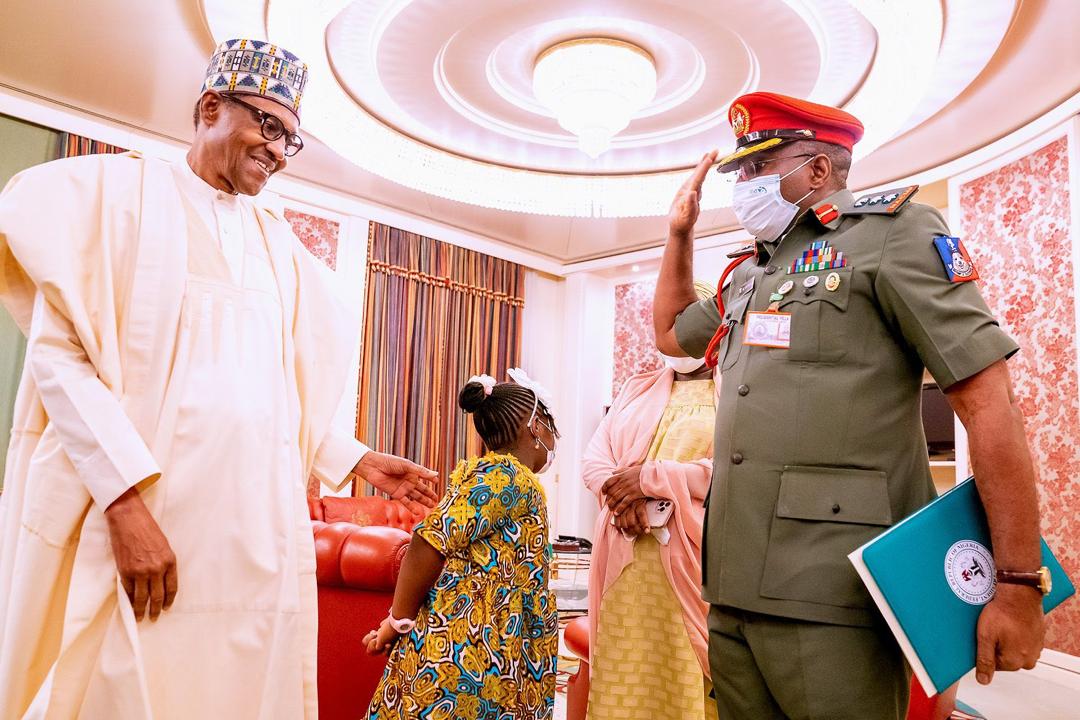 By Aliyu Abdullah
Col. Mohammed Lawal Abubakar, Alias Alegho, Alias RSM ChainCrossing had today completed his assignment as Aide De Camp (ADC) to President Muhammadu Buhari, he will be proceeding to a Defence College for a course that will enable him to hang the rank of a Brigadier General, a one star General, while Lt. Col. YM Dodo will replace him.
The outgoing ADC has always been a natural born leader, at the Nigerian Military Scool (NMS) Zaria, he was a boy Regimental Sergent Major (RSM), a position equivalent to that of a head boy in civilian secondary schools. While at the Nigerian Defence Academy (NDA), he was also an RSM of Dalet Battalion, he was a member of 44th Regular Course where he distinguished himself and led the battalion to championship, before his reign as RSM, Dalet Battalion suffered a drought of winning competitions in the Academy.
The bragging rights that comes with winning the annual year long competitions is enough morale booster for the champions and surely enough to demoralize the three other battalions. Champions get the privilege of wearing the Academy's colors on their pad that houses the officer cadets ranks, while the rest of the battalions wears their original colors. The battalions were made up of Mogadishu with a red color, Abyssinia a green color, Burma a pink color and Dalet, previously wears a brown color before my time and dark blue in my time. Each battalion is atleast known for being the best in one competition or the other, there are arrays of varied competitions throughout each academic year, from interior economy which is basically keeping your battalion, environment, dresses clean, the nightmare of many officer cadets, I do not particularly fancy this competition, to drill parades, individual games competitions such as boxing, football, basketball, volley ball and the rest to a final competition which usually comprises of a 15 kilometers cross country marathon and a complete obstacle crossing. Now, this last leg of the annual competition is the most difficult, important and has the highest marks, any battalion that completed it first with all the members being accounted for will win the annual year long competition and become the champions.
During the time of Cadet RSM ML Abubakar as he then was, he was a smart and strategic leader, he is someone that understood military strategy, he practically was born into the military and grew from barracks to being a soldier boy and an officer cadet on his way to becoming an officer, there was virtually nothing he had not seen or known at that time, therefore as usual, before each competition, all cadets will rehearse each challenge/competition as if our lives depended on it literally, and true in many cases, our lives actually do depends on it as your career progression also.
It was during one of these rehearsals, that ML Abubakar introduced the idea of crossing the final obstacle, climbing up an almost 12 feet vertical rope and a horizontal rope in chain (meaning more than one/two persons at a time on each of the rope), the usual way before for all cadets in the history of the Academy was one person will climb up first before the next person, bearing in mind that cadets are usually fully kitted in a combat ready attire, camouflage with steel helmet, backpack containing your mesin and water bottle and to top it, with your FN rifle. Writing this now sounds easier as I am sure this to the reader also, but it was not that easy especially when I recalled that few years before Abubkar became the Cadet RSM, there was another cadet named A.A Abubakar of 47th RC from Mogadishu Battalion who fell down from the horizontal rope and crashed his spinal cord and later died from the injury even after receiving the best medical care the military could afford in countries such as Germany, May God Almighty rest his soul. So, this is to underscore the difficulties of crossing those ropes after a cross country marathon of about 15 kilometers, crossing some other obstacles and you get to the ropes the final stage.
Strategic Col. ML Abubakar in total defiance of the associated difficulties with this competition and in rare acts of courage and heroism, made us to practice crossing the ropes atleast three on each rope at a time, we did this several times to get it right under his instructions, and we carefully guarded this secret from the other battalions to avoid copying our tactics. This strategy was what led us (Dalet Battalion), a battalion with a drought of winning competitions to make an ultimate comeback and became the champions as the other three battalions watched with disbelief and amazement as we crossed those ropes in chain succession like ants travels.
So, it was not surprising when in 2015 after General Muhammadu Buhari as he then was became President and requested the Military Command to submit three names for consideration as ADC that ML Abubakar's name was on the short list, and it was an easy decision for the President I am sure, because he simply picked the best according to their entire military records. Later on, whenever the opposition elements and the critics of this Administration wanted to make a case of nepotism against this President, they always includes Col. ML Abubakar as part of the nepotistic appointments of President Buhari, they never cared to find who whe was, whether he was the best or not, but his name, state of origin and even where his wife comes from were sufficient for the opposition and wailing wailers to label him a nepotistic appointment, they surely did not about his bravery or excellent service record.
Col. Abubkar after passing out from the Nigerian Defence Academy went on to become a Military Police officer, served in many capacities and many places, I remember visiting him at NDA Kaduna where he was stationed, and in Arakan Barracks in Apapa, Lagos and I followed his academic pursuit when he did his masters degree in law and diplomacy in Ahmadu Bello University Zaria, where I once met him as he was about to step into the theatre in Samaru, it was a chance meeting. He fought wars, ensured discipline within the military, what a distinguished military career in just his 45 years on earth and he is now on his way to chart a new course for his career.
RSM Chaincrossing, as I jokingly still call him is outside his military career, a very humble, caring, kind and peoples person, his office although very close to the President's office is a sort of a meeting point for most frequent visitors of the Villa and even some of us that work there, we will usually gather there on fridays and eat lunch with him, his doors were always open to all, sometimes I wonder if we will not get him into trouble, but he never mind nor complained. He is loyal to the country and to his Principal, he protected his principal everyday for the last five years and nine months almost six years, he had no other job except being by the President's side, when the President was sick, he was with him all throughout, in office and at home, he was always at the beck and call of the President, what an uncommon service.
I used to wonder if I was in his shoes whether I could do the same thing Col. Abubakar did for these 6 years past, the jury is still out there on this. I do not know a single person that do not get along with him in that Villa. He treated everyone around the President and those who came across him with the respect and dignity they deserved, and he is the longest serving Aide De Camp of any President in Nigeria.
We can only wish him success as he completed his assignment with his head held high, never found wanting for once by his boss or/and by a grateful nation. Go and excel, my dear RSM Chaincrossing, we will meet again when you hang that one star General, May the Almighty God protect and guide you always.
Aliyu Abdullah is a Special Assistant to the President on Media & Publicity