BMO to Saraki: Only the Guilty are Afraid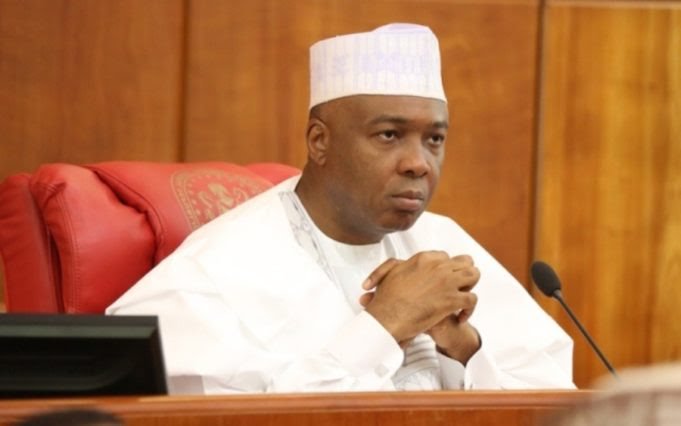 Outgoing Senate President Bukola Saraki has nothing to fear about a forensic inquiry into his financial activities as a two-term Governor of Kwara State and the head of the National Assembly if he has a clear conscience, the Buhari Media Organization (BMO) has said.
This is against the backdrop of claims by Saraki's media handlers, and the Peoples Democratic Party (PDP), that the Economic and Financial Crimes Commission (EFCC) is embarking on a 'witch-hunt laced with malicious and partisan motives aimed at settling scores'
BMO said in a statement signed by its Chairman Niyi Akinsiju and Secretary Cassidy Madueke that there is no law barring the Commission from investigating Saraki or any public official after their tenure in office.
"Is it not surprising that a Senate President that is always at the forefront of efforts to investigate government agencies now appears to be scared to be probed after his term in office? How else can anyone describe a situation where Saraki would even go to the press over what is clearly a routine initiative by the anti-graft agency to seek clarification from Kwara State government officials on his tenure even if he appeared to have been out of that office for eight years
"He it was who also informed Nigerians through his media handlers that the EFCC had been looking into the books of the National Assembly and asking questions about contracts awarded from 2015 till date. According to Saraki's media office, the anti-graft agency had specifically demanded certified true copies of cash books, payment vouchers, contract award letters, evidence of contract bidding as well as agreements and certificates of contract completion.
"Good enough, he did not say what the Commission is doing is wrong, Saraki only wondered why Speaker Yakubu Dogara was not targeted since he is also the head of a legislative chamber. But he also knows that as Senate President he is the head of the federal legislature and the buck stops at his table.
"And as for his claims that none of his predecessors got what he described as 'exclusive' treatment by investigators in or out of office, he needs to remember that no previous Presidents has shown a keener interest in the fight against corruption than President Buhari.
"Saraki also should not forget that a former Senate President was docked in the Obasanjo years, so he should stop giving Nigerians the impression that he is a victim of political persecution".
BMO added that if indeed Saraki considers himself a corrupt-free element, then he has more to gain from a forensic inquest which the anti-graft agency has since said in its response that it was carrying out.
The group said: "For a politician who once described himself as one of the most investigated since 1999, he should be glad to hear that the EFCC is seeking to carry out a forensic investigation of the financial activities of the National Assembly under his leadership. It would be an opportunity to prove to his 'detractors' that he is indeed one of the cleanest, if not the cleanest politician in Nigeria's recent political history.
"Saraki has always been quick to draw attention to the historic motion he raised as a first time senator that led to multiple investigations into the fuel subsidy regime of the Jonathan administration, but he also conveniently left out how a forensic examination unearthed the truth of what was later discovered to be one big scam. A number of individuals were also cleared of wrongdoing.
"So EFCC's intention of carrying out a forensic inquest into the books of the National Assembly is a good opportunity for the outgoing Senate President to prove his claims that he is indeed a corrupt-free politician that followed due process in all his dealings as head of the third arm of government.
"BMO sees the investigation as a good opportunity to test Saraki's claims that there was no case of bribery scandal or misappropriation in the procurement process under his watch as Senate President.
"Or does he expect Nigerians and the anti-graft agency to take his words at face value and not subject his tenure in office to scrutiny by a body that is backed by law to ask the type of questions the operatives are seeking answers to?"
The group urged the outgoing Senate President to heed the same piece of advice he is known to always give heads of government agencies whenever they are under investigations by the Senate, adding that this is the best option for him rather than seeking to whip up unnecessary public sentiment by externalizing a routine exercise.