Festus Keyamo: The Ever Rising Star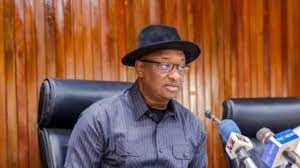 By Dapo Okubanjo
It is not always the case in Nigeria for an individual to be considered worthy of federal cabinet positions in two successive administrations.
But that is exactly the story of Festus Egwarewa Adeniyi Keyamo, a social crusader in politics who held two cabinet positions at different times in the Muhammadu Buhari years and is now a member of the cabinet of President Bola Tinubu.
He has transited from being a Minister of State in the Ministry of Niger Delta Affairs and later at the Ministry of Labour and Employment in four years to a substantive Minister of Aviation with the added responsibility of overseeing the newly created Aerospace Development arm of the ministry.
Here is a man who had been as constant as the Northern star as a social and legal activist with a rich history of activism which dates back to his early years as a lawyer in the chambers of the late legal luminary Chief Gani Fawehinmi at the peak of pro-democracy agitation over the annulment of the June 12 1993 election by the then military administration.
Within one year of joining arguably the most activist law firm of the 1990s, young Festus became one of the lighting rods of legal activism and had an excellent performance in many landmark cases that earned him the award of best lawyer in the Gani Fawehinmi Chambers in March 1994.
But today, his credentials are being questioned by some younger elements because of his decision to take up the position of Director of Strategic Communications/Spokesman for the second term campaign of President Buhari and the All Progressives Congress (APC) in 2019 as well as a similar role for the Tinubu/ Shettima Presidential Campaign Council
What many find amusing is the manner opposition elements especially the younger ones have opted to play politics by downplaying the pedigree of a man, who by a dint of hardwork, emerged as Chief Fawehinmi's right hand man in legal activism before venturing into the political arena.
While the new minister may have decided to take the misleading narrative in his strides, it won't be out of place to inform Keyamo's traducers that sometime in 1997, he formed a group known as Youth Against Misguided Youths as part of efforts to direct thousands of youths against the self-succession bid of the late General Sani Abacha being championed by some youths. This is instructive,if not ironic!
So this is a man with a history and is also part of the nation's pro-democracy history. He understands what it means to fight for what is right and has been audacious in his face-off with the authorities long before many of those calling him names came on the scene.
His crusade for justice, human rights and fight against corruption has led to several run-ins with security agencies, arrests and court charges which were all later dismissed.
Little wonder many Nigerians who had followed Keyamo's trajectory since at least 1994 would have been shocked to see millennials been egged on to call his legal prowess to question.
But let me cite just one example of how Festus Keyamo's legal activism altered governance in the country.
From the Obasanjo years to the Jonathan era, it was normal for Presidents to unilaterally name Service Chiefs who then assume duty immediately but Keyamo felt something was amiss and took the matter before a Federal High Court in 2008.
It however took 5 years for the court to set aside the Armed Forces Modification Order of 2008 (purportedly made under Section 315 [2) of the Constitution) and ruled that the President must seek the confirmation of the two chambers of the National Assembly for newly appointed Service Chiefs.
It is very much likely that online trolls who are encouraged to question Keyamo's legal prowess have no clue about this immense contribution to governance in Nigeria.
Still in his fifties, he is in his thirtieth year of active legal practice, twenty eight (28) of which have been spent running his own law firm, which has three offices in Lagos, Abuja and Warri as well as liaison offices in many states with over 23 lawyers and more than 30 para-legal staff.
So in local parlance, he effectively has another address where his crusade for social justice continues to gather steam inspite of his foray into public office in the last few years.
Without any notable 'godfather', he has risen from the streets of a small town in Delta State and literally lifted himself by his bootlaces to become a Senior Advocate of Nigeria, a Commander of the Order of the Niger, an International Arbitrator and now a two-term Minister of the Federal Republic of Nigeria.
He has achieved all these by sheer grit, dint of hardwork and an uncommon doggedness not found amongst his peers.
Now having cut his teeth in previous cabinet positions at a lower level, Festus Keyamo is set to prove that he can excel on a bigger stage and only a few are bigger than the cabinet role President Tinubu has thrust on him.
Bet against him failing at your own peril.
Dapo Okubanjo, a journalist and public affairs analyst writes from Abuja. He can be reached via dokubanjo@yahoo.co.uk.