Over 10,000 Persons Employed and Working on the FHA sites – Fashola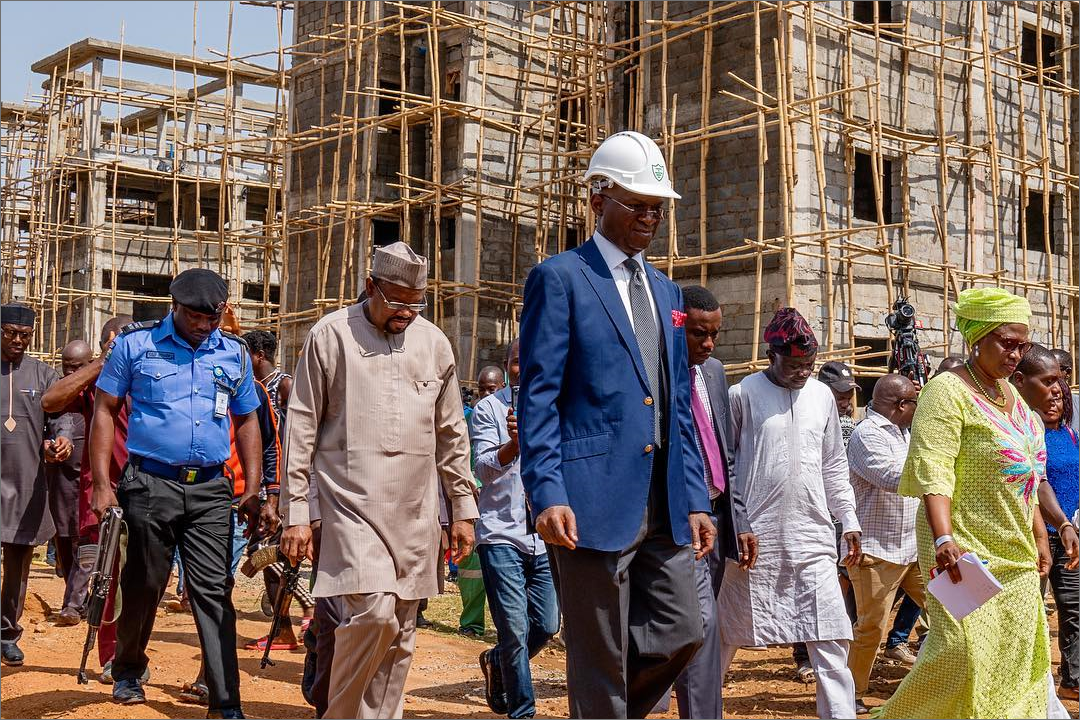 Fashola restates FG's commitment to housing development as construction ecosystem of employment, economic prosperity
The Minister of Power, Works and Housing, Mr. Babatunde Fashola SAN, Monday undertook an inspection tour of three Housing projects in Gwagwalada and Zuba in the Federal Capital Territory, restating the commitment of the Federal Government to Housing as the construction ecosystem for mass employment and economic prosperity in the country.
The Minister, who visited the Federal Mortgage Bank of Nigeria (FMBN) Ministerial Pilot Housing Scheme and National Housing Programme in Gwagwalada as well as the Federal Housing Authority (FHA) Residential Layouts in Zuba (Abuja Mass Housing Scheme, Zuba), disclosed Federal Government's plan to expand the National Housing Fund (NHF) to include people in the informal sector who wish to save money and acquire their own homes.
Interacting with newsmen after the inspection of the three sites, Fashola said, "One of the things we are planning to do is to see how we can expand the NHF to include people who do not work in government but who earn a living, such as traders, carpenters, transporters and others like that who want to save money so that they can use it to acquire housing units for themselves and their families", he said.
Fashola said one other way government would ensure that low income earners benefit in the current Housing Schemes was the introduction of "Rent-To-Own Scheme" which, according to him, is targeted first at low income earners, reiterating that affordability was based on the mortgage system being put in place by government.
"Affordability", he said, "is not only based on how much you pay, it is also how you pay. We expect that those who will take up these houses will have mortgage finance", adding, "If you have mortgage finance from Federal Mortgage Bank and you are working for the next 20 years, N10 Million will be affordable for you if you pay monthly deductions over your career and the house is already yours because you contribute".
The Minister, who noted that government has also reduced equity contribution to the Fund to make it easier for the low income to participate, added, "But if you put your N10 Million in your pocket and say you will go and buy your own house off the shelf, even I would find it difficult to assemble such money. So affordability is not just how much you pay, it is also how you pay".
"We have reduced the equity contribution of that mortgage system. Quite aside that, we are also looking at Rent-To-Own so that if you can't buy and you can pay mortgage you can rent and start to contribute until the day you qualify to use mortgage", he said.
Pointing out that the three sites represent the different ways government was addressing housing development in the country, Fashola also explained that the Federal Mortgage Bank Housing Development site was one of the Estate Development financed loans, a different concept from both the National Housing Programme and the FHA Housing project, adding that the Bank not only lends money to people who seek to acquire homes but also lends money to developers to build.
He said the site has produced a total of 218 single dwelling apartments comprising 3,2 and 1 bedroom apartments adding that 70 of the houses have been subscribed under the National Housing Fund "which means that people have been granted mortgage loans to acquire them while the Bank wants to use the balance of 148 to experiment on the Rent-to-Own-Scheme for people who cannot afford mortgages and want to pay rent".
Speaking on the FHA Abuja Mass Housing project at Zuba, Fashola, who said the Authority has not compromised on quality, pointed out that the project was the first set of buildings that the Authority has commenced under the present dispensation, assuring that the ongoing projects would meet global minimum competitive housing standards for pricing when they are finished.
"They are not luxury apartments as you can see; they are mass housing projects, 764 of them, 2 and 1 bedroom flats", the Minister said, adding that the aim of government was to get what would fit into the pocket of the ordinary man, who, according to him, "President Buhari and the Nigerian government are very determined to reach".
He declared, "It will meet those standards of safety; It will meet those standards of protection from water, wind and flooding. It will be efficient but it is not luxury. You can now create your own luxury as you furnish, but it will meet the global minimum competitive standards for public Housing in terms of quality and in terms of finishing".
"It is taking wider dimensions now how we are addressing housing development. We have been to the Federal Mortgage Bank Housing, 218 units, we have been to the Ministry of Power, Works and Housing National Housing Programme site, three blocks of condominium and now we are at the FHA Mass Housing site with 764 houses. We are all over the country", he said.
Fashola expressed satisfaction at the quality of work at the site as well as the employment opportunities it has provided adding, "I met some carpenters who were helping to prepare the formwork for houses on this site and they said they didn't have work; they were roadside carpenters before but the site provided opportunity for them to get work which is what government wants to achieve to use housing to stimulate employment".
In terms of stimulating employment, Fashola said the report available to him showed that the FHA Mass Housing site alone has employed 10,000 persons including artisans, builders, welders, suppliers and so on adding that there is assurance that employment would still continue as the houses reach the fitting and painting stages. "There is still a lot of work to be done", he said.
The Minister explained that the type of buildings at the National Housing Programme site are the condominium variety different from the bungalows that most Nigerians are used to and expressed delight that many people have been afforded opportunity to work at different levels including the supply of building materials; granite, cement, laterite, water and so on adding, "This is the construction ecosystem that we want to see across the country".
On the progress of work on the National Housing Programme in the other states of the Federation, Fashola, who said a large number of the buildings has been finished, pointed out that the report he got from an office meeting held just before the inspection revealed that most of the buildings have been completed, especially the bungalows, adding, however, that because of the type of infrastructure that is needed; the heavy mortar, concrete castings and so on, as well as the payment gaps, some of the condominium types would still take some time to finish.
The Minister explained further, "We want to be sure that the decks are properly put in place before you put another floor. So it is challenging our builders but by the by some of the buildings are nearing completion", adding that what is being dealt with at present was the last mile issues – internal road works, mechanical and electrical works, supply of water and those types of issues. "Many of the buildings are essentially finished; so what you have now are the last finishing before they are allocated", he said.
In interviews with workers and other support staff at the FHA Mass Housing site, a worker, Engr. Kunle, expressed joy over the project saying it has helped a lot of unemployed people to return to work and help their families adding that those who had no jobs before such as masons, carpenters, iron benders etc, were now busy doing something and earning their living.
Jacob Danladi, a security man working with one of the contractors at the site, told newsmen, "We appreciate this government. I am very happy with the government over this project. I was employed last year; I want the project to continue because it is helping a lot of people".
Another artisan at the site who gave his name as Peter, a Tiler, expressed delight that he now has a job to help himself and his family adding that government should not stop the project "because it is helping us". He prayed for the progress of the government to continue to embark on such people-oriented projects as "it helps a lot of families to put food on their tables.
Also speaking to newsmen at the site, Rosemary, a Food vendor, described the project as people-oriented in terms of the opportunities it has afforded people to get jobs. She told newsmen, "This project is very nice, everybody is working; I am doing business, selling food here to help workers. I make money to take care of my children. I am happy with the project going on here. God has already blessed this government. I only pray that they continue because they are helping me in my business".
Earlier, Fashola, had halted construction work at the National Housing Programme site and ordered a shutdown of the site over an issue with the Federal Capital Development Authority (FCDA) explaining that though the Team Leader at the site reported that the issues had been resolved, it would amount to going against the law to reopen the site without the FCDA removing its restriction signs and without official documents showing that the issues have been resolved.
He told a team of journalists who accompanied him on the tour, "They (FCDA) were not here when I first came here which was last year. I was told there was a development at the Federal Capital Development Authority. My Staff told me it has been resolved. I believe my staff but I also respect the law that says if there is a development in the place work should stop until it is fixed".
"I am not going in there; and I have also asked the head of the team, Mrs. Alozie, to stop construction work immediately until these restrictions are removed and I see documents to that effect. This is one of the many ways that I think that we can begin to take life seriously and our laws seriously. This is a government and we must first show respect for the laws that we make so that citizens will understand that by our examples we mean what we say", the Minister said.
The Minister was accompanied on the inspection tour by Director, Public Buildings and Housing Development, Mr. Dickson Onoja, Director Public Private Partnership, Mrs. Eucharia Alozie, Director Press, Mr. Theodore Ogeziachi, Special Adviser Housing, Mr. Abiodun Oki, and Special Adviser, Special Duties, Mrs. Morayo Allimi, among others.The Minister was received at the FHA Housing Scheme site by its Managing Director, Professor Mohammed Al-Amin.