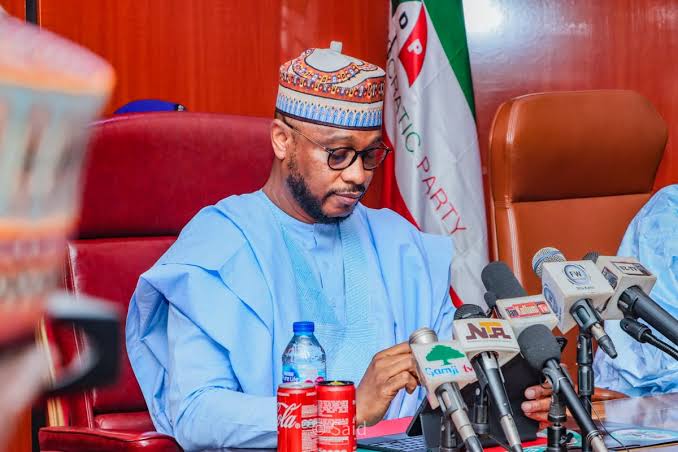 Reports that the Zamfara State Governor, Dr. Dauda Lawal declared assets of $5 billion in cash has begun to draw questions from anti-corruption groups who have stated that there is the need to probe the figures allegedly provided by the former First Bank Director.
In May 2023, Dr. Dauda Lawal was reported to have made an Asset Declaration of a total of N9 trillion to the Code of Conduct Bureau.
The Code of Conduct Bureau is an anti-corruption agency of the Federal Government of Nigeria, set up to check corrupt practices by public officials and in the conduct of government business. Asset Declaration is a mandatory requirements for all Public Officials, where they state their current appointment, their assets in cash, in the bank (whether in Nigeria or abroad), landed properties, moveable properties and assets (whether in Nigeria or abroad), securities and bonds, and also assets of wives and children, as well as how they were acquired.
The report that Dr. Dauda Lawal had declared assets at over N9 trillion drew a lot of attention as to who he was and how he acquired these assets.
In July 2021, Dauda Lawal, who had just left the employ of First Bank as an Executive Director was on the radar for corruption related matters. He was alleged by the anti-corruption agencies to have had $40 million in cash, which his total legitimate earnings could not account for. He was also flagged for the acquisition of a fertiliser company, Zamzam Hotels, an aluminium company and a long list of properties purchased in London and Dubai.
Recent calls by anti-corruption groups for Dr. Lawal to explain how he acquired his assets and whether the amount on his asset declaration form, worth over $5 billion is planned preemptive looting have put the Zamfara State Governor in the light of anti-corruption matters.
An anti-corruption crusader, Mallam Mohammed M. Lukman stated that there was the need for anti-corruption institutions to beam the light on Zamfara State to ensure that the State was not bankrupted through preemptive looting.
"We all know how this thing works. A Government official would fill in their Asset Declaration Form, claiming to own billions in property and assets. Meanwhile they do not have all these. Unfortunately the Code of Conduct Bureau which has so many forms to verify does not verify any of these claims. So when these government officials leave office, they acquire billions and trillions in office and then claim that these assets were acquired before they assumed office.
"That is why it is worrisome to us in the anti-corruption crusade that a Governor who was just an Executive Director at the Bank before holding public office is declaring over $5 billion as held assets. That is preposterous. We are talking of over N4 trillion Naira. It is in the interest of accountability that he explains the nitty-gritty of how he came about this wealth," Mallam Lukman said.
Another Civil Society leader, who had previously drawn attention of the public to the questionable asset declaration figures, Comrade Ayodeji Ologun Called on the Code of Conduct Bureau (CCB) to ensure that it carries out an investigation and verification of the claims contained in the Asset Declaration Form, noting that failure to do so would "empower the Governor to go on an asset acquisition spree using the resources of the State."
He further called on the CCB to publish its findings on whether there were any discrepancies with what was declared and what was discovered.
A source within the Bureau who asked not to be named noted that the Bureau was handicapped as it did not have the resources to carry out the kind of investigations needed to verify the claims made by thousands of public servants who made submissions every now and then. 

"Even if our budget was N100 billion, we can't still verify all the claims these politicians put in their forms. Do we even have the manpower? It is not our fault that we cannot verify these claims. You cannot blame us."
Dr. Dauda Lawal is alleged to have declared as cash in the bank the total sums of $5,013,357,125.13, N1,522,865,024.00, and £841,704.77. A leaked report noted that these monies are claimed to have been deposited in his personal accounts in Guaranty Trust Bank, First Bank & Taj Bank while his Credent Advisory Limited Corporate Account has a fixed income of N200 million.
Most commentators have opined that these monies either have questionable sources or do not exist but would be acquired while the Governor is in office.
Reporting by Anti-Corruption Watch in Africa