President Buhari Appeals to BENUE Stakeholders on Herdsmen attack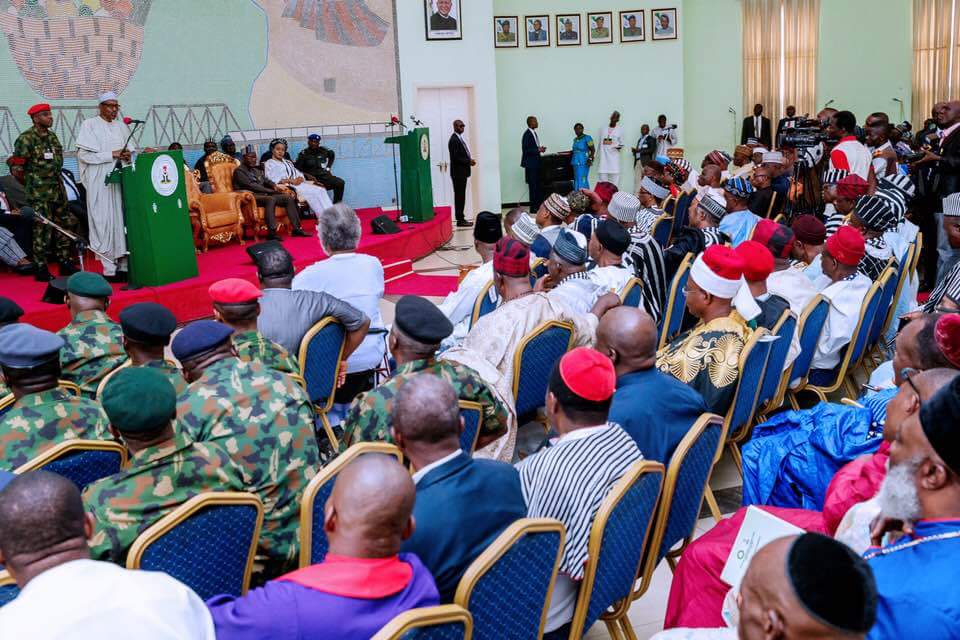 President Muhammadu Buhari has appealed to leaders of various groups in Benue State to convince their constituents that the Federal Government is doing its best to end the recurring attacks by armed herdsmen in various parts of the country.
Responding to remarks by various stakeholders during a Town Hall meeting in Government House, Makurdi, on Monday, the President also urged them to show restraint and allow the security agencies to handle the untenable situation.
According to him, "The governor and I, and others here know that we will leave one day, but the relationship between farmers and herders will continue. I urge you to keep in touch with them and advise them to live peacefully. Nigeria has over 250 ethnic groups with different cultures and nobody can question God for putting us together."
President Buhari while noting that he was not in the habit of publicly rebuking his appointees as many would desire, said that he preferred to quietly "read the riot act" as he did to the Inspector General of Police (IGP) when the Benue attacks began.
The President disclosed that he even shared the IGP's security report on the Benue crisis with Senators George Akume and Barnabas Gemade from the state.
Recalling his Civil War era memories with military officers from Benue State, he noted that his nostalgic experience with such persons would never allow him to do harm to the state.
President Buhari, while thanking God for the good rains, the successful efforts of the Minister of Agriculture, Audu Ogbeh, an indigene of Benue State, whom he described as "a great asset in my government," said his administration would continue to empower farmers with loans by the Central Bank of Nigeria.
Expressing delight that the agricultural policy of his administration has led to 90 per cent reduction in rice importation, he commended Ebonyi, Lagos, Kebbi, Jigawa and Benue States for "doing extremely well."
Reacting to what he called a "shopping list" by some stakeholders, the President enjoined them to pray for the economy to improve, noting that he would not make any promises during this trip. He, however, stressed that, "When coming back on campaign, if coming back on campaign, I may promise."
Governor Samuel Ortom had thanked President Buhari for visiting and listening patiently to the representatives of socio-cultural groups, farmers, herdsmen, national and state legislators, former leaders and elder statesmen, among others, described him as "a father known for his integrity and fight for justice."
Noting that the attacks by armed herdsmen predated the current administration, the governor said the recent attacks had displaced 170,000 people with children of school age constituting 60 per cent.
He called for support for ranching, compensation for victims of the attacks and rebuilding of destroyed houses and farms, as well as the upgrading of the current military exercise to a "military operation."
Governor Ortom also appealed to the Federal Government to fix some major roads in the state and take over the state polytechnic and college of education among other demands.
Femi Adesina
Special Adviser to the President