President Tinubu Welcomes $14 Billion in Indian Investments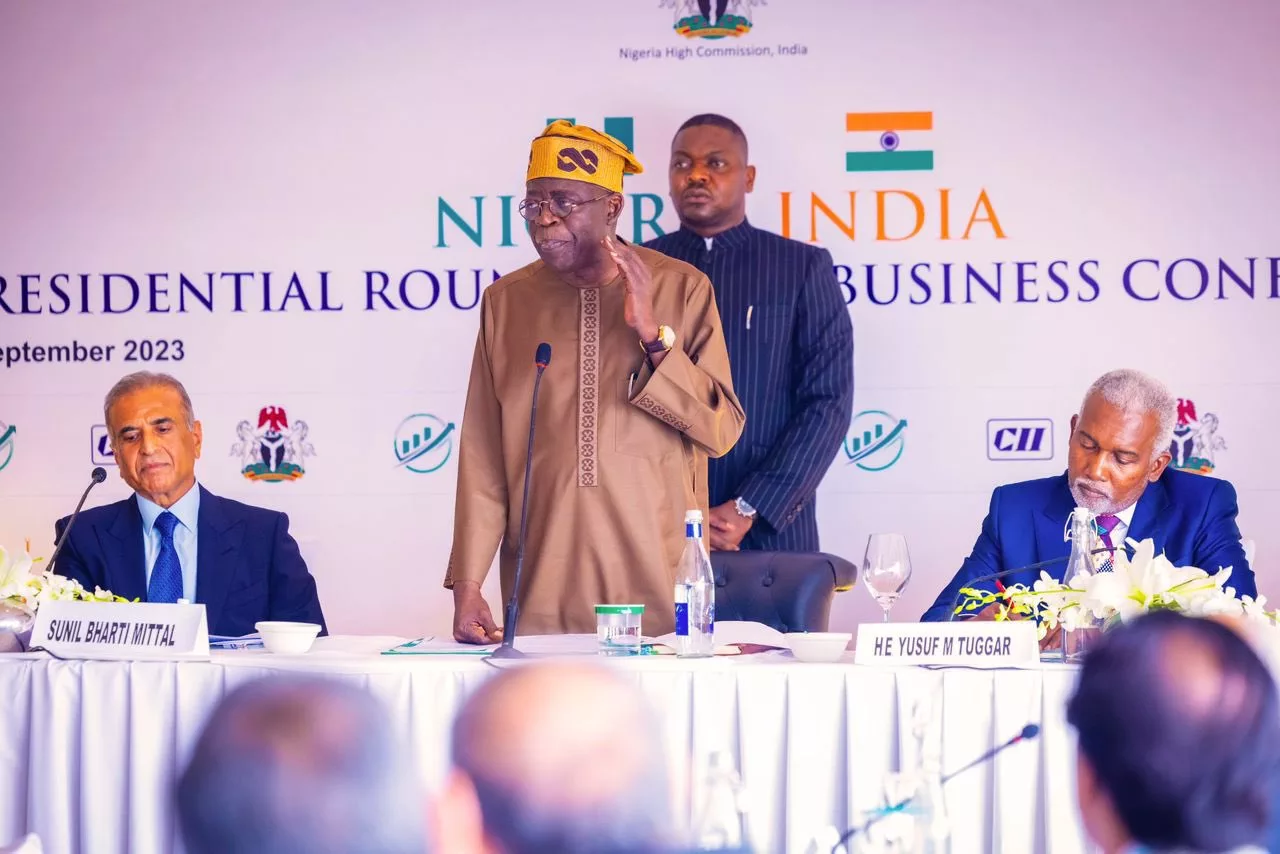 President Bola Tinubu on Wednesday met with Indian investors at the Nigeria-India Presidential Roundtable and Conference in New Delhi, and secured pledges of nearly $14 billion in new investments.
The largest investment pledge came from Indorama Petrochemical Limited, which said it would invest $8 billion in expanding its fertilizer production and petrochemical facility in Eleme, Rivers State. The facility is expected to create over 30,000 jobs during construction and operation.
Jindal Steel and Power Limited also pledged to invest $3 billion in Nigeria. The company plans to build a new steel plant in Ogun State, which is expected to create over 10,000 jobs.
SkipperSeil Limited announced a $1.6 billion investment in power generation plants. The company plans to build 20 new power plants across Nigeria, which is expected to add over 2,000MW of power to the national grid.
Other Indian companies that made investment pledges include Bharti Enterprises, which plans to invest $700 million in Nigeria; and the Tata Group, which plans to invest $500 million in Nigeria.
Emphasizing that under his pragmatic leadership, agreements must now manifest in industries and jobs on the ground in Nigeria, President Tinubu expressed gratitude to all Indian companies and individuals who have responded positively to his administration's efforts to improve Nigeria's macroeconomic and investment climate.
"Do not procrastinate. Don't be frightened about investments in Nigeria. Bring it on. Ask your questions and make your requests. The trade and investment opportunities are enormous. I have a team, and I am the captain of that team, and I assure you that we solve problems," the President affirmed.
"Nigeria is open for business with intelligent, innovative, capable, and highly committed individuals in government, who are ready to drive the largest economy in Africa to destiny." Tinubu said.
Tinubu highlighted some of the recent reforms his government has implemented to attract investment, including the unification of the foreign exchange market and the reduction of import duties.
On behalf of investors, Chairman of Bharti Enterprises, Mr. Sunil Bharti Mittal told the President, "You have unified the FX market. You have freed up crucial capital to upgrade your public infrastructure. Now, you have just dropped your prepared remarks and have spoken from your heart. Our investors have heard from a leader who is doing everything possible to attract capital to Nigeria for the benefit of Nigerians and our companies. Mr. President, we will bring these investments to Nigeria, and with your inspiring leadership style, we can only do more and more."
The President also announced a new $1 billion agreement to bring the Defense Industries Corporation of Nigeria (DICON) to 40% self-sufficiency in local manufacturing and production of defense equipment in-country by 2027.
Also, at the event, Nigeria's Minister of Communication, Innovation and Digital Economy, Dr. Bosun Tijani, and his counterpart from India's Ministry of Electronics and Information Technology signed a Memorandum of Understanding (MoU) for Co-operation in the field of Sharing Successful Digital Solutions, to be implemented at total population scale for digital transformation.
The Minister also signed an MoU with Central Square Foundation for Co-operation in the field of Sharing Successful Ecosystems, which involve interventions relating to education technology, to be implemented at population scale for digital economic transformation.
Under the watch of Nigeria's Industry, Trade and Investment Minister, Dr. Doris Uzoka-Anite, a third MoU on Infrastructure Development was signed between the Infrastructure Corporation of Nigeria Limited (InfraCorp) and Invest India, the National Investment Promotion and Facilitation Agency of India, which helps investors looking for investment opportunities and options in India. The President said that Nigeria is open for business and that he is committed to creating a favorable investment climate for foreign investors. He urged the investors to "not procrastinate" and to "bring it on" to Nigeria.
Closing the interactive session, Mr. Chandrajit Banerjee, the Director-General of the Confederation of Indian Industries (CII), noted that the Presidential Roundtable serves as a robust foundation for Indian businesses looking to engage with Nigeria and would encompass cooperation across key areas, such as capacity building, skills development, agriculture, and the enhancement of digital and physical infrastructure, among others.
"Under the determined leadership of President Tinubu, the CII is prepared to dispatch a high-level delegation to Nigeria, and we are keen on establishing a second presence in Africa, with Nigeria as our target destination," he concluded.