VP Osinbajo Headlines Fayemi's (APC) Campaign Rally in Ekiti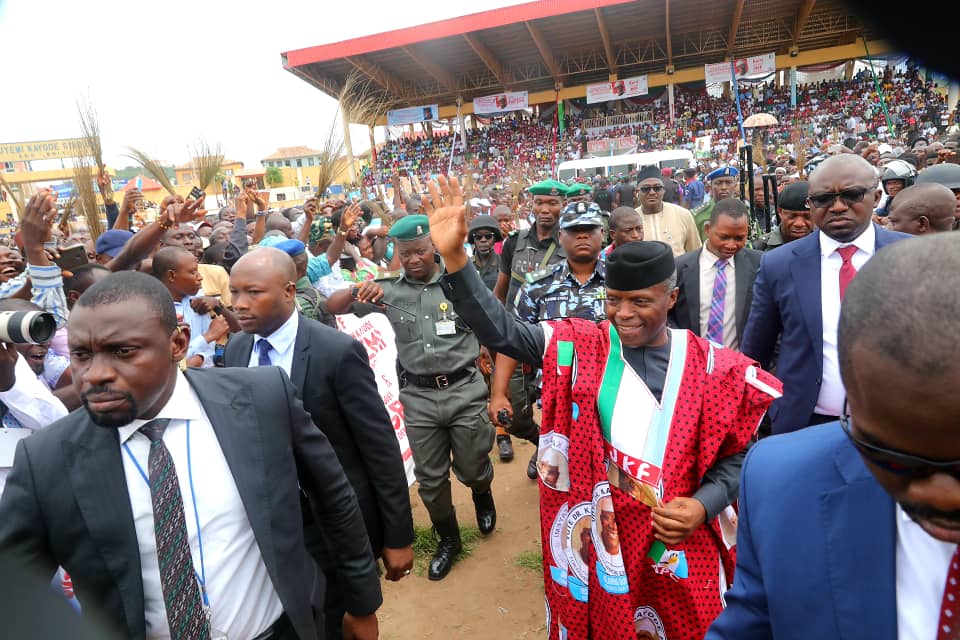 Thousands of cheering supporters welcomed Vice President Yemi Osinbajo, SAN, today to Ekiti State where he attended, as the special guest of honour, the flag-off of the Governorship campaign of the All Progressives Congress (APC) candidate, and erstwhile Minister of Mines and Steel Development, Dr. Kayode Fayemi, for the state gubernatorial election scheduled for July 14.
At the mega-rally, which held at the Oluyemi Kayode Stadium, Ado-Ekiti, Prof. Osinbajo was joined by APC state governors from Edo, Osun, Ondo, Oyo, Kebbi, Kogi and Kwara.
The well-attended rally was interspersed with goodwill messages from APC state governors, APC National Chairman, Chief John Odigie-Oyegun; former Edo State Governor, Adams Oshiomhole; APC National Leader, Asiwaju Bola Ahmed Tinubu; among others.
Meanwhile, earlier in the day, the Vice President received the German Industry & Commerce delegation to Nigeria at the Presidential Villa, Abuja.
The delegation was led by Ulrich Konstantin Rieger, Head of Division, Internationalization Department Africa, Bavarian Ministry of Economic Affairs, alongside the German Ambassador to Nigeria, Bernhard Schlagheck.
Prof. Osinbajo noted that the Buhari administration was continually working very hard to create an environment that makes it much easier for businesses to thrive in Nigeria.
The Vice President further said government was looking at ways to solve infrastructure and economic issues.
He said, "A few weeks ago, we completed the Focus Labs which was a way by which we thought we could crack some of the difficult problems concerning investors coming into Nigeria. There were a wide range of investors in power, oil and gas, various sectors. They had one issue or the other with their investments, and we had over a 6-week period, we worked through each of those problems with government agencies in attendance.
"It was a very innovative experience, because we had all government agencies in the same room with investors who had issues, and we ensured that the investors were able to get some results from the Focus Labs. We intend to take that approach in resolving many of the other issues that have been outlined. I think Minister of Industry mentioned that in relation to Nigerian Investment Promotion Council's approach in solving some of these problems.
"I just want to say that Nigeria is set for business, and fortunately, you have NIPC – Yewande Sadiku will be talking to you in greater detail about some of the issues around investment and all that. A lot of the physical issues and concerns around interest rates, we are working on it now that inflation has declined steadily in the past 18 months, we are certainly going to have to look at how to substantially reduce interest rates to make it easier for businesses to take credit. We are in a very good place, especially with the physical situation improving very considerably, to make some important changes. We are hoping the Central Bank will be able to do so in a very short time. Nigeria is a place to look at for innovation and technology, we have so many young people there, and we think that might be an interesting opportunity as well."
The German Ambassador acknowledged that the economic policy initiatives of the Buhari administration have improved Nigeria's rating as a more investor-friendly destination.
"After difficult years, Nigeria is facing an upward trend, the investment climate seems to be improving. For foreign companies, Nigeria is one of the most promising markets in Africa," Rieger added.
Also present at the meeting was the Minister of Industry, Trade & Investment, Dr. Okechukwu Enelamah, and other senior government officials.
Enelamah added that it was deliberate policy of the Federal Government to partner more with the private sector and strategically with supportive governments such as Germany's to further improve the country's business climate.