Why FG, In Collaboration with Private Sector, Supports Innovative Technology-Driven Ideas From Varsities – VP Osinbajo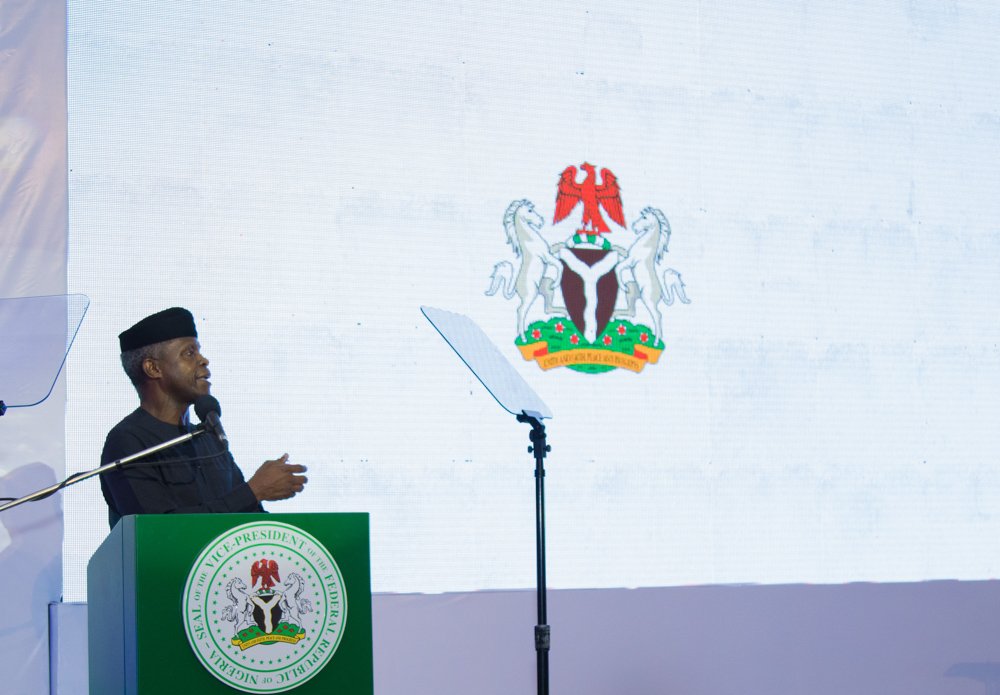 ADDRESS BY HIS EXCELLENCY, PROF YEMI OSINBAJO, SAN, GCON, VICE PRESIDENT, FEDERAL REPUBLIC OF NIGERIA, AT THE STUDENT INNOVATION CHALLENGE EVENT, HELD AT BAYERO UNIVERSITY KANO, KANO STATE, ON TUESDAY, SEPTEMBER 4, 2018
PROTOCOLS
About two months ago, I was in Lagos to attend the South-west regional finals of the Students Innovation Challenge, in the University of Lagos. At that event, I said, "In the past, Nigeria's billionaires were traders, and oil and gas moguls; but in the next few years, billionaires from Nigeria will be techies."
Listening to the great ideas you have pitched today, I am even more convinced, and have absolutely no doubt that a good number of tomorrow's billionaires are seated here today.
The Student Innovation Challenge, an initiative of the Federal Government in collaboration with Private Sector players, offers a platform for us to identify and support innovative, technology-driven business ideas and ventures across Nigerian Universities. It allows young entrepreneurs to interface with the government, and with business mentors, and receive support to grow and groom their ideas.
I understand that of the 600 applications received from the Northern region, 52 that made the longlist were pitched to the Judges today. I would like to commend every one of the innovators who pitched.
The journey to the fulfilment of your dreams has started, and you should strive to enjoy every moment of that journey, with all its ups and downs.
And this advice also applies to those who didn't make the longlist. Setbacks and disappointments are part of the entrepreneurship life; indeed they are part and parcel of human existence. You should never ever give up, try again, and again.
As was the case in Lagos, the judges will select the best ideas from amongst today's participants, and this shortlist will then join those selected from Anambra during the South-eastern regional finals next weekend, at the Grand Finale in Abuja, later this month.
It is clear to all of us, that the university is one of the most fertile grounds for the development of talent. The story of the immense contributions of Stanford University to the emergence and development of Silicon Valley in California is a well-told one and an inspiration to the rest of the world.
Here in Nigeria, we are optimistic that Nigerian Universities will similarly play vital roles as incubators and accelerators for small and emerging business ventures. The Bayero University, Kano (BUK) is already taking a huge step in this direction in collaboration with the Dangote Business School, yet another example of impactful public-private collaboration.
The Student Innovation Challenge, as I noted earlier, is a public-private partnership, involving the Federal Government, the United Nations Development Programme (UNDP), the Bank of Industry (BOI), Civic Foundation for Innovation, and Access Bank.
I am pleased to note that this is the first time that a platform has been created in Nigeria, which allows students from all over the country to pitch their business ventures and ideas to a panel of expert judges. And I should mention again, that each of the winning businesses will receive an investment of one million naira.
I am very excited by this project, excited by what it means for innovation in Nigeria, what it means for our future as a country. And being here with you feels like taking a front seat next to the stage, onto which the next Andela, Flutterwave, Paga, Paystack, Jobberman and others are set to emerge. Interestingly, many of the founders of these great businesses were educated here in Nigeria.
You will all agree with me that the prospects are exciting; the future looks very promising. I wish you all, today's innovators, tomorrow's billionaires, the very best, and safe travels back to your various homes and bases.
I thank you all for listening.