President Bola Tinubu, The Workhorse In The Villa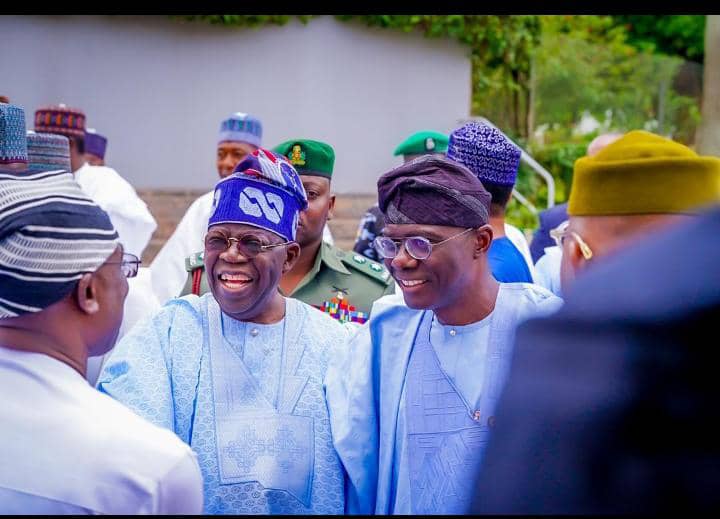 By Dapo Okubanjo
For now, it is safe to say we indeed have a workhorse in the Presidential villa and those looking forward to working with him had better beware!
The first indication of what to expect was given by the man who should know, former minister of works and housing, Babatunde Fashola who worked closely with Governor Bola Tinubu, as he then was, as Chief of Staff between 2003 and 2007.
Speaking on national TV few days to May 29 handover date, he quipped that Nigerians would be seeing a President with a hands-on approach to governance. Someone who works deep into the night,sees nothing wrong in close marking appointee after giving out tasks.
Yes, it's only a few days into the Bola Tinubu administration, Nigerians are seeing this and more. Fresh from making his now famous 'Fuel is gone' declaration which rattled not a few and caused a stir in the land, Nigeria's 16th President has been holding back-to-back meetings much in line with his vow to provide solutions to national problems.
And of course, there is none that is worse than the knee jerk reaction by oil marketers to the President's inaugural speech and the attendant nation wide fuel queues even before he left the Eagle Square venue of his inauguration.
What followed was a flurry of meetings with the Group CEO of the Nigeria National Petroleum Corporation (NNPC) Mele Kyari and Central Bank Governor Godwin Emefiele on the President's first full day at work on the issue of fuel subsidy removal and other economic matters even as Organised Labour was bracing up for action and had proceeded to mobilize its members across the country.
Coming at a time the government had not taken shape, many Nigerians were wondering how President Tinubu would weather the storm of negotiations but this veteran of political battles appeared to be more prepared than expected and soon enough a team of negotiators was in place.
It was also at a time a nationwide strike by health workers was just gathering stream but unknown to the citizenry, like a workhorse that he is, the President invited the leadership of the health workers to Aso Rock while government negotiators were engaging labour leaders on issues of fuel subsidy removal.
APC Professionals Forum, a think tank group in the ruling party, was spot on in its assessment at a recent press conference:
We also saw how, without much ado, the President resolved a health workers' strike which began few days to his inauguration on May 25, by holding direct talks with the leadership of the Joint Health Sectors Union (JOHESU) on the same day talks were held to resolve issues surrounding fuel subsidy.
And who would easily forget how within his first hours in office, President Tinubu held a meeting with the nation's service chiefs in line with his inauguration day assurance that security would be the top priority of his administration because according to him 'neither prosperity nor justice can prevail amidst insecurity and violence'.
It was also fitting that his first official activity outside of the Presidential villa was a tour of the new Office of the National Security Adviser and facilities at the National Counter Terrorism Centre (NCTC) in Abuja during which he declared zero tolerance for hoarding of intelligence and security information.
Although he did not publicly speak on inter-agency rivalry, it is worth remembering Tinubu's stern intervention into a rift between the Department of State Service DSS and Economic and Financial Crimes Commission (EFCC) the day after he assumed office.
Within minutes of DSS operatives taking over EFCC's office in Lagos, he ordered them out of the place and urged both agencies to resolve their differences amicably.
He also followed it up with a meeting with the EFCC chairman Abdulrasheed Bawa who used the opportunity to brief the new president on the fight against corruption.
It should be noted that President Tinubu has in the last few days met with some major oil marketers who not only expressed their support for oil subsidy removal but also signified their intention to donate between 50 and 80 gas powered mass transit buses to help cushion the effect.
Other meetings have been with governors elected on the platform of the ruling All Progressives Congress (APC) after which he met all 36 governors in 2 batches.
Visitors to the Presidential villa in recent days also include National Assembly members elected on the platform of the ruling party as well as the former Rivers State governor Nyesom Wike who has been part of three different delegations in the last 10 days or so.
And not to forget the ExxonMobil team led by the President, Mr. Liam Mallon, which paid a courtesy visit to President Tinubu in the middle of his very tight schedule of meetings.
In all these consultative meetings,the President has come across as someone who is going to have a crowded schedule of engagements that are likely to drag late into the night.
Clearly, the Presidential villa has not have witnessed the sort of visitors it has received in just under two weeks.
And expectedly, it has provided some clarity into what to expect in the next four years .
More importantly, it is clear that Tinubu is bringing to governance a style and approach different from that of his predecessor, former President Muhammadu Buhari as postulated by former minister Babatunde Fashola who has had the distinction of working with both men extensively.
For now, it is safe to say we indeed have a workhorse in the Presidential villa and those looking forward to working with him had better beware!
Dapo Okubanjo, a journalist writes from Abuja via dokubanjo@yahoo.co.uk
.