ECONOMIC RECOVERY AND GROWTH PLAN: Buhari Administration to Launch Initiative to Boost Job Creation, Investments
*VP to inaugurate Focus Labs expected to make Nigerian economy more competitive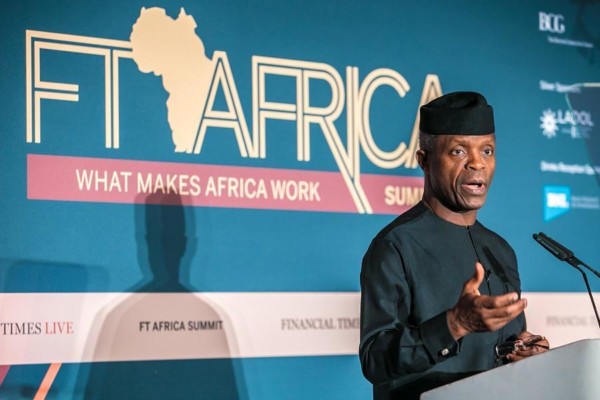 Determined to push forward with the economic progress recorded so far, the Buhari administration is set to inaugurate the Joint Working Group for the Economic Recovery and Growth Plan (ERGP) Focus Labs on Tuesday, February 6.
Vice President Yemi Osinbajo, SAN, will inaugurate the first set of the policy labs tomorrow at the Presidential Villa, Abuja.
The establishment of the Focus Labs is expected to further boost economic growth and ensure Nigeria continues its journey of building a competitive economy.
The objectives of the Buhari administration's Economic Recovery and Growth Plan include eradicating corruption in government procurement and processes, prudent management of resources, social inclusion, overcoming power constraints and skills shortages, and further promoting private sector inclusion.
In less than a year, following its launch by President Muhammadu Buhari, the implementation of the ERGP has seen the country's economy record significant strides, including its exit from recession last year and improved stability in the fiscal and monetary markets.
Also, in last year's World Bank Doing Business index, Nigeria jumped 24 places and was listed among the 10 most reforming economies globally, feats that have attracted wide applause and commendation for the economic policies of the Buhari administration.
In line with the administration's economic focus and direction, which includes restoring growth and building a competitive economy, the ERGP Focus Labs are aimed at driving new investments that would create hundreds of thousands of jobs for Nigerians across the 36 states of the federation and, in the long-term, continue to grow the economy.
A Central Steering Committee and Joint Working Group of the ERGP Focus Labs will be formed comprising nine ministers in Agriculture, Transport, Solid Minerals, Industry Trade and investment, Power Works and Housing, Petroleum Resources, Finance, Justice and of course Budget and National Planning.
The responsibilities of the Central Steering Committee will include steering the labs and ensuring active collaboration with the private sector to remove inhibitions that may have impeded some of the priority investment projects that have been stalled for too long.
In the same vein, the Joint Working Group will comprise senior public officers from the six aforementioned pilot Ministries, and their agencies. They are expected to work with the Senior Special Assistants to the President in the ERGP Implementation Unit to plan the labs successfully and address the inter-agency bottlenecks the investors bring to the labs.
Other tasks of the members of the core sector teams in the Group include generation and validation of sector data, provision of sector specific information and context, provision of technical perspective and government policy position.
The Working Group would also be tasked with making decisions on behalf of the government that promotes investment and national interest, build Institutional memory, strengthen Institutional capacity, and encourage institutional ownership.
Laolu Akande
Senior Special Assistant to the President on Media and Publicity
Office of the Vice President
05 February, 2018‎
‎