This Administration is Fully Committed to the Transformation and Diversification of the Economy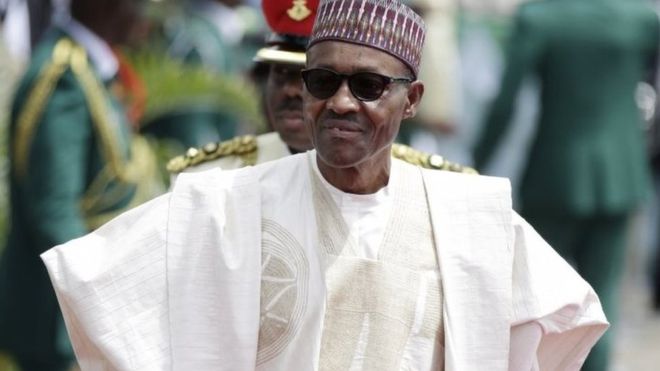 ADDRESS BY HIS EXCELLENCY, PRESIDENT MUHAMMADU BUHARI, DURING THE OFFICIAL COMMISSIONING CEREMONY OF THE SUNTI GOLDEN SUGAR ESTATE (SGSE) IN NIGER STATE, 15TH MARCH 2018
I am very pleased to be here today to formally commission the Sunti Golden Sugar Estate.
2. This project is timely as Nigeria makes her journey out of recession and the economy continues to show considerable progress. We are reminded of one of the cardinal objectives of this administration which is to look inwards as we focus on our natural endowments in agriculture, and other non-oil sectors for inclusive growth and development.
3. The level of work and magnitude of investment that we are witnessing here today is a clear demonstration that our policies on economic diversification are attracting the right kind of support and engagement. On that note, I must congratulate the entire members of the board, management and staff of Flour Mills for such a major step in expanding the business and creating more jobs for our people.
4. Since the establishment of Flour Mills in 1960, the company has repeatedly shown commitment to Nigeria, through good times and bad.
5. The Sunti Golden Sugar Estate, as I am told, was built at a cost of over fifty billion naira making it one of the largest Agro-allied investments in Nigeria today, with a capacity to produce 100,000 metric tons of sugar annually.
6. I am informed the Estate will engage up to 10,000 people directly including a network of over 3,000 small-scale out growers of Sugar cane. This to my mind is central to our administration's determination to have an inclusive economy. The socio-economic impact of such a massive investment, in rural area of Nigeria, cannot be quantified.
7. Lives will change for thousands in these localities. And the impact on the national economy will be significant.
8. The location of the Sunti Sugar Estate on the banks of the River Niger is as notable as it is commendable. The enormous economic possibilities inherent here have perhaps been overlooked for far too long. It is on record that the Niger River Basin has played an essential role in the lives of the people who have had to depend on the basin for their subsistence.
9. And when we take into cognizance the tributaries of the river and the proximity to the Kainji dam and the ecosystem, it is time we explore how this massive body of resources can be converted to a hub for industry and commerce. To that end, I call on other investors to take a cue from what we are witnessing today and come and invest heavily in this area.
10. Let me reassure Nigerians, that this administration is fully committed to the transformation and diversification of the economy. We will continue to support businesses by creating enabling business environment.
11. I wish to assure Nigerians that this government will continue to focus on the improvement of security and critical infrastructure, like roads, construction of rails and power generation across the country as a vital pre-requisite to economic progress.
12. We all know that Government cannot do everything alone. We will need to partner with the private sector. Therefore, we expect that the company would seize this opportunity to further develop the Sunti-Mokwa Road through its corporate social responsibility programs. This will complement the flour mills ongoing rebuilding of the critical Apapa-Wharf Road in conjunction with other private and public-sector stakeholders.
13. The world over, Sugar has been identified as a key commodity that is critical to national food security. Other than the development of local content, an investment of this size in the sugar value chain will not only help to stem the tide of importation of sugar and save foreign exchange, but also enhance rural industrialization and create wealth amidst rural poverty. For this, I must commend the Flour Mills of Nigeria.
14. Once again, I say congratulations to the Board, the Management and staff of Flour Mills of Nigeria Plc for this landmark project.
I thank you most sincerely for your attention.