We Spend Nigeria's Money on the People, Not Steal it, Says VP Osinbajo at Launch  of Ondo MSMEs Clinics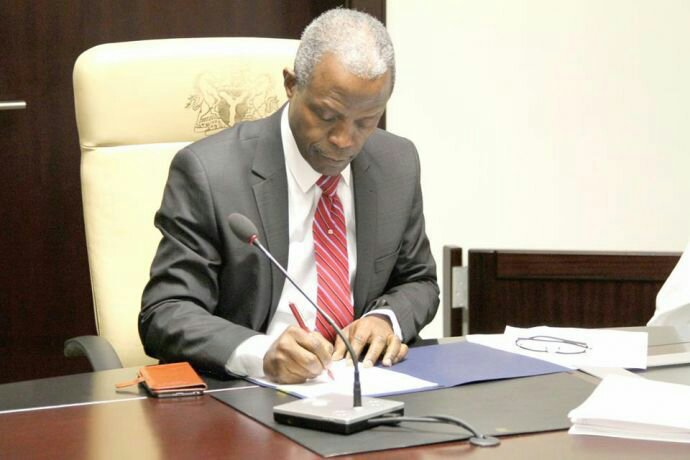 * "We will continue to expand social investment schemes as income increases"
"The difference between us and any previous government is that we are not going to steal the money. We spend the money on the people, that's the difference.
"We will continue to invest in states through the Social Investment Programme. But as our income increases we intend to improve and continue to expand."
BELOW IS THE FULL TEXT OF THE VICE PRESIDENT'S SPEECH:
ADDRESS BY HIS EXCELLENCY, PROF. YEMI OSINBAJO, SAN, THE VICE PRESIDENT, FEDERAL REPUBLIC OF NIGERIA, AT THE LAUNCH OF THE NATIONAL MSMEs CLINICS IN AKURE, ONDO STATE, ON THURSDAY, MAY 3, 2018
PROTOCOL
I am delighted to be here today for the Ondo State edition of the Micro, Small and Medium Enterprises, MSMEs Clinics. Let me take this opportunity to extend my sincere congratulations to Governor Akeredolu and his team for their continuing hard work and commitment to the development of the State.
Ondo State is well known across Nigeria for not just business but for its agriculture potentials. It is the Cocoa Capital of Nigeria, responsible for as much as 40 per cent of Nigeria's annual Cocoa output. Ondo state is also a major producer of oil palm.
It is also home to one of the largest bitumen reserves in the world. Indeed, there is a lot for the State to be proud of, and to seek to exploit for economic growth and for the prosperity of its people.
The Federal Government is fully committed to working with the Ondo State Government to ensure that, not only are these potentials exploited to the fullest, but that they also translate into a better life for all who live, work and do business here in the State.
Indeed, in the last three years, we have demonstrated an abiding commitment to facilitating genuine efforts by all the States of the Federation to attract investment, to diversify their economic base, and create jobs and economic opportunity for their people.
So far, we have held 13 editions of the MSMEs Clinic in various states across all the six geopolitical zones of Nigeria, and we are today holding the 14th edition of the MSMEs Clinic here in Ondo state. And this is further demonstration of our commitment in ensuring that small businesses, market women, artisans have several opportunities to do business successfully.
It is of course well known that MSMEs have tended to be neglected in this country over the years, as a result of competing priorities as well as a tendency to discount their contribution to the national economy. As individual units, small businesses may appear to be slight, but together they account for as much as 50% of Nigeria's Gross Domestic Product, GDP, and over 80% of our labour force.
Clearly they are an important part of the national economy, and they should be treated as such, more so now that it has become inevitable for us to look inwards so as to become a country that is able to grow what we eat and produce what we consume.
The MSMEs Clinics were conceived with this in mind; designed to bring government closer to the people by assembling in one place all the regulatory agencies whose work affects the business experience of small and medium scale businesses.
This affords MSMEs an efficient platform to which they can bring their business-related problems for the intervention of regulatory agencies for solution, outside the formal and sometimes intimidating offices of these agencies. At the same time, gaining access to all the agencies in one place saves MSMEs the travel time and cost of having to seek out different agencies.
The MSMEs Clinics have also enabled regulatory agencies to gain a better understanding of the difficulties that MSMEs face, and helped them become better prepared to offer value to these small businesses. For instance, several agencies have reduced the cost and timelines for service delivery to MSMEs.
Since the launch of this programme last year, it has been easier for small businesses to access funds, because the Bank of Industry (BOI), Development Bank of Nigeria (DBN) and the Nigerian Export and Import Bank (NEXIM) have used the Clinics to increase not just awareness of their products, but also make available credit to participating businesses.
NAFDAC has made it easier to do business by reducing the cost and waiting time for product registration for MSMEs. NAFDAC is here today and I want a lot of the businesses that are looking for business registration to meet with these NAFDAC officials today, and find out exactly what it is that is causing the delays that they may be experiencing because it is important for you to have a NAFDAC number especially if you are going to trade in good shops or you want to export what you are selling. Processes that used to take as much as 8 months now take 3 months.
The Corporate Affairs Commission (CAC) now registers businesses within 48 hours and also carries out registration – at reduced prices – during the Clinics. The Nigerian Export Promotion Council, NEPC, and the Standards Organisation of Nigeria, SON, have both slashed their charges on various products and services to support MSMEs.
To foster continuity after the Clinics, at least five State Governments have set up 'One-Stop Shops' that bring all the relevant agencies together in one place so as to enable small businesses access their services on an on-going basis with relative ease. And this is very important and we hope that we are able to do this in Ondo state, so that it has, in one office, NAFDAC, SON, BOI, CAC and others in one place so that small businesses can go there and do their businesses.
Another idea emerging from the Clinics is the establishment of shared facilities for MSMEs based on a partnership between the Federal Government, states and the Bank of Industry. The idea is that MSMEs that do not have financial capacity to purchase their own equipment should be able walk into a fully-equipped cluster- a facility that has all the equipment that they need. A situation where if it you make furniture or if you are a tailor, we will provide a cluster with equipment and power so that you come there and do your business. This is supposed to be some kind of assistance for those who do small businesses but can't afford their own spaces, so these clusters are meant to create that opportunity.
The MSMEs Clinics also afford us the opportunity to widen the reach of the Government Enterprise and Empowerment Programme, GEEP, the microcredit component of our Social Investment Programme. Today, during this Ondo State MSMEs Clinics, GEEP Market Moni will be expanding its footprint in Ondo State and looking at how to expand those opportunities to pre-qualified beneficiaries.
Ondo State is of course benefiting substantially from the entire suite of Social Investment Programmes: GEEP, the National School Feeding Programme, N-Power, and the Conditional Cash Transfer (CCT) Scheme. This State has 5, 271 volunteers in the first batch of N-Power with 24 of them in N-Build – its accompanying program for artisanal skills related to the building industry.
We will continue to invest in this state through the Social Investment Programme. And i think that one of the most important things that we must bear in mind is that the whole idea of the social investment scheme is to ensure that people who do not have opportunities are given those opportunities.
If you look at our budget, we provided N500 billion for the whole country and we have not been able to fund to the tune of N500 billion because we don't have that much money, in fact what we have been able to spend is about N80 billion in all.
But as our income increases we intend to improve and continue to expand. That is why so far, across the country, we have been able to do about 200,000 N-Power volunteers and we still intend to do 300,000 more and we are watching out for that.
It is very important to bear in mind that this government is earning 60% less than previous Federal Governments earned despite that, we are spending and investing more in the people. For the first time in the history of this country, we are putting 1.3 trillion on infrastructure.
I was reading a comment today, about how well the government has done, or how well it hasn't done. And I said one thing that you must understand about this government, is that it is a government that want to be honest with the people. If a government wants to be honest with the people, look at the money you have. If you have 1 billion, spend that 1 billion on the people, don't steal it. The difference between us and any previous government is that we are not going to steal the money. We spend the money on the people, that's the difference.
Look at the Lagos-Kano railway, they have been talking about it for 10 years but never built it. Now we have put money into it, despite the fact that we are earning 60% less. We have started building it from Apapa port. Before the end of this year we will go all the way to Ibadan, in that Lagos-Kano railway.
We are building the second Niger Bridge, the last government, they talked about it, they always talk about these things but they never started, they never built it. Now we are building it with 60% less income.
All these things we are doing, the N-Power, Home Grown School Feeding. Home Grown School Feeding is feeding primary school children all across Nigeria, 7.6 Million Children today are being fed every single day. When we were earning $100 a barrel of oil, there was no Home Grown School Feeding. Today we are earning between $60 and $70 a barrel; we are feeding children in schools. What happened to the money before now.
One of the reasons why we hold ourselves to account, why the Vice President will attend a town hall meeting where you can ask your questions, is because we want to be held to account. The money does not belong to us, the money belongs to the people, it is tax payers' money and we want to be held to account.
Those who say they want to see performance must see it in the works that are being done, look at Lagos-Ibadan expressway, how many years, since 1999, they have been talking about Lagos-Ibadan expressway, they haven't built it. People who are complaining today, who were in government for 16 years, they didn't build it. Now we are building the Lagos-Ibadan expressway.
I think Nigeria's problems are not many, if the money is not stolen. If you don't steal the money, if you spend the money, we will achieve the result for the money. This government is committed to ensuring that the money is given to the people and that the people use the money. That is one of the reasons why corruption is fighting back desperately because they want to come back to do what they used to do before but God forbid, it will not happen again.
We hold ourselves to account; we have promised the people of this country that we will lead honestly, the people will experience honest leadership, it may be difficult, it may be tough but this country is moving forward by the grace of the almighty God.
Finally, let me just say that every inch of the way, as we make progress, we believe that a country as great as Nigeria, there should be no reason why our young people should not find opportunities; opportunities will abound in industry, in agriculture, in technology.
One of the reasons we are training volunteers in the N-Power programme and we are giving them devices and putting training materials on those platforms is because we believe that young people have to be trained and retained for the future.
The future lies in technology, in entrepreneurship, and in great ideas. We are committed to training our young people so that they will competitive in the next 10 years they will be even better than many young people in different parts of the world.
We are committed in ensuring that this country is not the way it used to be. This country has to change. We are here now and by the grace of God, we will all see the changes that we have been praying for by the honest leadership that we have put in place.
Money will not be stolen because we are not going to allow anyone steal money. Some of them say, they haven't seen anybody thrown into jail but they are on trial. We will continue to arrest them and put them on trial and even if the court wastes time we will still put them on trial.
We will not allow anybody to run away with the money of this country because the money of this country belongs to its people and they must enjoy it.
Thank you very much.
Laolu Akande
Senior Special Assistant to the President on Media and Publicity
Office of the Vice President