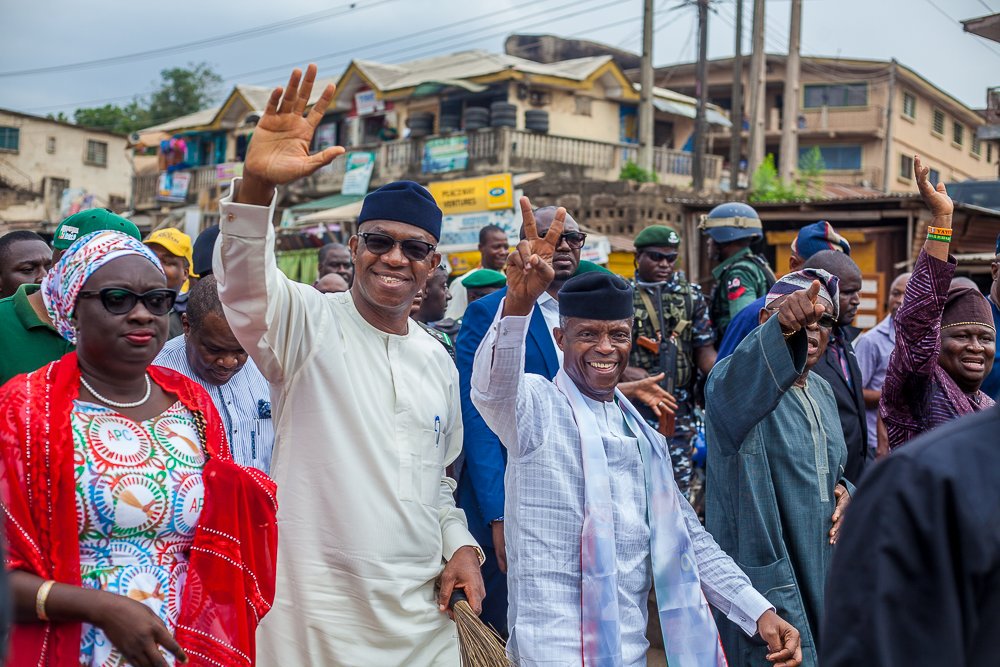 Vice President, Prof. Yemi Osinbajo has dispelled fears of voters in Ogun State amid concerns that the State's sitting governor's support for the candidate of a rival party might raise tensions in the governorship polls on March 9.
There have been fears and concerns that the Ogun State Governor's support for a rival party in Saturday's gubernatorial election in the State may have precipitated a security crisis regarding the election.
Prof. Osinbajo who embarked on an elaborate campaign rally in Ogun alongside Prince Dapo Abiodun, the All Progressives Congress governorship candidate, assured citizens of a peaceful, free and fair election.
Prof. Osinbajo who was accompanied by former Ogun governor, Aremo Olusegun Osoba and other chieftains of the party in the state said the Federal Government was going to provide adequate security.
VP Osinbajo who began his tour in Abeokuta, Ogun state capital was received to an electric reception by the supporters and residents of Ogun state. The VP was near speechless as the crowd chanted his name and that of President Muhammadu Buhari endless.
On arriving Abeokuta, Prof. Osinbajo toured Ogun state visiting Kuto, Ibara, Lafenwa, Isala Igbehin, among other communities in the state.
At every stop, he was greeted by mammoth crowds who derived satisfaction at seeing him and Prince Abiodun, who is the party's flag bearer at the 9 March governorship election.
On passing Ogun State Government House, the people thronged out in their numbers in what appeared to be a carnival-like campaign.
Addressing the people at Lafenwa, Prof. Osinbajo thanked them profusely for voting for President Buhari and himself. He assured them that they will deliver all their campaign promises.
"Those who are saying on Saturday they will not let us come out, that they will do this and that, let me tell you that it will not happen. Let me tell you that the Federal Government is in charge of security, we will ensure that there is adequate security for everyone. This election will be peaceful, free and fair.
"Please note that you should we are going to use our index finger to vote. Let me urge us to vote APC at all levels. For the House of Assembly, let us vote APC.
"Just the way you voted President Buhari and me, your son in, you should do the same for Dapo Abiodun because if we did not have votes from Lafenwa, we would not have been re-elected. Thank you so much for your support," he said at the rally in Lafenwa.
As the VP arrived Kuto, the chants and cheers from the people became overwhelming to the extent that Prof. Osinbajo struggled to pass through the crowd. The chants were so deafening that it took Prof Osinbajo more than 30 minutes to get some decorum.
Prof. Osinbajo spent over three hours in Abeokuta and it was stunning as he got a heroic welcome everywhere he went. The acceptance and gladness of the people was spontaneous and original and it was authentic all the way.
A party chieftain, Bayo Asenuga told journalists that, "This party has been on for at least over three hours, and well over 10 miles if not 15," he said.
He said he has not seen people so energetic at a campaign rally. "The people were not tired walking alongside the campaign train. This is a message that APC will win overwhelmingly in Ogun," he said.
Onlookers in most part of Abeokuta caused a gridlock as they stared endlessly in public acceptance at the Vice President as he walked the major roads in Abeokuta and its environs.