BMO Decries PDP's Assault on Judiciary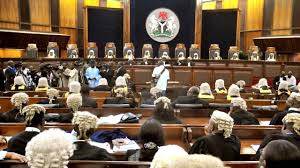 The Buhari Media Organization (BMO) has called on the People's Democratic Party (PDP) to desist from its perpetual politics of 'if we can't rule the nation we will destroy it'.
The organization is particularly miffed about what it calls "the constant harassment of the judiciary and senior judicial officers by the PDP, especially when the party feels that a particular matter in court would not be in its favour."
In a statement signed by its Chairman Niyi Akinsiju and Secretary Cassidy Madueke, BMO said that PDP's constant haranguing of Justice Zainab Bulkachuwa, President of the Court of Appeal to recuse herself from the Presidential Election Tribunal is a case in point.
"PDP wants her out of the tribunal on account of her husband's membership of the All Progressives Congress (APC). However, we say without equivocation that there is nothing in the Constitution, nor is there any law that prevents any judicial officer from sitting on a tribunal on the basis of a relative's political affiliation."
Pointing out PDP's double standards in targeting Justice Bulkachuwa's credibility, BMO said, "it is on record that this is not the first time a judge with relatives in political parties will sit on a political case.
"We have seen in the past where several Justices in the judiciary who are related to top members of the PDP sat on political cases. These include Justice Mary Odili, Justice Kekere-Ekun and Justice Bode Rhodes-Vivour, to mention a few. At no time did APC ever call on them to recuse themselves or call them out not to carry out their Constitutional duties, simply because of the affiliation of their relatives to the PDP.
"Since its colossal loss at the just concluded 2019 presidential elections, the PDP has not relented in its effort to cause disaffection and heat up the polity with different accusations and outright fabrications and has taken on a toga of destroying the country and the institutions of government, all in an attempt to paint the Buhari administration in bad light.
"In the interest of the collective good of our nation which should be the concern of every Nigerian, we wish to advise the PDP to rise above political self-interest and mischief."