President Buhari Commends Osinbajo: You Have Managed The Social Investment Programmes Successfully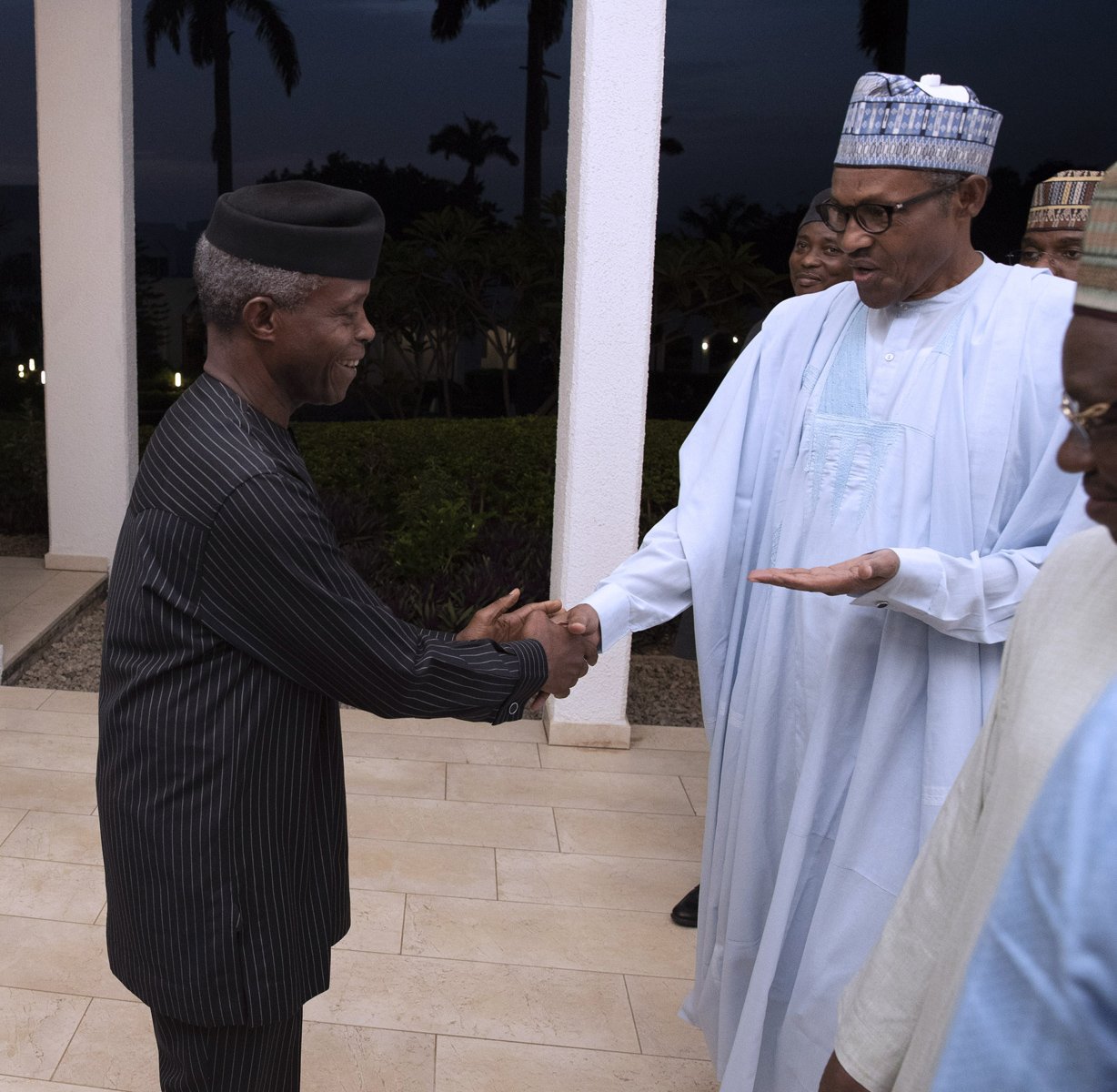 President Muhammadu Buhari while hosting top government officials at the Presidential Villa, Abuja on Monday night has commended Vice President Yemi Osinbajo for his management of the Social Investment Programme.
During the dinner, he commended the Vice President on the Social Investment which he described as "fantastic programs" saying that he had to "admit quite honestly that the Vice-President was ahead of [him] by insisting on them"
"When I drive around the country what upset me very much is the status of our poor people in this country – you see young people, the so-called Almajiris with tore dresses, with plastic bowl. They are looking basically for what to eat" the President said
"So, I welcome(d) the Vice-President initiative of the School feeding programme. If you check in your localities the enrolment into schools improved because a lot of children can get at least one good meal a day. This is the position of this country" the president added.
Buhari, who said he was upset with the level of poverty in the land, challenged the elite to do something very urgent to ameliorate the pathetic situation.
The President also expressed his concerns over the safety of the Vice President in regards to his movements
"This `market money', I warned the Vice-President. I don't like him to be mobbed, especially the way I see hefty women coming and confronting him, he should be very careful"
Vice-President Osinbajo, who spoke on behalf of the members of the cabinet, said that regardless of ethnic and religion affiliations, Nigerians must continue to be their brothers' keepers and must work towards building a united nation. He also joked about how he expected meetings to be short since it's the Ramadan period but they never are as the president took them through the longest FEC Meeting.
The Vice President speaking on the Ramadan period and it's significance said
"I think is auspicious that this particular (end of) Ramadan falls at the eve of the new term in office.
"So, it is an opportunity for us to remind ourselves over the core mandates which is the welfare and security of majority of our people,'' he said.