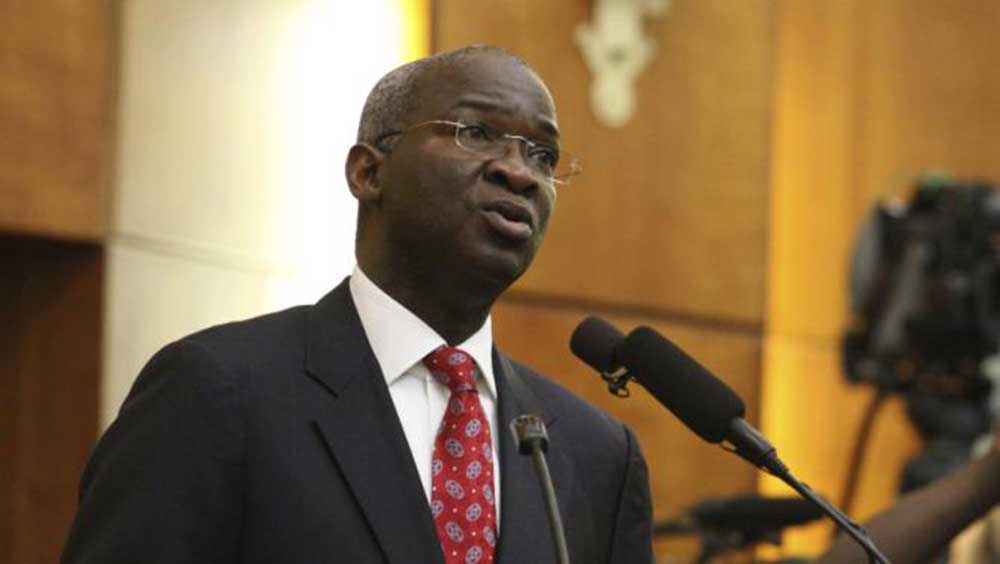 By Hakeem Bello
In November 2010, in a tribute to Stephen J. Solarz, a former nine-term New York congressman, Douglas Martin wrote that he was a "torrent of activity" supporting it with a statement issued by the late lawmaker's office that "during his first six months in Congress, he made 12 speeches on the House floor, co-sponsored 370 bills, held 11 news conferences, made 24 trips to his district and attended 99 events there, visited 23 subway stations, sent constituents 513,720 pieces of mail and took an 18-day tour of the Middle East."
In October 2015, Babatunde Raji Fashola, SAN, was honoured amongst seven distinguished personalities with an award named for Stephen J Solarz by the International Crisis Group.
From his eight-year tenure as the governor of Lagos State to his two-year-plus as Nigeria's minister of Power, Works and Housing, our own BRF has, as the global conflict-prevention organisation acknowledged in conferring the honour on him, been a "relentless fighter for the improvement of people's lives…"
Barely a month after the global recognition of BRF's "commitment to resolving social, economic and security challenges in one of the world's most challenging urban environments", President Muhammadu Buhari tapped him to join him in tackling the nation's multifarious infrastructural challenges.
Ever since, the three-in-one ministry has witnessed a "torrent of activity" towards the making life more meaningful for Nigerians of all strata.
Has he lived up to the recognition of the ICG and the confidence reposed in him by President Buhari to deliver?
His 55th birthday on 28 June affords us the opportunity to not only answer that question but also look at The Essential BRF.
For BRF, results rather than excuses should count towards measuring a leader's gravitas. So, not for him any argument which suggests that , comparing an executive position with an appointive capacity within a complex federation such as Nigeria is like comparing apples with oranges. Not even if you illustrate with the now-common fiasco over the national budget as an example of a barrier to effective delivery of much-expected services to the people.
Any unbiased but informed observer would, unhesitantly, proffer that, within those constraints, and with the unwavering support from his principal, the minister has demonstrated unflinching commitment to reducing Nigeria's infrastructural deficit to the barest minimum, one project at a time, across Nigeria's 36 states.
One thing you can't take away from BRF is his penchant for, to use a favourite word of his, dimensioning any problem, no matter how seemingly gargantuan. He is the master of drilling down. His staff at the ministry will attest to how, from the day of his inauguration, he has been engaging everyone in marathon consultations, sometimes into the night, to be able to put every problem in proper perspective and then ensuring that the job gets done – without any short-cut.
A DEVELOPMENT MATRIX
For him, nothing should be done superficially. Let's take work on roads. He starts with the premise that good roads will help reflate and grow the nation's economy, reduce travel time, cost of transportation of goods and services, and create jobs which will provide the economic means for the worker to live meaningfully. To achieve this, in the short term, would mean starting with roads which can be quickly completed to facilitate connectivity. This should further be guided by choosing first the roads which connect states together and bear the heaviest traffic such as the Lagos-Ibadan expressway, and working the way across Nigeria gradually. By sticking religiously to, and developing this plan, enunciated with his team in the Ministry with necessary policy and budgetary support from the Cabinet led by the President and National Assembly, albeit, with all the "constituency complications," Fashola has been delivering on his mandate.
On Power, Fashola believes that predictable supply achieved through incremental, stable, and, ultimately, uninterrupted supply of electricity, availability will be a critical and defining component of our economic renaissance, job creation, GDP growth and reduction of income inequalities. This has formed the basis of the Federal Government's Roadmap to Power with the accompanying policies and plans like the Power Sector Recovery Programme (PSRP) aimed at strengthening the responsibility of the Ministry as a regulator through the National Electricity Regulatory Commission (NERC), so that the GenCos and DisCos can be held to their contracts with citizens; getting the support needed to complete stalled power projects in the generation, transmission and distribution value chains; and improving the liquidity in the sector.
Coming with a practical experience from Lagos, Fashola believes the construction of houses will complement the economic growth drive by direct and indirect jobs in the housing value chain from construction companies, to artisans, labourers, vendors and many more. The Federal Government's housing project is currently going on in 34 States of the Federation which have provided the required suitable land for the programme, currently at its pilot stage and poised to address the issues of affordability, acceptability and climatic/cultural diversities which have been the bane of the previous housing programmes.
What used to be the standard question about how one man can cope with the leadership of three ministries comes less frequently in its monotony now because Fashola has continually demonstrated that tackling challenges is his second nature. Never mind that he has had to sleep less than the averagely-required hours and do unusual things – for instance in 2017 during an inspection of projects in the North East, he led the team to drive on the road by the dreaded Sambisa Forest in the thick of the night – whilst greying graciously but achieving results. By the way, Hamza Idris of the Daily Trust, who was on the trip, had asked him what gave him the courage to travel at that time, he answered as only a BRF would: "Well, I don't think it is courage. I have a job to do and it has to be done well. If you are building and managing roads, you can't manage them from slides, you can't manage them remotely. You must at least see how good or bad those roads are. It gives a sense, either of urgency, enthusiasm, or a combination of both, to be able to really deal with it. The Ministry of Defence is aware that we are here, but the security arrangement is just precautionary. We have seen ordinary Nigerians travelling in their buses. I have seen the Taraba Mass Transit Services, Adamawa Express, Bauchi Express and others. So, life is going on and we just have a job to do."
There is no better way to end this birthday tribute to this quintessential man who is extremely loyal to his principal, political party and his principles, than quoting his answer to another question on that North East inspection trip: "I am never satisfied with anything I am involved in; I just keep going. It's difficult to satisfy me, and if you ask me to assess myself, I would continue to push myself."
Mr Bello is Special Adviser, Communications to the Hon.Minister.