Ekweremadu Must Withdraw Coup Statement-BMSG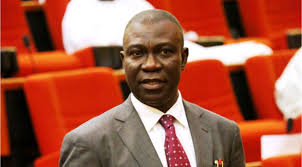 Deputy Senate President Ike Ekweremadu must withdraw the coup statement he made on the floor of the Senate, as well as apologize to Nigerians for that "most unfortunate statement".
Making this call in a press statement in Abuja Friday, the Buhari Media Support Group (BMSG) expressed disappointment over comments made by Senator Ekweremadu during deliberations in the red chamber. Ekweremadu had said that coup is possible in the current political dispensation on account of what the Senate considered to be a threat to democracy in Kogi State.
In the statement signed by Coordinator Austin Braimoh and Secretary Cassidy Madueke, BMSG said it is disturbed that a Senator of the Federal Republic would contemplate a coup plot in Nigeria after the country has witnessed almost nineteen years of unbroken democracy. "His reference to a coup plot in this dispensation", says BMSG, "is highly disappointing and clearly appears as an instigation. Definitely his intention while making this comment is suspicious and unpatriotic.
"As a lawmaker and second in command at the nation's highest law-making body, we expect Senator Ekweremadu to always exercise restraint in his utterances in order to uphold the virtues required of his high office. As someone occupying a high office in the country, it is expected that the stability and progress of the country will be uppermost in his mind"
The Group called on Senator Ekweremadu and the Senate as a whole to emulate the qualities of President Muhammadu Buhari, who not only encourages separation of powers, but continues to promote democracy in the country in all his actions.
"We advise Senator Ekweremadu and the Senate to stop equating the inability of politicians to adhere to democratic principles as putting the nation's democracy in danger. It is indeed strange that the Senate, rather than focusing on its law-making responsibilities, is delving into states' matters.
"We make bold to say that if indeed the country's democracy is under threat as Senator Ekweremadu tried to make us believe, then it is an indictment on him as one of the leaders of the Senate, and he should stop passing the buck".