#FakeNews: Osinbajo Never Said Kogi Govt Will Be In Trouble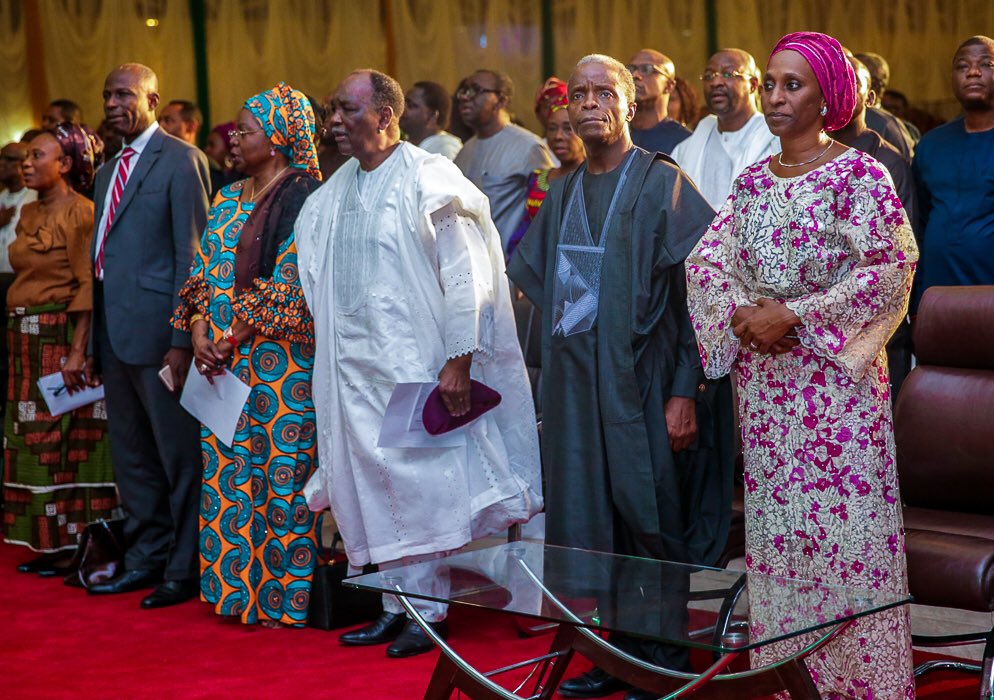 Vice President Yemi Osinbajo never said Kogi State government will be in trouble if he had died in a helicopter crash, transcript of his goodwill message has revealed.
Newspaper and online platforms had published reports that Prof. Osinbajo had claimed that the Kogi State Government would be in trouble if he had died in the helicopter crash.
Speaking at a special thanksgiving service at the Banquet Hall in Abuja, Nigeria's capital, Prof. Osinbajo thanked God for his live and for surviving the crash.
God is truly worthy of praise and thanksgiving. It is impossible to thank Him enough. I and my family, and so many of us here today have so many reasons to thank Him.
Occasionally, my wife and I reflect on how unlikely our journey here is. She frequently reminds me that all she wanted was a quiet life as one of the many families of academics living on the university campus. That was all that I promised, and that's all that she really expected, but here we are.
If someone had said to me in 2013, "you will be campaigning across the country; attending rallies and that you would win the elections and become the Vice President of Nigeria", I would, because I am generally polite, have said amen, but in my heart, I would have said what a crazy chap!
Anyone who knows how difficult it is to campaign for Local Government Chairman and win, will understand how difficult it is to accept that merely because someone said so, that you would be elected into any position. I'm sure many of us here today, also celebrating the success of the elections, national assembly members and governors-elect also, would accept that except the Lord build the house, they labour in vain who build it. It is impossible to know the outcomes of anything. It is the Almighty God who brings about the wonderful phase that we celebrate and thank Him for.
I realize that I have no special qualification to be here or to have enjoyed such an incredible promotion. Psalms 75:6 says for exaltation comes neither from the East nor from the West nor from the South, all the exaltations comes from God.
Psalms 75:7 says but God is the Judge; He puts down one, and He exalts another. I want to thank the Almighty God for exaltations. I want to thank Him also for all of us here present, and those believing God for exaltations. I believe the Lord God Almighty would promote you also in Jesus name.
On the 2nd of February 2019, God gave me and members of my family, friends and colleagues, even further reasons to know that if not for His mercies, we would have been consumed. We were going to Kogi for a two-day campaign tour, and then our helicopter crashed as we got in to land at Kabba. You know how it is when things happen, everybody becomes spiritual; everybody becomes a prophet, people saying why and how?
I remember in the split second when the incident occurred, for a second, there was absolute silence and nobody said anything. It was my brother who started shouting Jesus Jesus Jesus! But for a moment, there was complete silence in the helicopter.
On reflection, it occurred to me that if we had died, that is what would have happened, complete silence, nobody saying a single word. A few minutes later with all of the activities, all of us got out of the helicopter without a scratch. God is surely worthy to be praised!
I reflected over the various problems that would have occurred; the smaller problems would have been the rumours, how did it happen? Who did it? Why did they do it? With the way we are, I just felt sorry for so many people who would have been involved in conspiracy theories of things they knew absolutely nothing about. But God delivered them too because they would have had to explain themselves.
We bless the name of God that He not only wrought such a great deliverance, but that He did it in such a way that only He could take the glory. We give all the glory to Him!
I want to thank everyone who has supported in so many different ways, all through the campaigns and elections, so much support and prayers, so much love and kindness. I pray that the Almighty God would be kind to you also, you will never lack in support, you will never lack in care and affection, you will never lack the genuine prayers of those who want you to succeed in the mighty name of Jesus.
I pray that all of us will travel in aircrafts and the Almighty God will always deliver. It is by His grace that we are delivered. It is not by anything we do or we are careful not to do.
I recall that there was a gentleman who was talking about how it is always good to exercise, but another friend of ours reminded him that there was a particular gentleman who we all knew very well, who died while exercising. So I think that all we can depend on is the sheer grace of the Almighty God.
So we praise the Almighty God and I want each and every one of us who believes that the Almighty God is worthy of praise, shout one mighty halleluiah!