Human Capital Development Cornerstone of Buhari Administration's Economic Policies – VP Osinbajo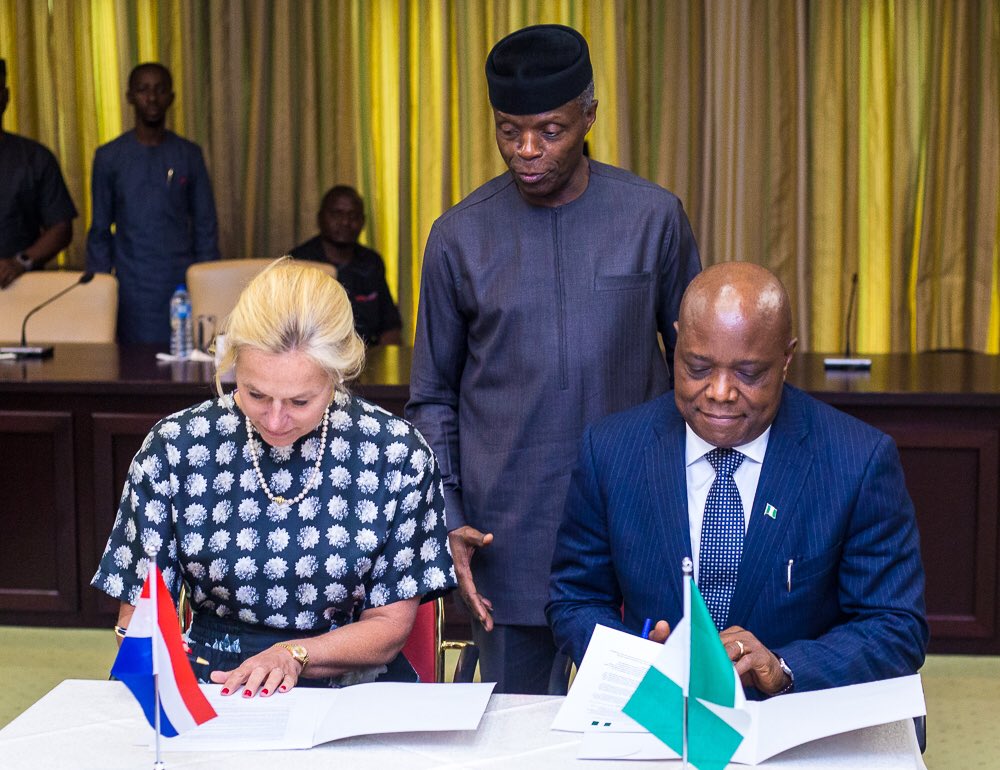 Vice President Yemi Osinbajo, SAN, continues to emphasize the firm commitment of the Buhari administration on Human Capital Development, stating that the Federal Government is creating economic opportunities for young people, and ensuring a conducive environment for businesses to thrive in the country.
Prof. Osinbajo stated this on Tuesday at the Presidential Villa, Abuja, when he received in audience a delegation from the Kingdom of Netherlands led by its Minister for Foreign Trade and International Cooperation, Mrs. Sigrid Kaag.
During the meeting, the Vice President also witnessed the signing of a communique on the bilateral consultations between Nigeria and Netherlands. While the Permanent Secretary, Ministry of Industry, Trade and Investment, Mr. Sunday Akpan, signed for Nigeria; the visiting Netherlands Minister signed on behalf of the Kingdom of Netherlands.
The Vice President stated that one of the primary objectives of investments and Human Capital Development is to promote inclusive growth.
"That is particularly important for us because we have a large population and we also have significant problem of poverty. We recognize that our population constitute a strength, even in potential. And we have been committed to human capital development, especially in the areas of education and healthcare; where we are ramping up our investments.
"What we are trying to do in terms of Human Capital Development is for the Federal Government to intervene so that we are able to encourage the states to do more and to follow much more on the national plan.
"On June 20, the President announced the plan for free and compulsory education for the first nine years of a child's life and the enforcement of that.
"And it's very important for us in terms of policy because we believe very strongly that if we are able to do so, we will be in a position to strengthen that foundational part of the life of young people, because these young people constitute over two-thirds of our population, and they represent, in our view, the strength of the nation going forward in practically every aspect of life."
"We are really committed to Human Capital Development, and that's an area where we really would appreciate your collaboration, especially with respect to some of what we are doing with young people in terms of training and technology. We have, at the moment, about 500,000 people who are engaged in what we call N-Power, where they are given devices with lots of training materials across all the states in Nigeria. They are also trained as extension workers, teachers, in technical areas, building, electronics and technology.
The Vice President added that the Buhari administration intends to ramp up this policy focus so as to empower more young people with skills and opportunities for economic development, noting that Government was "working hard to create opportunities for our young people, because we have a duty to provide for our people and we don't take that responsibility lightly at all. We should work together to see how we can beat some of these challenges."
According to him, "we have a lot of young people who are at the moment very engaged in the areas of various technology startups, which is a big area for us. What we've done in that area is to invest in technology hubs across the country, so we are partnering with civil societies and some private companies; like Cisco. Microsoft is building the first African Development Centre here in Nigeria.
"So, we are partnering with some of the big companies to look at how to do more in terms of encouraging tech startups and also improving broadband connectivity, which we hope will also help our plan for financial inclusion."
The meeting discussed ways to further strengthen bilateral economic relations, within the framework of the Memorandum of Understanding (MOU) concluded and signed by the two countries following President Buhari's visit to the Netherlands in July 2018.
During the meeting focused on concrete areas of closer collaboration and intensified cooperation, it was agreed that a working group would be established that will focus on the growth of trade and investment between the two countries; and would explore opportunities to further increase trade and investment volumes between the two countries, especially in the areas of agriculture, food production and distribution, and food security.
Also, in the overall objective of creating a mutually beneficial business environment, the working group will also pay special attention to youth employment and entrepreneurship, capacity building and knowledge sharing, and on promoting Dutch and Nigerian private and public investment in the agricultural sector in line with the Buhari administration's Economic Recovery and Growth Plan.
In her remarks, Kaag said Nigeria remains a global player and strategic partner of the Netherlands, adding that the Netherlands Government would establish programmes that will focus on knowledge exchange, capacity building, private sector development and value chain transformation.
Also present at the meeting, beside the Permanent Secretary, Ministry of Industry, Trade and Investment; were Mr. Lot Egopija, who represented the Permanent Secretary, Foreign Affairs; Executive Director/CEO, Nigerian Export Promotion Council, Mr. Segun Awolowo; Executive Secretary/CEO, Nigerian Investment Promotion Commission, Yewande Sadiku; and other senior government officials from both countries.
Laolu Akande
Senior Special Assistant to the President on Media and Publicity