IGP Deploys 30,000 Police Personnel for Ekiti Gubernatorial Election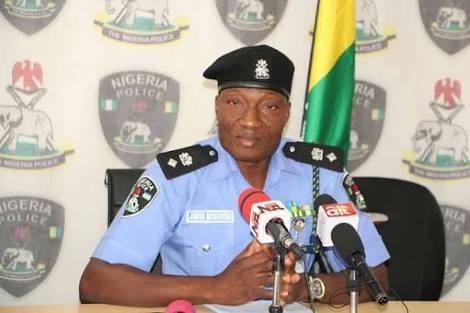 The Ekiti State Governorship election is scheduled to hold on the 14th of JULY, 2018. To this end the Inspector General of Police, IGP Ibrahim K. Idris NPM, mni, has directed that a robust and elaborate security arrangement be implemented in Ekiti State to ensure peaceful, credible, free and fair election.
2. The Deputy Inspector General of Police, Department of Operations has been deployed to the State and will be assisted by an Assistant Inspector General of Police, Four (4) Commissioners of Police, Eight (8) Deputy Commissioners of Police and Eighteen (18) Assistant Commissioners of Police, each Senatorial district will be manned by a Commissioner of Police. The DIG will implement and coordinate the security operations, and also supervise the deployment of security personnel for the elections throughout the 2451 Polling units/voting points, 177 Wards and the Sixteen (16) LGA of the State.
3. To ensure adequate security and safety of life and property before, during and after the elections, the IGP has graciously approved the deployment of Thirty thousand (30,000) Police personnel to Ekiti State for the Election. The personnel comprising Police Mobile Force (PMF) Units, Counter Terrorism Unit (CTU), the Special Protection Unit (SPU), the Anti Bomb Squad (EOD), Conventional Policemen, the Armament Unit, personnel of FCIID and the Sniffer dogs section. Four (4) Policemen and two (2) others from other security agencies will be on duty at each polling unit throughout the State. The Police Mobile Force (PMF) to be headed by a very Senior Officer will provide security at the RAC, Super RAC and collation centres.
4. Two (2) Patrol Surveillance Helicopters, Five (5) additional Armoured Personnel Carriers, Ten (10) Armoured Personnel Vehicles and Two Hundred and Fifty (250) Police patrol vehicles are deployed throughout the State including difficult terrains. Other security and safety agencies who are members of Inter-Agency Consultative Committee on Election Security (ICCES) in the State are also deployed to complement the Nigeria Police Force during the election.
5. As part of additional measures to guarantee a peaceful and credible election, the IGP will on 9th July, 2018 attend a stakeholder's and peace accord meeting of all the Thirty Five (35) political parties participating in the election and their flag bearers, INEC officials, election observers and other accredited stakeholders in Ado-Ekiti, Ekiti State.
6. Furthermore, Police officers and personnel of other security and safety agencies deployed for the elections are under strict Instructions to be polite and civil but firm in the discharge of their duties and other responsibilities. They are to provide adequate security for the electorates, INEC Officials, movement of election materials, the accredited election observers and other individuals and bodies that have statutory roles in the conduct of the election, at the Polling units, Collation Centres and INEC Offices throughout the period of the election.
7. Special security identification tags will be worn by all security personnel deployed for the election. No personnel of any security agency will be allowed to move to any other location other than where they were deployed throughout the election period.
8. Security personnel attached to public office holders and politicians will not be allowed to follow their principals to the polling units or collation centres throughout the election. Security personnel are hereby warned to desist from escorting their Principals and Politicians to polling units and collation centres during the election. Any deviant security detail will be apprehended and dealt with accordingly.
9. Commissioners of Police and their personnel in States contiguous and close to Ekiti State, such as Ondo, Osun, Kwara, Kogi, Ogun, Edo and Oyo States have been directed by the IGP to be on Red-Alert with their personnel. They are to deploy massively within areas neighbouring to Ekiti State to prevent crimes, hoodlums and miscreants and other unwanted elements or groups from infiltrating from their States to Ekiti State to disrupt the election.
10. Restriction of vehicular movement in and out of Ekiti State will commence from 12-midnight of Friday, 13th July, 2018 till the end of the election. Travellers and other road users are advised to make use of alternative routes. However, those on essential duties on genuine course will be granted passage.
11. All the Thirty Five (35) participating Political parties and their leaderships and supporters, Traditional rulers, Community leaders, parents and Guardians are advised to warn and prevail on their members, supporters, subjects, children and wards to be law abiding and not allow themselves to be used to cause disturbance of the peace or disruption of the election/electoral process anywhere in the State. The full weight of the law will be applied on any person or group of persons found violating the electoral act or indulging in any criminal conduct capable of causing violence before, during and after the election.
12. Threat assessments have been carried out by the Police in Ekiti State and all identified flash points and troubled prone areas have been addressed. However, the Force will not hesitate to deal decisively in accordance with the electoral act and other enabling laws with any individual(s) or group(s), no matter how highly placed, whose utterances or conduct is contrary to the electoral act or that can incite disturbance of public peace, law and order before, during or after the election.
13. The electorates and the general public in Ekiti State who observe any untoward incident or crime can reach the Joint Operation Room for the election through the following phone numbers; 08062335577, 08035925554, 08081761702.
14. The Inspector General of Police wishes to assure the electorates, the contestants and all law abiding citizens in Ekiti State of adequate security throughout the election. They are hereby enjoined to feel free to go out and cast their votes without any fear or apprehension. The IGP implores them to cooperate with the Police personnel in the discharge of their duties.
Ag. DCP JIMOH MOSHOOD
FORCE PUBLIC RELATIONS OFFICER
FORCE HEADQUARTERS