Improving Transparency will Assure Nigerians, they can Monitor PPP Projects in the Country – VP Osinbajo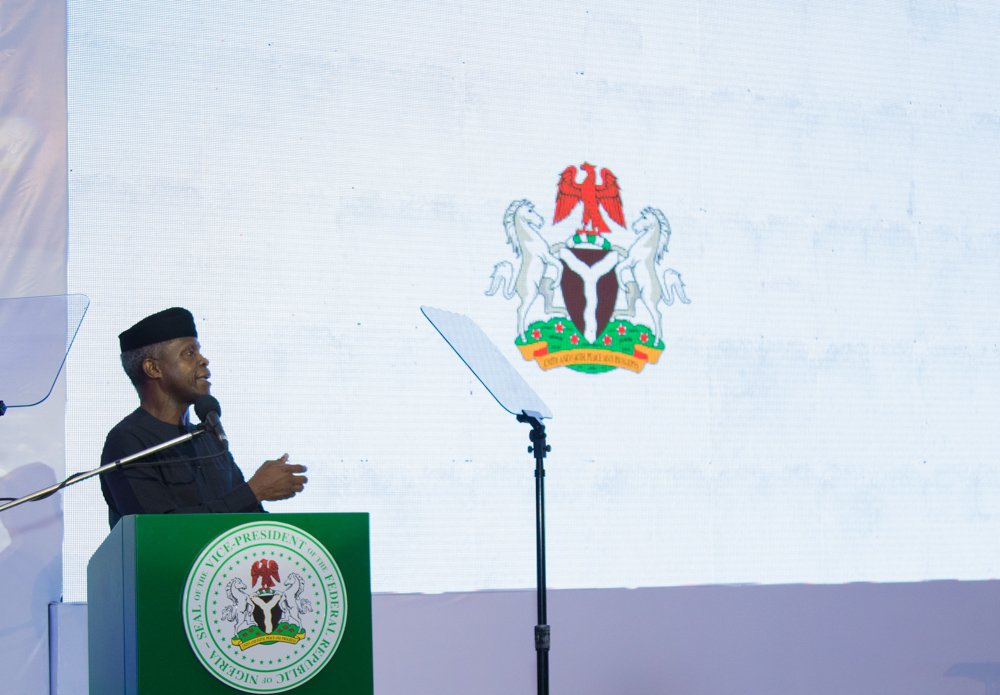 REMARKS BY HIS EXCELLENCY, PROF YEMI OSINBAJO, SAN, GCON, VICE PRESIDENT OF THE FEDERAL REPUBLIC OF NIGERIA, AT THE OPENING OF THE JOINT WEST AFRICAN REGIONAL GLOBAL INFRASTRUCTURE HUB, PPP RISK ALLOCATION AND PPP CONTRACT MANAGEMENT TOOLS DISSEMINATION WORKSHOP, ON 16TH OCTOBER, 2018.
PROTOCOLS
I am pleased to join West Africa's finest professionals in Infrastructure and Finance here this morning for this very important workshop. Public-Private Partnerships in infrastructure development in our countries are simply practical wisdom. Governments evidently lack the resources to solely finance, build and manage public infrastructure. The way out is PPPs and our Infrastructure Concession and Regulatory Commission has since its inauguration, taken over about 55 PPP projects all over the country.
Besides, there are several well-known PPP projects including the Murtala Muhammad Airport 2, Garki Hospital, Kainji/Jebba and Shiroro Hydro Electric Power projects, and about 25 port terminals concessioned to private operators.
But managing these PPPs through stakeholder management, performance monitoring refinancing, re-negotiation, and disputes are probably as crucial for governments as the PPPs themselves. Similarly, we discount the centrality of risk allocation in PPP contracts at our peril. Indeed, the correct application of risk allocation principles in infrastructure projects is fundamental to bankability and long-term viability of those projects.
We must commend the Global Infrastructure Hub for developing these tools, the PPP Risk Allocation and PPP Contract Management Tools and for dedicating this workshop to the dissemination of the tools for our sub-region. And this is important because the public sector in most developing economies, especially in our sub-region, simply lack the necessary skills and tools to effectively manage PPP contracts. Drawing up this contract management tools and the annotated set of risk matrices, demonstrating the successful allocation of risks between public and private parties in PPP transactions, is a great service to public sector parties in all of our countries.
The participation of top international law and finance practitioners, the multilateral development banks with the hub in this endeavor greatly enhance its usefulness and worth.
It also demonstrates the new approach to doing business in a globalized environment, the key being collaboration. Time was when the better resourced private sector looked to game the public sector in PPPs. Usually, such victories, if they could be so described are pyrrhic, one more failed PPP, one more failed project.
But this new approach, where the parties are helped to adopt best practices in drafting and management of PPP contracts, is a win-win for everyone. The admitted focus of the tools is on economic infrastructure; all of the reports you will read shows that the tools focus on economic infrastructure projects to the exclusion of social infrastructure.
There is a need for us to discuss this even further, especially because of the increasingly large numbers of public projects that are in the nature of social infrastructure. Projects in health, education etc., and their peculiarities would benefit greatly from extending the work of the tools to them.
We must also ask for some of what has been excluded from these tools because of the very nature of the tools, the current iteration of the tools do not include risks, especially those that cannot be included in concession or project agreement, for example, government procurement risk, third-party risk, delays etc., and specific risks arising in unsolicited projects. I think that later iterations may be able to focus on some of these tools would be helpful indeed.
It is clear that the use of these contract management and risk assessment tools will further strengthen transparency and accountability in the Nigerian PPP environment, following up on ICRC's earlier deployment of the PPP Web Disclosure Portal (www.ppp.icrc.gov.ng). This extent of project information disclosure will also stimulate investor interest significantly.
All of these efforts at improving transparency will also provide more assurance to our people, as they can now monitor the progress of implementation of PPP projects in the country.
Let me thank the Global Infrastructure Hub, for the choice of Nigeria as the venue for this first of its kind workshop. And also thank the law firms of Norton Rose Fulbright and Olaniwun Ajayi and of course, our very dynamic ICRC for the hard work that has gone into the planning and execution of this workshop. We are also informed today, that the DG ICRC is soon to be confirmed.
On this note, it is my pleasure to officially open the Joint West African Regional Global Infrastructure Hub PPP Risk Allocation and PPP Contract Management Tools Dissemination Workshop.
Thank you and God bless.