At Oxford University, Prof Osinbajo's impeccable record continues by Bernard Okri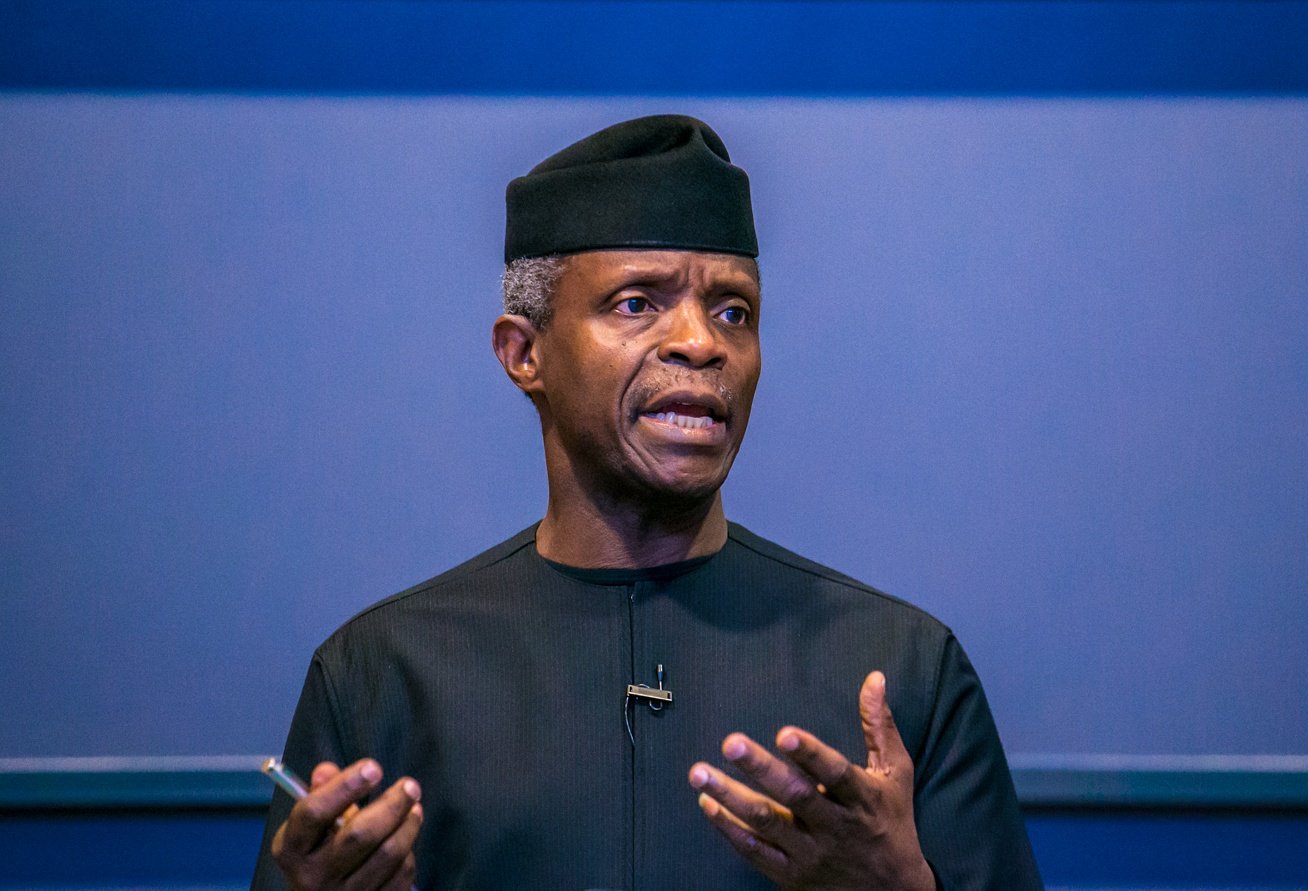 Prof Yemi Osinbajo, Nigeria's Vice President showed why he is renowned for oratory prowess and why he stands far ahead of his peers as he delivered his lecture off hand.
For those who have had the privilege of listening to him before or sitting across him at a table it was another pleasant opportunity to be dazzled again but for those who were listening to him for the first time, they were left spell bound.
Staring firmly at the former Lagos Attorney General of Lagos, they wondered where all the facts, figures and statements he reeled off were coming from. They were perplexed by his ability to narrate the Buhari's administration successes without a prepared speech or even a piece of paper in hand.
Beyond that, he sold Africa, he sold Nigeria, and indeed he sold the black race before going on to inaugurate the Oxford Board of African Studies. It was a delight and a huge moment of pride for all Africans at the gathering.
Prof Osinbajo was one of their own and he was making them proud. Discussing Osinbajo, some said they've not seen a person so charming and gifted like him in Africa since Nelson Mandela and Kofi Annan. He stood in a class of his own.
During the lecture, Prof. Osinbajo highlighted ongoing investments, efforts and plans of the Nigerian government and the progress it has made in improving the country's Human Capital Development indices and investment climate, as well as the widespread impact of the National Social Investment Programmes (N-SIP).
Despite the enormous challenges of Human Capital Development in Africa, the Vice President further called on African governments to unlock the "opportunities to significantly move the needle in the journey to vastly improved standards of existence for our people."
Talking job creation and job sustainability, Prof Osinbajo explained that 349,000 new bank accounts have been open, while almost half a million small businesses in Nigeria have accessed the loan under the MarketMoni scheme – a short tenor interest-free credit of between N50,000 and N300,000 for small businesses under the auspices of their cooperative societies as a risk management device.
He also explained that by the end of 2018, two million petty traders nationwide would have benefitted from the TraderMoni, which provides them zero collateral and interest-free N10,000 loans.
Prof. Osinbajo also noted that out of the targeted one million, so far, almost 300,000 households have benefited from the N-SIP's Conditional Cash Transfer (CCT) scheme, in which the poorest and most vulnerable households in the country are given N5,000 monthly.
He said the administration's Government Enterprise and Empowerment Programme (GEEP) was an important tool for financially empowering small businesses, artisans, market women, petty traders, and table top traders.
If the impact he made on the room was in doubt, the opportunity for photo ops pretty much sealed it. Like kids who were star struck, the audience flocked towards Prof Osinbajo to take pictures, it was a moment to savour then and in the future,and no one was willing to pass up on it.
Prof. Osinbajo who also inaugurated the International Advisory Board of Oxford University Area Studies Centre, under the School of Global and Area Studies, was received by Nigerian-born, first Black African Rhodes Professor at St Antony's College, Oxford, Professor Wale Adebanwi.
The other members of the inaugurated board are eminent leaders from across the world, including several African countries like Nigeria and South Africa.
Bernard Okri is a founding member of the Global Economic Policy Initiative