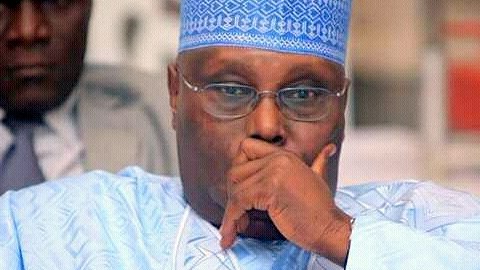 On Wednesday the 10th of October, former Vice President Atiku Abubakar paid a historic – albeit not unexpected – visit to his erstwhile boss and former president, Chief Olusegun Obasanjo. During the visit, the later endorsed the former and in his press conference address even called him the president to be.
For the discerning, former President Obasanjo's endorsement of Atiku did not come to many as a surprise. For Obasanjo, what is important in an endorsement is the future of his selfish corrupt interests; not the integrity, capacity, or sincerity of the endorsed.
Buhari was Obasanjo's arch enemy in 2011 when he vigorously campaigned for former President Jonathan. He was to later dump his support for Jonathan and switched to Buhari in 2015 when Jonathan obviously did not give him what he wanted.
In a consistent pattern, today, he has switched support from Buhari to another. This time, to one man he has consistently derided and swore never to support because, in his words, God will never forgive him if he did so.
Obasanjo's turncoat support for Atiku's obsessive ambition to be President, irrespective of whatever reasons he gave may not be as a result of the conviction that Atiku is now the opposite version of what he once called him: corrupt, untrustworthy, a disaster, and many other uncomplimentary characters. His reason was simply for the fact that he lacked a candidate that would best protect his future interests in the control of Nigeria. If he had succeeded in putting together his Coalition for Nigeria Movement or a different candidate other than Atiku had emerged from the Peoples Democratic Party (PDP) presidential primaries, Atiku would still have remained the worst thing to Obasanjo.
Prior to now, Obasanjo had told everyone that cared to listen that his former Vice President is anything but good. He said he is corrupt, never to be trusted and sacrifices every other thing for his personal and selfish interests. He summed up this in his autobiography titled "My Watch," where he described Atiku as thus:
"From the day I nominated Atiku to be my vice, he set his mind not for any good, benefit or service of the country, but on furiously planning to upstage, supplant or remove me at all cost and to take my place… "What I did not know, which came out glaringly later, was his parental background which was somewhat shadowy, his propensity to corruption, his tendency to disloyalty, his inability to say and stick to the truth all the time,a propensity for poor judgment, his belief and reliance on marabouts , his lack of transparency, his trust in money to buy his way out on all issues and his readiness to sacrifice morality, integrity, propriety truth and national interest for self and selfish interest"
The former President held on so much to his views of the former Vice President that he said that God will not forgive him if he supports Atiku for president. But Atiku's visit to Abeokuta on Wednesday changed everything. Obasanjo went back to his vomit, but wittingly, he picked his words very carefully such that he exonerated himself from any wrong positioning and instead further indicted Atiku and left him with the burden of having to explain to Nigerians what they may soon be demanding answers to. Let us take a look at Obasanjo's comment and the questions arising from them.
"In the presence of these distinguished leaders of goodwill today, let me say it openly that we have reviewed what went wrong on the side of Atiku. And in all honesty, my former Vice-President has re-discovered and re-positioned himself as I have repeatedly said, it is not so much what you did against me that was the issue but what you did against the Party, the Government and the country."
"From what transpired in the last couple of hours or so, you have shown remorse; you have asked for forgiveness and you have indicated that you have learnt some good lessons and you will mend fences and make amends as necessary and as desirable.
"Whenever or wherever you might have offended me, as a Christian who asks for God's forgiveness of my sins and inadequacies on daily basis, I forgive and I sincerely advise you to learn from the past and do what is right and it will be well with you. Obviously, you have mended fences with the Party and fully reconciled with the Party."
"There are still areas, nationally and internationally, where you have to mend fences and make amends. You will know how to handle what is already out and what may yet be put out by the opposition. But, I am convinced that if you continue with the attitude that brought you here with these distinguished leaders of goodwill, with remorse and contrite heart, the rest of the coast within and outside the country can be cleared. And if there is anything I can do and you want me to do in that respect, I will do.
The questions arising from these comments by Obasanjo which himself or Atiku must provide answers to are thus:
What went wrong on the side of Atiku and what exactly has he done that proves he has "re-discovered and re-positioned" so much that he is getting Obasanjo's endorsement to run for president?
What were the wrongs Atiku committed against the country that are so much compare to the ones he committed against Obasanjo as a person?
If Atiku wronged the country as Obasanjo said, why did he go to beg him for forgiveness and not Nigerians?
What were the good lessons Atiku learnt that resulted to him begging for forgiveness and what does the mending of fences and making of amends entail?
What are the coasts nationally and internationally in which Atiku must mend fences that Obasanjo wants to help him clear?
Until disclosures to these questions are made, it is safe to say that Obasanjo's endorsement of Atiku in the full glare of some clerics and notable Nigerians is display of the gathering of rapacious hawks determined to feast on the commonwealth of Nigeria.
Abubakar Usman writes from Abuja. He tweets @MrAbuSidiq