Investing In Our People, Key to Economic Growth – Osinbajo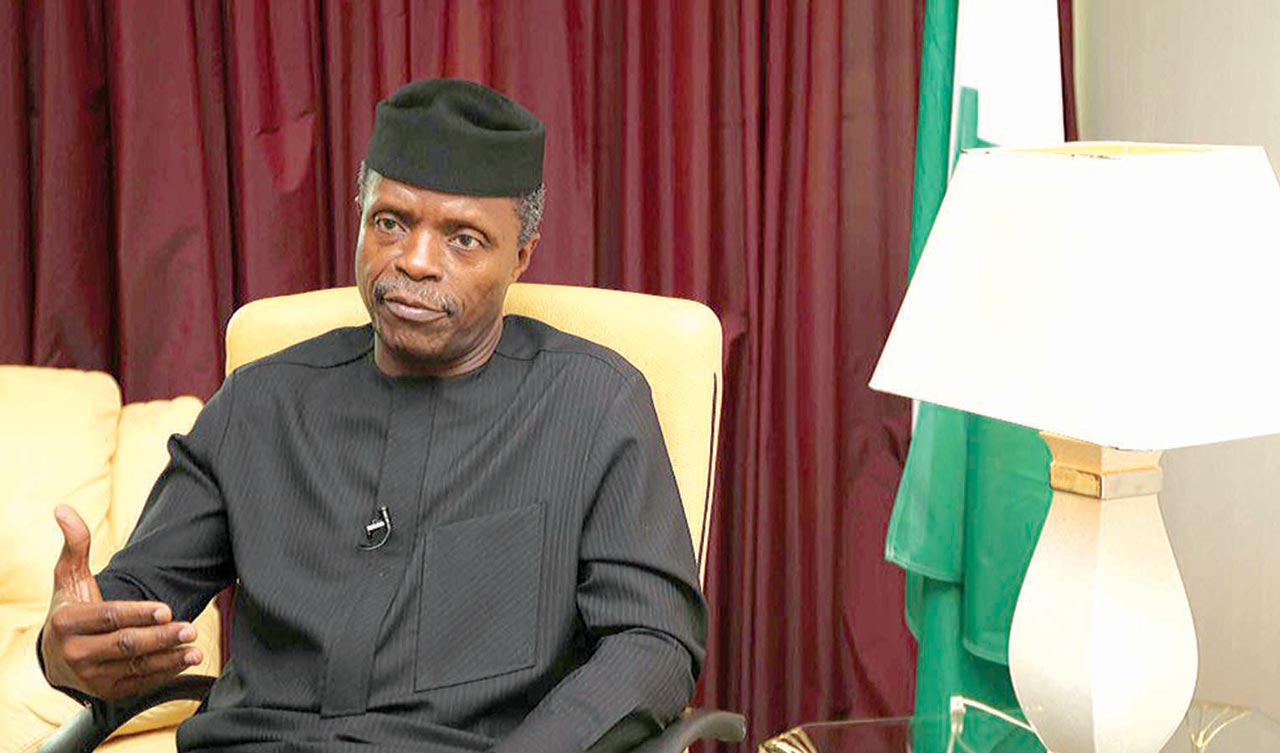 The successes recorded by its social investment programmes are clear indications that the Buhari administration's Economic Recovery and Growth Plan (ERGP) is making progress, according to Vice President Yemi Osinbajo, SAN.
Prof. Osinbajo stated this during a special session of the National Economic Council (NEC) focused on Human Capital Development, which held today at the Presidential Villa, Abuja.
The NEC is composed of all state governors and the CBN Governor under the chairmanship of the Vice President.
The special session, which included officials of federal and state governments, was also attended by Alhaji Aliko Dangote, Chairman of the Dangote Foundation, and Bill Gates, Co-Chair of the Bill & Melinda Gates Foundation.
While describing Gates and Dangote as committed and valued philanthropic and development partners, the Vice President thanked them for "uniquely deploying huge resources and innovation   through social enterprise to solving some of the most challenging issues of human development that we face today."
The Vice President further said the social investment programmes, which are a key component of the administration's Economic Recovery and Growth Plan (ERGP), have made significant strides nationwide because of the administration's political will and vision to make the needed investments, for today and the future.
According to Prof. Osinbajo, "Let me reiterate that not only are we painfully aware of the issues we are prepared to take the challenges you have outlined head-on. Nigeria has strong economic growth and development ambitions, encapsulated in our Economic Recovery and Growth Plan, which we launched in 2017.
"All of those lofty ambitions can only be achieved through the determined application of human skill and effort. And for that effort to be meaningful and productive it has to come from people who are healthy, educated, and who are and feel empowered."
"It is this realisation that has helped ensure that one of the primary planks of the ERGP is 'Investing in our people'. And it is for this reason that we are expanding the reach and quality of our healthcare, through the National Health Insurance Scheme (NHIS); and working to guarantee basic education for all persons, whilst also upgrading and modernising the quality of secondary and post-secondary education.
"In 2016 we launched a Social Investment Programme – comprising a jobs scheme for unemployed graduates, a feeding programme for public primary school pupils, a micro-credit scheme for small businesses, and a cash transfer scheme for our poorest and most vulnerable households. This Social Investment Programme, a key component of the Economic Recovery and Growth Plan, and the most ambitious in Nigeria's history, aims to ensure that no one is left behind; that Nigeria's wealth is more equitably distributed to its vulnerable populations: young and old, male and female, regardless of where in the country they live or what language they speak.
Further highlighting the successes recorded, Prof. Osinbajo said, "The school feeding programme currently serves over 7 million school children, across 22 of Nigeria's 36 states, and continues to grow as more States sign up for it. Apart from the health outcomes – children free from malnutrition and stunting – there are also important educational and economic benefits as well. By guaranteeing one hot meal a day to these children the scheme has pushed school enrolment rates upwards in many of the communities in which it is being implemented.
"Our cash transfer programme, which we're delivering with the support of the World Bank, makes it imperative for beneficiaries to fulfil certain conditions relating to health or education, before they can receive their monthly stipends. These conditions range from mandatory ante-natal care for pregnant women, to mandatory immunisations for nursing mothers, to minimum school attendance rates for parents of school-age children.
"N-Power, as the jobs-for-graduates component of the Social Investment Programme is known, deploys young Nigerians to work as health and teaching assistants, bringing healthcare and education to more people across the country. We have 200,000 young Nigerians already engaged, and this year we intend to scale that up to 500,000. But the more importantly we are leveraging on the creativity and innovation of our young people."
In his speech, Bill Gates praised the efforts of the Buhari administration through its economic recovery and growth plan and praised Nigerian's for having "big dreams and big ambitions". Noting that Nigeria was now the 'biggest economy on the continent, Gates said the country was now "rapidly approaching upper middle-income status, like Brazil, China, and Mexico.
Adding that Nigeria has unmatched economic potential, Gates said the Buhari administration's has taken important steps to fill in gaps in areas of the economy like agriculture, with "both more investment and a series of smart policies to encourage private sector investment."
"These reforms lay the foundation for a booming agricultural sector that feeds the country, helps end chronic malnutrition, and lifts tens of millions of smallholder farmers. I urge you to build on this," he said, adding that the FG should increase its investments in health, education, and opportunities that will lay the foundation for sustained prosperity.
"The agricultural sector is a pillar of the Nigerian economy. It accounts for a large proportion of your GDP, and during the oil price collapse and recession, it helped cushion the economy. But it still has a lot of potential to grow," Gates said.
Also speaking at the event, Dangote noted that human capital was a critical component of Nigeria's future economic growth.
He said the country has largely achieved growth by extracting natural resources and building on that through physical infrastructure.
He said, "For Nigeria to truly compete globally, we must prioritize investments in the health, education and opportunity of our people alongside other critical areas like infrastructure. Together, these are the inputs that will make Nigeria richer," he said.