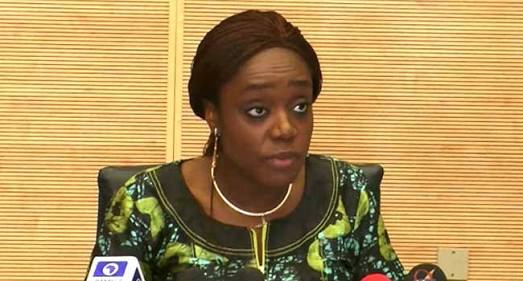 By Amaechi Agbo
"Recognised probity is the surest of all oaths." – Suzanne Curchod.
On the 14th of September, the former minister of finance, Mrs. Kemi Adeosun honourably tendered her resignation letter to the President, Mohammadu Buhari, bringing to an end, near three years of purposeful management of the nation's economy with epitomized probity. However on a controversial note.
Nonetheless with this singular act, Kemi Adeosun has not only etched her name in our history books, but has also justified the fact that in public service, integrity, probity, ethics, transparency and self discipline can still be found.
The former minister made history as the first political office holder to quit her position on the basis of integrity and probity. She has justified the federal government's credo of integrity by throwing in the towel even when the old order of manipulating the system in view of the caliber of political clouts around her would have been the order of the day.
The ruling party, APC described her resignation as actions of honour, strength of character and integrity. And I do not disagree with them. Most Nigerians don't. In fact they were shocked she would take this rare but honourable path.
In the previous administrations in the country particularly since the emergence of our most recent democracy 20 years ago, no minister or political office holder had resigned his or her position despite in the face of allegations of corruption or malfeasance or misconduct or fraud.
Still fresh in the minds of Nigerians are the cases of former aviation minister, Stella Odua and that of Minister of Interior, Abba Moro. Both Ministers under former President Goodluck Jonathan.
Stella Oduah, currently a senator of the Federal Republic, was enmeshed in two scandals of certificate forgery and maladministration.
Oduah claimed she attended St. Paul's College, Lawrenceville in Virginia, US, from 1978 to 1982, obtaining a first degree in Accounting and a Master's Degree in 1983. But the college disclosed that it had never in its 125-year history had a graduate school or graduate programme.
Her claim to have obtained an honorary doctoral degree in Business Administration from Pacific Christian University based in Glendale, was also found to be dubious.
Following these revelations, the then Minister had since amended her biographies on the internet revising her profiles on the web with a view to cleaning up any reference to St. Paul's College in her history. While the PhD allegedly received has also been deleted from her Wikipedia profile.
The former minister was also involved in reckless financial meddlesomeness.
She was rocked in financial misappropriation following her refusal to follow due process in the award of contract for the purchase of two bulletproof cars at the sum of N255 million; a total sum that was grossly inflated.
Consequent upon the scandal, the committee set up by then President Goodluck Jonathan to probe the scandal in the Aviation Ministry indicted Ms Oduah. The report of the presidential committee tallied with some findings of the House of Representatives Committee on Aviation on the corruption case.
The development sparked a wide controversy within and outside the country with many Nigerians and groups calling for her sack as well as the House committee's recommendation that the minister be relived of her duty. None of the calls nor recommendations were heeded.
While the minister refused to resign in the wake of the two proven cases of outright forgery and breach of public trust, the then president, Goodluck Jonathan still retained her until she voluntarily resigned in order to contest the 2015 senatorial election in her state of Anambra.
On his part, former minister of Interior, Abba Moro, conducted a most embarrassing and tragical recruitment exercise in the country's history when on Saturday, March 15, 2014, his Ministry conducted recruitment exercise into the Nigeria Immigration Service, NIS.
Tagged "Nigerian Immigration Service Recruitment Tragedy" afterwards, the exercise, poorly planned and implemented, led to the death of about 20 applicants in various recruitment centres across the country, involving over 520,000 Nigerian graduate applicants who paid N1,000 each to be qualified to take the test.
After the NIS tragedy, several Nigerians demanded the resignation or dismissal of Mr. Moro and the then Comptroller-General of Immigration, David Parradang, as well as their criminal prosecution for involuntary homicide, but none of such happened as their boss then, Goodluck Jonathan turned a blind eye to the pains and anguish of Nigerians and retained him till his government was voted out in 2015.
Other cases of scandals that rocked past administrations abound but never did one of them throw in the towel even when such cases were proven beyond reasonable doubts that the actors committed perjury or gross misconduct.
Though, in her resignation letter, Mrs Adeosun still maintained her innocence having submitted the same certificate to different government institutions in the course of her public service to her state and Nigeria in general; her innocence remains a debate for the court room where it would be expected that she makes a case that she knew nothing about the fake certificate and had no hand in procuring it.
One thing Mrs Adeosun would be remembered for is this: She brought discipline into the country's finance systems, implemented policies that her predecessors were scared to touch; she identified and pursued a path to long term sustainable economic growth for the country.
Under her stewardship, Nigeria was able to exit recession and has laid the foundations for lasting growth and wealth creation.
Beyond the certificate scandal, Mrs Kemi Adeosun would be remembered for being a role model, and a quintessential persona when integrity and honour is called among Nigerian politicians and leaders.
Amaechi Agbo is a public affairs analyst based in Abuja.