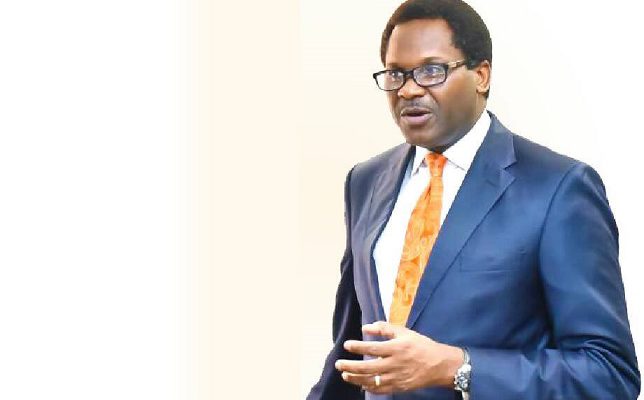 Kogi, the confluence State is presently groaning under the abysmal leadership of incumbent Governor, Yahaya Bello. While workers are being owed several months of salaries, decrepit infrastructure dot the landscape of the State with no visible projects in almost 4 years. It is generally discussed in hushed tones across the State that Kogi has never had it so bad. The yearning for change has literarily become a movement, and not a few people are looking in the direction of this very refined gentleman – Babatunde Irukera, to salvage the State.
Babatunde Irukera is the Director General/Chief Executive Officer, Consumer Protection Council (CPC). He is responsible for the daily management of the Council and leadership in fulfilling its mandate to protect consumers and secure remedies when consumer rights are violated. His record of advocacy and cases in favour of consumers is outstanding and provides the clarity that both the Council and industry need in ensuring due regard for customer service and protection of consumer rights.
Irukera has to his credit key sector related consumer protection advancements including advising the Nigerian Civil Aviation Authority with respect to its role in sector consumer protection. He led the initiative in developing current aviation consumer protection regulations as well as the Passenger Bill of Rights. He also led the team that revised existing aviation economic regulations and superintended a comprehensive regulatory and parliamentary investigation into anti-competitive behaviour by foreign airlines. He has also provided capacity-building and advisory services to federal agencies and other clients with respect to competition/antitrust issues. He co-authors the Nigerian chapters in a range of competition/antitrust related widely regarded international publications.
Born on the 4th of September 1968 in Kaduna state, Irukera hails from Egbe, Yagba West. He studied law from the prestigious Obafemi Awolowo University, Ife and upon graduation in 1989, he proceeded to the Nigeria Law School in Lagos in 1990. In 1995 he proceeded to the United State of America, where he carved a niche for himself as a successful Immigration expert in 1996 after passing the Washington State Bar examination at first sitting, a year after arriving America. In 1997, he started a partnership ( Thomas & Irukera) which ultimately become Partners, Attorneys & Counsellors, both in Chicago.
The legal luminary returned to Nigeria in 2006 to continue his professional career and became a founding and Managing Partner of Simmons Cooper Partners, now a leading law firm in Nigeria. So far, he has had a very successful career, winning many leading and landmark cases. Many of which are in the U.S, where he handled a case for black workers who were subjected to racial discrimination and a hostile work environment in a Fortune 500 company. The case went on appeal, he succeeded on appeal and the case ultimately settled in favour of his clients. It's a major case and a reference point in employment discrimination cases in the U.S.
In Nigeria, Babatunde Irukera represented the Federal and Kano state government in a major case against Pfizer for using Nigeria children in Kano as Guinea Pigs to test run a polio drug which caused deaths and other unbearable consequences on the affected children in 1992. The pharmaceutical giant, because the overwhelming evidence established against it by Irukera and his team, pleaded and secured the largest settlement in the history of Nigeria by compensating the victims and constructing a world class infectious disease hospital in Kano.
In another landmark case, Irukera represented a class of investors against one of Nigeria largest bank and secured judgment that subscribers should be fairly treated. Very important case as it was the only class action in the judicial process and it provided remedy for every single subscriber. The list of his success story as a lawyer is endless, his tenacity of purpose in that regard and in his present assignment as DG CPC is the reason the Kogi people are looking in his direction for exemplary leadership.
One of his celebrated case was which the Nigerian government launched a $43-billion lawsuit against three multinational cigarette manufacturers it accuses of trying to hook young Africans on tobacco, to replenish a market that is dwindling in the West and and attempts to influence lawmakers to keep tobacco sales unregulated, the companies are the British American Tobacco (BAT), Philip Morris and International Tobacco. Babatunde Irukera was the Federal Government lawyer in the case. The companies questioned the massive sums demanded by the government and say the case "has no merit".
However, Irukera proved them wrong and went ahead to establish a case against them with a dossier of evidence that runs to 3,000 pages consisting of internal company e-mails discussing how to target children and influence lawmakers in Nigeria. "If this case gets to the evidence stage, the companies are dead on arrival," says Babatunde Irukera, the case eventually settled out of court in favour of the government.
He successfully handled the complex multi jurisdictional cases of firms in the United States and England in establishing a broad based practice in Nigeria, focusing primarily on public interest litigation to protect society from injurious conduct and unscrupulous behaviour.
He routinely conducted oral arguments before the United States Court of Appeals and the Nigerian appellate courts with reported "locus classicus", passages more authoritative and known, that are currently of worthy presidential value
It is believed therefore that with his wealth of experience as a litigator and seasoned administrator, Babatunde Irukera is the breath of fresh air that Kogi desperately needs to neutralise the suffocating stench oozing out of the State as a result of Yahaya Bello's maladministration. A proverbial round peg in a round hole, widely believed to be imbued with impeccable character and leadership acumen, It is widely acclaimed that he holds the ace for an All Progressives Congress (APC) victory in the November Gubernatorial polls. For Kogi to prosper again, give us Irukera!
Bala Haruna, is an APC chieftain and concerned Kogi State Indigene