Nigeria's Security Situation Improving – BMO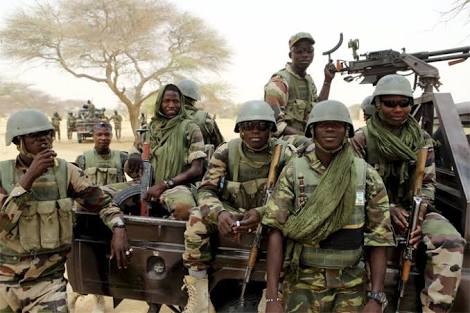 Nigeria's security situation is steadily improving, and the security agencies have recorded significant results within the last few months across the country.
Making this assertion in a statement in Abuja, the Buhari Media Organisation (BMO) stated that opposition Peoples Democratic Party (PDP's) insinuations that the Buhari administration was not paying proper attention to security issues in the country, is completely off the mark.
The group added that the PDP has no moral ground to talk about security issues in Nigeria as Buhari has been busy fixing what had been bequeathed to him by sixteen years of PDP's mal-administration.
In the statement signed by Niyi Akinsiju and Cassidy Madueke, its Chairman and Secretary respectively, BMO noted that "While indeed President Buhari met on ground a weak security structure, and several security challenges, Nigeria's security situation is being tackled head-on with tangible successes being recorded, especially more recently with prominent arrests made.
"There is the opinion that we must not dwell on the past, but context is important when we address Nigeria's social, economic and security issues. Nigeria's security challenges did not start yesterday, neither did it start in 2015. A weak security structure funds meant for security agencies stolen; that was what was bequeathed to President Buhari. But he has not rested on his oars since he assumed office in May 2015. Rather, he has decidedly tackled Nigeria's security challenges head-on and made consequent directives that have yielded fruitful results.
"The menace of kidnapping and banditry in some states in the North-Central and the North-West, particularly in Kaduna and Zamfara States, have been dealt swift blows by the Buhari led administration in the last few months. Only last week, the notorious godfather of kidnappers, known as the Spiritual Father of Kidnappers in Northern Nigeria, Salisu Abubakar was arrested by the Nigerian Police. This is a major feat.
"Several arrests have been made consequently, and armed bandits are being smoked out from their hideouts through intelligence gathered from this 'Spiritual Father.'"
BMO stated further that the security agencies must be commended for their resilience and dedication, especially given their recent feats, including the arrest of the suspected killer of the traditional ruler of Adara Kingdom of Kajuru Local Government Area in Kaduna State.
"Those perpetrating the killings and banditry are being arrested by the security forces. Several of them are in police custody, including Ibrahim Abubakar and several others who were arrested in relation to the kidnap and murder of Maiwada Galadima of Kajuru Local Government Area of Kaduna State.
"The 200-kilometre long Kaduna-Abuja Expressway, on the orders of the President, is now being dominated by security forces who are taking the heat to the bandits and kidnappers, taking them down in their bases. Kidnapped persons are being freed as well.
"The Nigerian Military recently uncovered an illegal arms factory in Benue State, and have arrested the two manufacturers.
"Troops of the Multi-National Joint Task Force have made significant impact in their mandate in the North East. Today we do not hear of our Local Governments being run down, rather we hear that the Military have destroyed this camp and that camp; the military have recovered so and so. Consequently hundreds of thousands of Internally Displaced Persons have returned to their homes and their livelihoods."
BMO stated further that the commitment of the President towards securing the nation was showing results and it is falsehood to say otherwise.
"Given all these achievements by our security agencies, and much more that have not been mentioned here, whoever says the President has made no impact is being a naysayer, and is being economical with the truth.
"People should not live in the past, indeed the PDP failed to institutionalise and fund security adequately, and this has resulted in some of the security challenges we have faced, but those days are coming to an end."
The group noted that Nigerians should disregard frenzy news items that celebrate and promote crimes while failing to amplify the multitude of successes achieved by the Nigerian security agencies