ONNOGHEN: Another Win for Anti-Graft War – BMO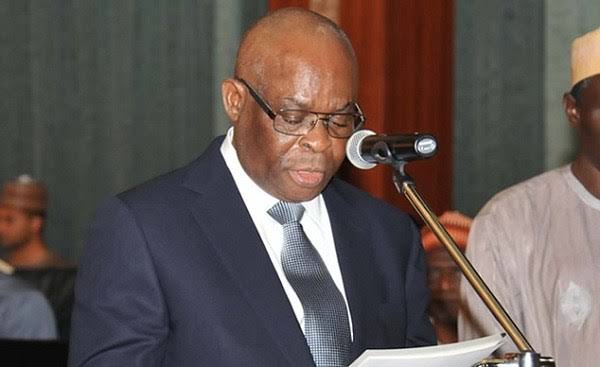 Chief Justice of Nigeria, Justice Walter Onnoghen's resignation is yet another victory for the fight against corruption, and an endorsement of President Buhari's dogged determination to cleanse the judiciary of corruption and bad eggs.
The Buhari Media Organisation (BMO) described the resignation as a triumph of good over evil and a plus for the President's unrelenting fight against corruption.
"Despite the delays, the games, the politicization and the sentiments that were unfortunately thrown into the space, truth has prevailed in this matter", the group enthused in a statement signed by its Coordinator Niyi Akinsiju and the Secretary Cassidy Madueke.
"Justice Onnoghen's resignation has affirmed that this was indeed not a witch-hunt, neither was it a political matter as the Peoples Democratic Party (PDP) and indeed many naysayers had made it look like.
"This has also put to rest posters that questioned the evidence that was put forward with regards to the former Chief Justice's malfeasances, abuse of office and failure to declare his assets.
"It is, to all intents and purposes, a fitting starting point for a cleansing operation that will be the hallmark of President Buhari's second term in office."
BMO pointed out that the former Chief Justice has brought too much shame and disgrace to the Judiciary and the legal profession that his resignation was long overdue.
"We are of the view that this resignation is not even honourable. It was long overdue, a man who by his own admission had stated that he breached provisions of the Code of Conduct by not declaring his assets as mandated by law, should have sent in his resignation months ago.
"But he gave opposition elements the opportunity to try to ridicule President Buhari as one who was out to emasculate the judiciary, so much so that the international community bought into the unfortunate lie.
"It was so bad that the UN Special rapporteur on independence of Judges and lawyers, Diego Garcia-Sayan issued a statement lambasting the Presidency based on the disinformation spread by the opposition in collaboration with their allies.
"We are however thankful to the Economic and Financial Crimes Commission (EFCC), Code of Conduct Bureau and the Tribunal for not relenting despite the pressure by the former Chief Justice and moves to subvert the process through technicalities. The CCB remained consistent and dogged even when fake news and false media narratives tried to castigate their hard work."
The pro-Buhari group noted that despite Justice Onnoghen's resignation, it would be ideal for the CCB and the EFCC to pursue their cases against him to a logical conclusion.
BMO said: "This would enable the suspended CJN defend himself in a duly constituted court and give President Buhari enough ground to justify his suspension if found guilty, rather than create room for opposition elements to suggest that Justice Onnoghen was forced out of office.
"It would also send a clear signal to other bad eggs in the Judiciary about the Buhari administration's readiness to clean the augean stable."