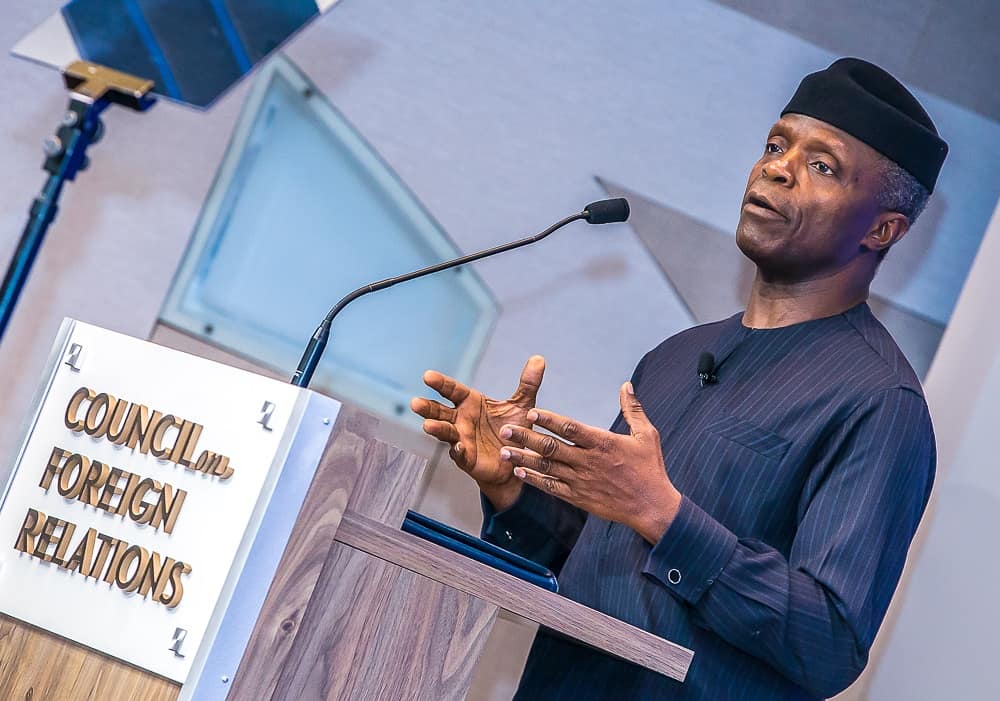 By Richard Ogundiya
For most of the country's democratic sovereignty, there's been enough disparagement about the weakness of the nation's second office. However, one gripping fact from the 2019 general elections is the rising power of the Vice President Yemi Osinbajo and the public's increased interest for his job more than in other election cycles.
Six years ago I sat in a room filled with young professionals and graduates who claimed to be interested in national politics, only 3 people knew who the Vice President of Nigeria was at the time, Namadi Sambo. It wasn't so strange, the same goes for Atiku Abubakar, President Buhari's strongest contender in the 2019 general elections; not a lot of people can point out to his deeds and accomplishments as the Vice President of Nigeria between 1999 to 2007, save allegations that haunt him to this day. By his own conduct, Professor-turned-Politician, Yemi Osinbajo, a central across-the-board figure, exercising his shrewdness and mild suaveness in his service as Buhari's deputy provoked this sudden outburst for credo. While many argue that the VP office is like the human appendix, a vestigial organ on the body politic – unnecessary, Prof as he is fondly called has broken the jinx; he is arguably Nigeria's most industrious VP on record. Since assuming office in 2015, he has worked with relevant departments and agencies to identify problems and recommend solutions regarding economic development, healthcare, foreign exchange policies, poverty alleviation and food security.
With vast experience in international law practice and academia, the VP has served in several positions of authority and contributes to the national discourse even before his foray into active politics. As Attorney General of Lagos State, he is credited with undertaking far-reaching significant judicial reforms, addressing critical areas as judges' recruitment, remuneration, training and discipline as well as access to justice for the poor by establishing appropriate institutions in the Office of the Public Defender (OPD) and the Citizens Mediation Centre (CMC). He solitarily founded the Orderly Society Trust (OST), an excel literacy programme that aims to provide children in public primary schools with the same level of training in English as is available to their counterparts in private schools. His drive for getting the average Nigerian child quality education doesn't stop at that, he organized the Liberty Schools Project that still provides free primary school education with free school lunches to poor children. The Project currently has three sites, one very close to where I live in Lagos.
In 2016, when the nation's economy hit a nosedive, the VP alongside the National Economic Council which he chairs presented '59 strategies for implementing the Economic Recovery and Growth Plan (ERGP). The efforts of the NEC were instrumental in defining Nigeria's policy direction and prudence that saw Nigeria ushered out of a recession quicker than economists predicted. Policies such as the unpopular ban of FOREX provisions to 41 items made significant impact in managing our scarce Dollars at that time.
On the President's directive, he plays a significant role in the 'Niger Delta New Vision' plan – a set of promises, solutions and initiatives the President Buhari administration has set in place for the restoration of peace and ensuring the region benefits maximally from the nation's oil wealth. The programme has fostered security in the creeks and enabled an increase in production and hitch-free flow of crude to the international market. Along with 12 Federal Ministries and state governments, Professor Osinbajo launched the Micro, Small and Medium Enterprises Clinic (MSME), a scheme addressing the plethora of challenges affecting the growth and productivity of growing businesses to bring about significant and sustainable GDP growth, employment generation and increase in local productivity.
Osinbajo's claim to fame can be traced back to May 2017 when he was conferred the Acting President of the Federation during President Buhari's medical leave. Unlike his predecessors, President Buhari vested all legal powers to him in accordance with the constitution. As Acting President, Osinbajo exhibited fearlessness and charisma, taking decisive and perhaps dramatic actions. He ordered the overhaul of SARS – the Police's notorious anti-robbery squad and demanded quick investigation of numerous allegations of assaults by the unit. He sacked Daura, the DSS Chief, describing his actions as 'unacceptable and a gross violation of constitutional order, rule of law and all accepted notions of law and order'. Indeed, he knows his stuff. In that interlude, when he wasn't leading FEC meetings, he was engaging the 36 states with a keen interest in grassroots politics, women affairs, agriculture and young people. He has shown a mastery of communication and responsibility; like President Buhari, he is still actively engaged in the fight for the return of kidnapped girls and the welfare of their families; during the campaigns, he held numerous town hall meetings across the country and participated in youth-led initiatives clamouring for change. In less than 5 years on the national scene, he has gained good popularity among the Nigerian people for his achievements and dexterity in handling national issues.
In the cyberspace, the Vice President Yemi Osinbajo has gathered the most likes, comments and engagements, grossing over 500,000 likes on Facebook, 2 million followers on Twitter and 500,000 Instagram subscribers and social strength of 16 million, he is the second most-followed Nigerian politician after his boss President Muhammadu Buhari. For the first time in a long time we are witnessing a proactive and dynamic 62-year-old man – petite, eloquent, tech-savvy, and an unassuming leader.
While a vice presidential pick has never been solely credited with swinging an election, it can leave an indelible impression about the judgment of a would-be president or help address something that is lacking at the top of the ticket; whether it be a regional appeal, ideological purity, religious sentiments or a gap in their resume. Sometimes, it's all of the above.
His role in the country's technological ecosystem cannot be easily undermined. From being part of a tech tour around hubs and start-ups across Nigeria to facilitating the 2016 Aso Villa Demo day, a platform meant to promote innovation and provide opportunities for entrepreneurs and start-ups solving local problems. Interestingly, Facebook's CEO Mark Zuckerberg made his first trip to Africa and was also part of the pitch competition to which the VP played host. At the Google For Nigeria 2018 event, Osinbajo assured that Nigeria will partner with Google to boost internet connectivity nationwide. You'll also catch the VP at creative events and spaces where Nigeria's new age is being celebrated. Whether it's at the Ake Book Festival, Art Summits or Fashion Week, he appeals as a desirable model of what a progressive leader should be.
Many also love him for his religious ties, prior to his role as VP, Professor Osinbajo served as a top pastor in the Redeemed Christian church of God, Nigeria's largest Pentecostal Church body, but beyond this, his sheer honesty, intellectual acuity and genuine delight has caused him to be loved by all and sundry. His rise to the heart of the Nigerian people has been an easy climb.
Richard Ogundiya is a Journalist covering technology, politics, development and culture in Africa.