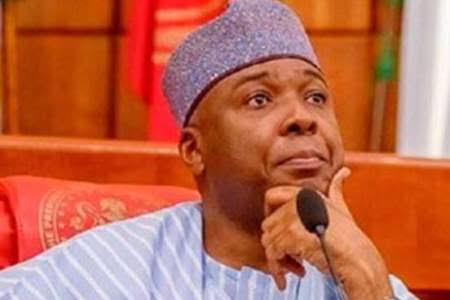 Senate President Bukola Saraki has lost so much in the power equation and is fast on his way to political extinction, he is also the biggest loser in the 2019 general election.
The Buhari Media Organisation (BMO) says Saraki is a perennial political schemer who has suddenly lost relevance and therefore frustrated.
In a statement signed by its Chairman, Niyi Akinsiju and Secretary Cassidy Madueke, BMO said Saraki's comment that the victory of President Muhammadu Buhari in the 2019 presidential election will be short-lived can only be described as the ranting of a politically expired person.
"We consider the unpatriotic outbursts of Saraki as proof of a man who is frustrated after losing his political constituency as a Senator, lost his bid to maintain a political empire, as well as his attempts to impose his lackeys on the good people of Kwara state.
"It is on record that Dr. Saraki has, since the inception of the present administration, constituted himself into a cog in the wheel of the country's progress by using his office as Senate President to undermine the efforts of the Buhari administration to reposition the country."
BMO says that as a political schemer, Saraki has finally played himself into political irrelevance as his constituents have become wiser and given their support to the All Progressives Congress (APC). "Perhaps his political travails can be traced to the curse placed on him by his late father when the old political warlord saw the mean streak in his son, Bukola.
"We want to say without equivocation that Saraki is the biggest loser in the 2019 general elections, considering that he was rejected at every level starting from the unit, ward, local government, senatorial district and governorship elections, where his imposed candidates lost to the APC. It is also worthy of note that he ultimately lost as the director general of the Atiku presidential campaign.
"With his rejection by the Kwara people it is obvious that he is not a leader to be trusted, and has gone into political oblivion. He should therefore keep quiet and lick his wounds as a failed political schemer, and allow the country to move forward. While in the Senate and in his selfish pursuit for power, Saraki also betrayed his party PDP and the entire country."