How the President Ensured That SIP Beneficiaries Were Fairly Selected – VP Osinbajo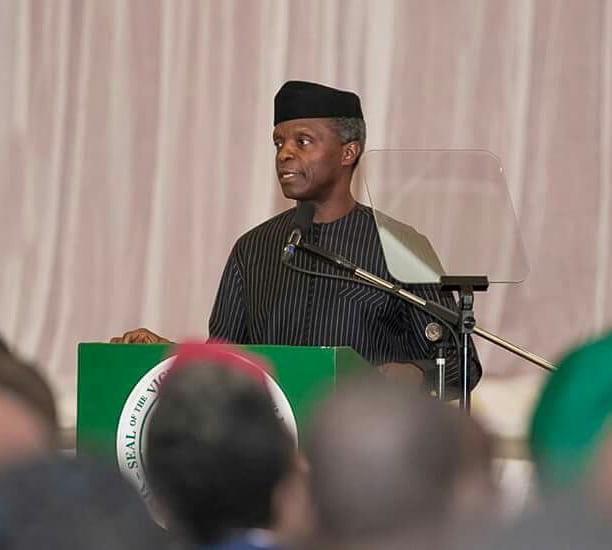 *More N-Power, micro-credit beneficiaries to come on stream soon
*Beneficiaries tell VP stories on impact of programmes on their lives
President Muhammadu Buhari ensured that the selection process to the various schemes of the National Social Investment Programmes were fair and transparent, leading to a situation where beneficiaries did not need any kind of connection to benefit from the programmers, according to Vice President Yemi Osinbajo, SAN.
The Vice President spoke on Tuesday at a town hall meeting with some beneficiaries of the National Social Investment Programme (N-SIP) in Yola, Adamawa State, to assess the progress made so far in the implementation of the programme in the state.
Having listened to the various presentations and sessions of testimonials by some beneficiaries of the various segments of the SIPs, the Vice President added that, "President Buhari made it clear that the SIP would be a major programme of the administration because he was concerned about poverty and unemployment."
He noted that the programme was designed to benefit all Nigerians irrespective of their background.
Prof. Osinbajo assured the beneficiaries that Federal Government will soon scale up the implementation of the SIPs across the country.
He said more N-Power beneficiaries were being added and more micro-credit loans would be made available for beneficiaries, while the Home-Grown School Feeding Programme would be kicking off in the state very soon as cooks have already been selected.
Below are some of the SIP Beneficiaries testimonials from the Town Hall meeting:
Lydia Moses, HGSFP Cook in Yola
My name is Lydia Moses. I am speaking on behalf of the previously unemployed women in the state who are now beneficiaries of the Home-Grown School Feeding Programme (HGSFP), which became possible by the efforts of the Buhari administration.
We are saying a big thank you to you, Your Excellency. Prior to the commencement of the programme, our children were unstable in school, but now they are encouraged by the school feeding programme and we are grateful for this initiative. There are other areas that we, as cooks, and the children are benefiting from the programme.
Talatu Duniya – CCT beneficiary in Yola
We thank you very much for this initiative and idea that God has given you. You ensured that this administration's programmes will not be complete without the welfare of the poor. You remembered the poor and ensured that in all that you are doing as a government, the poor people are carried along. I pray that you will continue with this laudable programme.
I also want to assure that whenever you seek our support for a fresh mandate, we shall be with you and support you 100 per cent. We thank you very much for this initiative.
Juliet Amos, CCT beneficiary in Michika LGA
We are happy and grateful to this government for the activities and programmes they have initiated because these programmes have helped us so much.
The stipend that I get from this programme, I have used it to start a business that has thrived and from which I pay my children's school fees.
Therefore, I pray that God should help the present government actualise whatever it has set out to achieve next year so that they will continue to help people through their programmes.
Glory Franklin – GEEP-Micro-credit beneficiary in Demsa LGA
I am here today to thank you for the support this government has given us following our appeal for support to improve our small businesses.
Before now, we have not been able to successfully do any business, especially for those of us in Adamawa; men or women. You cannot get a loan of N1,000 from anyone, not to talk of N5,000. But within a short time of your coming, your government remembered us.
You deliberated and thought that your government should assist the poor, empower traders to develop their businesses so that we can rise to support our children, our families and their entire community.
It was in this light that your government gave us loans varying from N10,000 to N50,000, and we have enjoyed this support because through it we have catered for our children's education and the businesses we invested in are still thriving.
Our appeal is that this support should be increased so that we can further grow our businesses and improve the support for our families; because if you empower a woman, you are indeed empowering the entire society.
Khalid Atahir – GEEP beneficiary in Yola
We are grateful for what you have done for us in this state through this GEEP programme.
Since I was a child, I have never seen a government that will call the poor people, gather them together and give them money to invest in businesses of their choice, all in a bid to improve their wellbeing.
I am speaking here as a beneficiary and an agent for the GEEP beneficiaries.
We are grateful to God for this government. I want to assure you that we the beneficiaries of the SIPs in Adamawa State are with this government 100 per cent and I pray that God Almighty take you back home safely.
Luka Yusuf – N-Power beneficiary in Yola
On behalf of Adamawa State N-Power, we want to appreciate the leadership of the Federal Government for the initiation of the N-Power programme.
It is the first time in the history of this country that we are having such a process that is free, fair and transparent. Somebody from a village will apply and get it directly without anybody's recommendation and it is on record that this is happening for the first in the history of our country.
We are also praying that this programme should continue in our country. Some of us have become responsible citizens; we have families depending on us from the stipend we get through the programme.
I want to make a plea that the Federal Government initiates a process that will make this programme permanent.
Innocent Bala – N-Build Beneficiary
We wish to welcome the Vice President, the Jagaban, Adamawa State, Prof. Yemi Osinbajo. We wish to also use this medium to express our profound gratitude for the three months training of artisans in seven training centres in Adamawa State under the N-Build Programme. It was a great success as we have completed the three months.
We want to also solicit, on behalf of our colleagues and other youths out there who did not benefit from this segment, that Adamawa State should be considered for N-Build again. With what we have acquired, we believe that we can take up the challenges confronting the economic development of our dear country.
I wish to express our gratitude to the Federal Government, under the leadership of His Excellency, President Muhammadu Buhari, ably represented here today by His Excellency, Prof Yemi Osinbajo, Jagaban Adamawa, for the opportunity given to us to develop our intellectual, as well as our moral capacity towards attaining independence as far as employment is concerned. We have received the essential capacity to face the challenges of unemployment in Nigeria.
I want to use this medium to assure you and Mr. President that we won't disappoint this present administration and we appreciate your efforts towards improving the lives of youths, it will come to reality in Nigeria.
Secondly sir, I want you to know that, of course, this programme was meant for non-graduates; but many engineering graduates joined this programme to be able to get more practical knowledge and skills. I want to state here that 75 per cent of the knowledge I acquired in automobile as a mechanical engineering graduate is from N-Power programme.