Stiffer Regulations Needed To Manage Nigerian Airlines – Kuru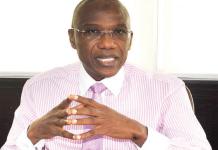 The need to properly regulate the aviation industry in the country has again been identified as panache for growth and stability of airline business in Nigeria. Managing Director/Chief Executive Officer, Asset Management Corporation of Nigeria (AMCON), Mr. Ahmed Lawan Kuru who made the declaration in Lagos also attributed the short lifespan of airlines in the country to corporate governance in the management of the airline business in the country.
Kuru, who was Guest Speaker at the 3rd edition of the Nigeria TravelsMart Colloquium organised by the Nigeria a Travel Market (NTM) highlighted major challenges of airlines and airports blamed the incessant collapse of airlines in Nigeria on lack of corporate governance and adequate regulatory oversight in the management of aviation business in the country. He also called on the federal government to concession the airports across the country as government have no business managing airports.
He said it was high time the government, the regulatory agencies and practitioners realised the important role of aviation in the development of a nation. He said, "The aviation sector is a catalyst for the economic development of nations. It is a wheel that drives economic activities. It facilitates trade, tourism, boosts productivity in the economy, improves efficiency in the supply chain, it is an enabler for investments and can spur innovation. Critically, it is a source of quality employment. For these reasons, it is a strategic sector deserving of a careful plot to greatness if Nigeria is to occupy its rightful place in the comity of nations."
The AMCON boss whose presentation was themed "Corporate Governance and Airline Industry development in Nigeria," also said that aviation regulatory bodies like the Nigeria Civil Aviation Authority (NCAA) must develop the courage to insist that corporate governance is adhered to adding that the industry is riddled with thousands of airline businesses that have failed due to lack of corporate governance as most board of directors are represented by family relations such as father, mother, son who have no competence to manage a business as fragile and sensitive as aviation.
Kuru listed other challenges to include lavish lifestyle of owners of airlines, which he said takes precedence over payments of pilots and engineers; owner of airline and staff becoming contractors for services thereby compromising standards, the Chairman of the airline taking decisions to buy aircraft that runs into several billions of naira without due diligence just to mention a few.
He said, "The Board of Directors are represented by father, mother, son who have no form of aviation/airline training to qualify to be on the Board in the first place. Also lifestyle of owners takes precedence over payments to pilots and engineers etc. Owners and staff are contractors for service, thereby compromising standards and quality. In most cases overpricing services. Airline staff become flight ticket agents, in most cases creating artificial 'full capacity' situations where when passengers eventually board, a lot of seats are empty."
According to Kuru, the trend is that in such airlines without structure, staff loyalty is only to the owner, not to the company. Proper attention is not paid to suppliers of parts, lessors, line maintenance providers, while fuel suppliers, are not paid as at when due. Once the airline operates this sort of structure, vendors will naturally withdraw all forms of business support and the airlines tether to the point of failure. He therefore called on the NCAA to step up on regulations like has been done in the banking sector.
Kuru said it is critical this happens because as he put it, "The Aviation industry is as important as the health industry because it deals with the lives of travellers. It requires more regulation than even the banking industry. It is only in Nigeria that an airline can abandon you at the airport for more than five hours without any recourse. Indeed, there are consequences for frequent cancellations, however I cannot recall any airline punished in the recent past."