Vice President Osinbajo Praised on Brekete Family Human Rights Radio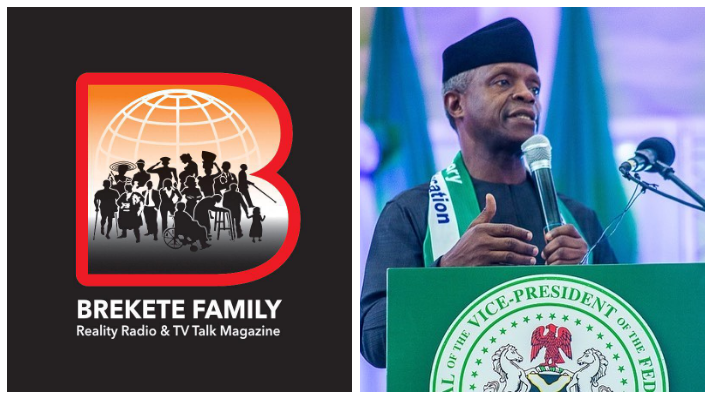 Vice President Yemi Osinbajo has been praised for his selfless contribution to Nigerians on one of Nigeria's leading radio station on Friday.
He was hailed on popular and well celebrated Human Rights Radio 101.1 FM, by Brekete Family presenter, Ordinary Ahmed Isah.
The Ordinary President asked the audience to acknowledge and applaud to the legal contribution of Prof. Osinbajo to the plight of Nigerians.
He noted that the Vice President has contributed free legal services to the Brekete Family. Explaining that Human Rights Radio had over 400 lawyers, Ordinary Ahmed said, ''But one of our lawyer's is trying to reach me, we have 411 lawyers and 18 of them are SANs. It's not been long that the VP 'donated' his chambers to me.
"He said we can refer any case from the Human Rights Radio to the chambers. Let us appreciate the Vice president of Nigeria," he said and the audience responded with a rapturous clap of hands.
Ordinary Ahmed was speaking on the backdrop of an accident that involved the convoy of the Niger State governor and a citizen.
In view of this, Ordinary Ahmed made it open that there was a representative from the Office of the Vice President in the studio to always take note about their proceeding and the plight of the rights of Nigerians and report back.
He requested that the Assistant Director (Admin) from the Office of the VP ensure that decision is taken on the issue.
Then he also said God would bless the Vice President for always standing with the people, it was then he noted that the VP has even obliged the human rights radio of free services from his law firm.
Nollywood A-class actors Richard Mofe-Damijo and Hilda Dokubo were special guests at the Brekete Family show.