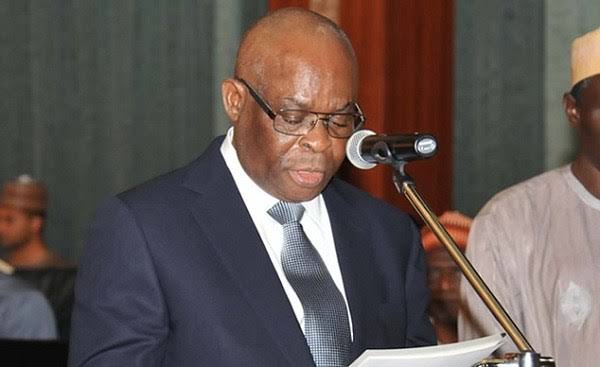 By Sharon Faliya Cham
THE CASE BETWEEN THE PDP AND CHIEF JUSTICE(?) WALTER ONNOGHEN:
The way and manner the entire coalition of thieves and crooks in Nigeria led by the Peoples Democratic Party (PDP) blew their cool and even went off the rails in rabid anger over the timely and legitimate exposure of the suspicion of corruption surrounding the declaration of the assets of Chief Justice of Nigeria, Walter Onnoghen is understandable. It is understandable, especially if you have not forgotten the morbid, pungent, unpalatable history of the PDP and their satellite groups and personalities who look upon the rogue party as a source of inspiration for their vainness, fickleness and fecklessness!
Looking at the comical noises, rants and even threats coming from the gangsters that rule over the PDP over the Justice(?) Walter Onnoghen assets affair, you could be forgiven if you think the charge or accusation of false declaration of assets against a man who heads the country's judicial arm of government is a moral virtue worthy of honour and emulation. As a matter of fact, the sons and daughters of these PDP 'thieftains' listening to them or reading about how their fathers and mothers are fuming with rage and even frothing in their mouths in opposition to the noble quest for the Chief Justice of Nigeria to come clean on his suspicious assets could think that it is a badge of honour for a public official to deceive the government and the public by falsely declaring their assets!
Well, but to we Nigerians who know and understand the gut-wrenching history of the PDP, especially their well documented story of how they plundered and stagnated the growth and prosperity of this country, we know that they will try anything ignoble to jump themselves back to power to continue from where they stopped in their looting enterprise. And that's how the story got out from certain credible sources that the petition to the Code of Conduct Tribunal against Justice(?) Walter Onnoghen was actually a checkmate on the PDP camorra's plan against the man!
Unknown to most Nigerians, the PDP camorra has done an extensive investigation on Justice(?) Onnoghen and discovered that he has such infractions concerning his assets. They confronted him with documented facts in their possession, and then tabled their offer and demands with the threat that failure to accede to their demands will be tantamount to having the facts in their possession published on social media and other media outlets. He balked, just like every other person without integrity will.
There the PDP camorra got their mouthwatering deal that the 2019 elections tribunals will be set up in their favour, especially the presidential election tribunal alongside other key National Assembly seats they are not sure of winning. The ultimate promise was that if the presidential election case comes up to the Supreme Court, Justice(?) Walter Onnoghen will lead other justices of the court to outrightly overturn the election results and award victory to the PDP on technicalities and nothing else will be done since it is the highest court of the land with the last ruling over any matter!
There you are. That's PDP's kind of democracy, and that's how they have been practising it since 2003 till 2011, for we already know that the global and domestic forces that were arrayed against them in 2015 made it surely impossible for them to perpetrate their warped version of democracy. And that is why it is always strange ,comical and equally annoying when you hear them screaming that democracy is being threatened whenever a high profile crook is being brought to book. Their warped version of democracy is, thieves and all manner of crooks occupying or have occupied high positions in government should not be called to account over anything. Remember how they even said the search on Atiku Abubakar's private jet was a threat to democracy?
Just in case you don't know, it is worthwhile to now know that the PDP camorra have done all their research and permutations regarding the 2019 elections and realized that they will not win, and one of their famed Dubai strategies was the use of clandestine investigations and blackmails over key personnel that are vital in the entire electoral process in order to get victory through the back door. Their reckoning was, if hacking and fake news cannot give them victory, then blackmail could. Hence the Walter Onnoghen affair that has now gone sour, which explains their bitter anger and threats to the corporate existence of the country using Niger Delta terrorists!
Well, unknown to them, a timely leak of their plot that necessitated the petition to the Code of Conduct Tribunal blew their whole agenda apart. Now that the secret they have over this fickle and feckless Chief Justice has been made public, their hold over him has become as useless as the uncompleted headquarters of the PDP. They cannot blackmail him again since everybody now knows he has criminally deceived the government and the public. The only struggles this fickle and feckless Judge has now are the struggle between himself and his conscience, and the struggle between himself and the Nigerian public. He has lost all credibility and honour. If he does not resign honourably, every judicial pronouncement that comes from his mouth will be scrutinized with more suspicion than a jealous wife scrutinizes her husband's shirts and pockets for traces of lipsticks, female perfumes and condoms!
What is yet to be known is how long they may have been blackmailing this fickle and feckless Chief Justice, considering the suspicious manner in which the Supreme Court under the leadership of this fickle and feckless Judge threw out the fraudulent assets declaration case of Senator Bukola Saraki who is now the Director General of the Alhaji Atiku Abubakar Presidential Campaign!
Nigerians should recall a PREMIUM TIMES investigative report last year about how the corrupt leadership of the National Assembly were blackmailing the Minister of Finance (at that time) Mrs Kemi Adeosun, and were extorting her of billions of naira. They knew she had a fake NYSC certificate and were using the knowledge of that fact to loot the government through her office. She only got her freedom from those buccaneers after the same PREMIUM TIMES exposed her forged NYSC certificate and she left her office. Now, with the Walter Onnoghen affair, nobody knows how many other top people this PDP camorra is blackmailing but let it be known that as hardened criminals, they will continue to play rough! We have to be rougher and tougher. And it will not be out of place for Nigerians to now demand that all the judgments made by the Supreme Court under the leadership of this fickle and feckless Judge be subjected to judicial reviews. Who knows, perhaps certain rulings may have been tweaked through blackmails.
Now you know why they are so mad that Justice(?) Walter Onnoghen has been exposed.