Nigerian President Buhari: Relationship With U.S. Crucial to Success for Africa's Biggest Economy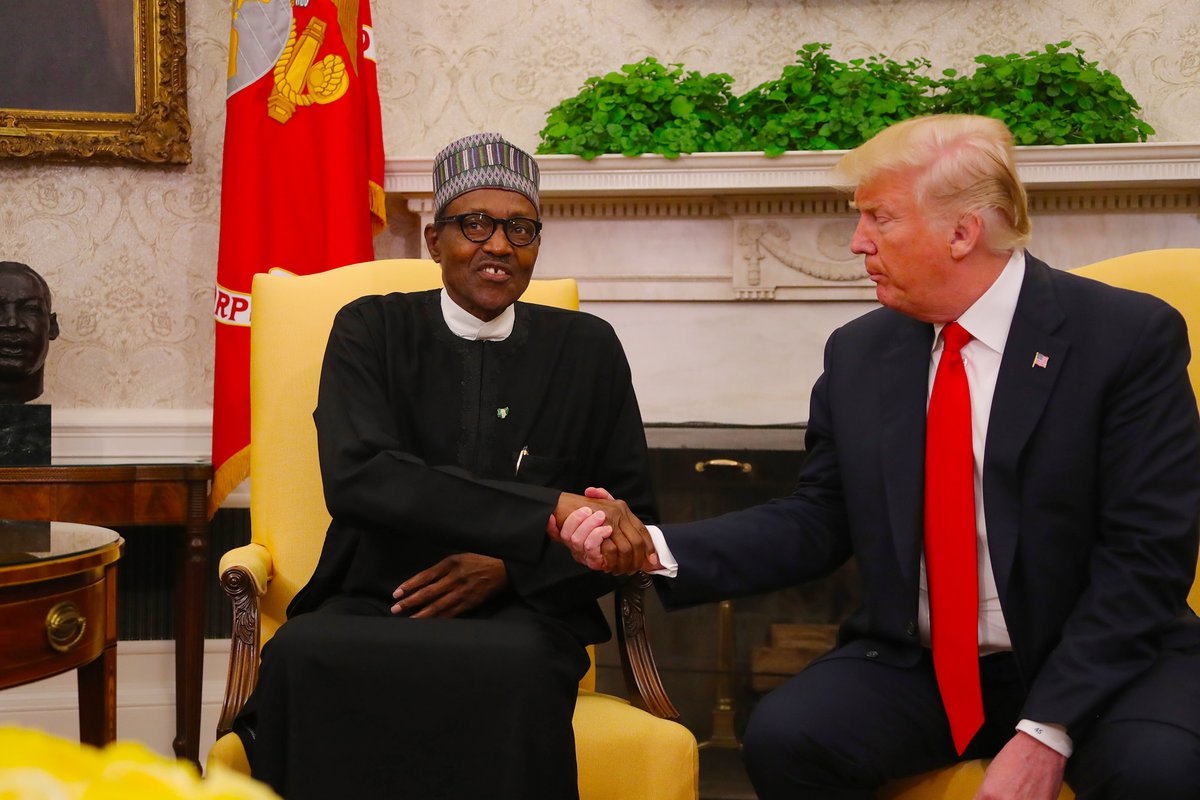 My meeting with President Donald Trump today (Monday, April 30) at the White House will provide an opportunity for reflection on the important relationship that Nigeria and the United States have forged over the last five decades of Nigeria's democracy.
The United States was one of the first countries I visited after I was sworn in as president in 2015. It was a necessary trip, aimed at rebuilding what was at the time a troubled relationship between the two countries. I am pleased to note the success of the rapprochement; nowhere has the impact of this been more visible than in the remarkable progress we have made, with American support, in the fight against Boko Haram.
Before my administration assumed office, the terrorist group controlled an area the size of Massachusetts, New Jersey and Connecticut combined. Today, they are a substantially degraded force, with a capacity limited largely to cowardly attacks on soft targets. The Global Terrorism Index report for 2017 indicated that the number of terrorism-related deaths in Nigeria attributed to Boko Haram dropped by 80 percent in 2016.
An arms sales embargo imposed on Nigeria by the U.S. government during my predecessor's time in office has since been lifted. When President Trump and I spoke by telephone in February 2017, he expressed full support for the sale of U.S.-built A-29 Super Tucano aircraft to Nigeria, to boost the capacity of the Nigerian Air Force to respond decisively to the threat of terrorism and banditry. That deal has now been finalized. I expect that we will continue to enjoy similar levels of U.S. enthusiasm in our security cooperation.
Only two weeks ago, our two militaries collaborated to host the largest gathering of African Army chiefs to discuss cooperation aimed at improving security on the continent, in Abuja, Nigeria.
My administration came to office on the back of a three-pronged agenda: to secure the country, rebuild the economy, and to determinedly fight corruption—the biggest single threat to our development and the prosperity of our people.
In trade and investment, as in security, U.S. companies have been worthy and supportive investment partners over the last couple of years.
In recent years, the Coca-Cola Company entered a strategic alliance—estimated at $400 million—with Tropical General Investments (TGI) Group to increase its footprint in Nigeria's consumer foods sector for the long term. Similarly, Kellogg Company commissioned a $30 million cereal factory in Nigeria, in a joint venture with a Singaporean conglomerate, and both partners have disclosed plans to invest another $50 million on expanding the factory.
The future of U.S.-Nigeria collaboration in the technology sector is similarly bright. Andela, a startup backed by American venture capital and which trains young Africans as software engineers, has its biggest campus in Lagos, Nigeria's commercial capital.
The U.S. government's Overseas Private Investment Corporation (OPIC) also continues to support various private sector–led clean energy infrastructure projects through the Power Africa and the Blackstone-sponsored 540 MW power project in Nigeria.
In 2017, the U.S. and Nigerian governments established the "U.S.-Nigeria Commercial and Investment Dialogue," to strengthen business and investment ties between both countries. The Dialogue, co-chaired by the U.S. Secretary of Commerce and Nigeria's Minister of Industry, Trade and Investment, has since agreed to focus its work on these five sectors: infrastructure; agriculture; digital economy; investment; and regulatory reform.
Extremely pleasing to us in Nigeria is the commitment of an international consortium initiated by General Electric (GE), Transnet, SinoHydro and APM Maersk, to giving Nigeria a modern and efficient rail network. A few days ago, in Washington, D.C., we signed the interim phase agreement that kick-starts the long-term concession agreement with the consortium. This initial deal will begin regular operations on the way to securing the full range of direct investments for the long overdue revamp of Nigeria's 3,500-kilometer narrow-gauge rail network.
Few things, it must be said, have been more emblematic of the declining state of Nigeria's national infrastructure than our national railway system. The network was built over 50 years ago, between 1916 and 1961. Yet, by the end of the 1990s it had completely collapsed. Not only did we become a country compelled to move most of our people and freight by road, generations of our young people also ended up missing out on what it means to travel around their country by train.
As a young officer in the Nigerian military decades ago, my work took me around Nigeria and made me familiar with the convenience of the railway network, as well as its unifying impact in a country as geographically large and culturally diverse—with more than 500 spoken languages—as ours.
In addition to the concession arrangement with the international consortium, we have completed a $900 million rail network linking Abuja, Nigeria's capital, to one of the key agriculture hubs in the north; commenced construction of a $1.2 billion Standard Gauge Line to facilitate trade and travel between the commercial capital of Lagos and two major cities in the south; and are set to commission West Africa's first Intra-City light rail projects in Abuja.
In the last two years, we have committed over $1 billion to upgrading our road infrastructure, and recently we established a significant infrastructure initiative to modernize major national motorways and complete the development of a 3,050 MW hydroelectric power project.
In fact, very few major infrastructure projects were completed in Nigeria in the years leading to my inauguration as president, a period during which the country enjoyed its highest crude oil prices in recent history. The grand corruption of our recent past, that saw tens of billions of dollars frittered away on fraudulent oil deals and bogus military contracts, put paid to all opportunities for an infrastructure revolution.
Now we have seized the chance to do things better. We have cleaned up falsified civil service payrolls and commenced the prosecution of payroll impostors—saving taxpayers hundreds of millions of dollars annually.
We set up a whistleblower policy aimed at deterring corrupt practices in government, and committed to the Open Government Partnership. In January this year, Nigeria was elected to the Partnership's Steering Committee.
A lot of work still lies ahead, of course. We need to build on the gains we have made in fighting terrorism in the Northeast, and in attaining peace in the Niger Delta region.
Climate change, amplified by our rapidly growing population, is another challenge we are facing head-on. The depletion of grazing land and water, arising from intensifying desertification, is triggering often fatal tensions between crop farming communities and nomadic cattle farmers. To cite one example, Lake Chad, the marine mainstay of Northeastern Nigeria and the landlocked countries of Chad and Niger, has shrunk by more than 80 percent over the last five decades.
We are working hard to resolve these challenges—through improved law enforcement, peace-building efforts, and necessary reforms in the management of our land and water resources. Last December, Nigeria became the first African country to issue a Sovereign Domestic Green Bond, to raise financing for clean energy infrastructure.
Our commitment to restoring Nigeria to the path of growth and development is not in doubt. I am enormously confident that we can continue to count on the friendship and support of the American government, and people, as we work to fulfil our vision of a Nigeria—Africa's largest economy and most populous country—that is secure, stable and prosperous.
Muhammadu Buhari is the President of Nigeria.