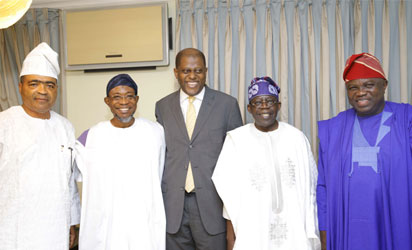 By Yemi Cardoso
My relationship with Asiwaju Bola Ahmed Tinubu goes back decades – spanning his private sector years, his years as Senator and Governor, and the years since then. We first met while he was Treasurer at Mobil and I was a bank officer handling Oil accounts. Suffice it to say that his time spent working in a structured environment would be of great benefit to the bureaucracy when he eventually entered government.
While a Senator, I was struck by his unflinching support for Chief M.K.O. Abiola during the dying embers of the abrogated Third Republic. In the fullness of time, as governor-elect, he invited me to participate in focus groups charged with envisioning the Lagos of the future. This process resulted in a blueprint for the development of Lagos that, with occasional refinement, was rigorously adhered to once in office, and since.
Asiwaju invited me to serve in his administration, and it was there that I came to better appreciate the depth of his thinking and convictions. From the outset, he demonstrated a willingness and capacity for consistency. This propensity was evidenced in policy creation and policy development; he quickly recognised that over time, we needed to get policy right, where it wasn't right to change it, and to be consistent.
Asiwaju understood that if you sat down and planned properly, you could succeed. His establishment of the Ministry of Economic Planning and Budget and its impact on planning and fiscal discipline signalled that things would be different. The state was on its back when Asiwaju took over and he made sure everyone understood the blueprint.
He then partnered with the private sector, ensuring accountability. The Ehingbeti concept reflected this commitment to policy inclusivity. I am pleased that Ehingbeti recently celebrated 20years of its existence as a policy driven multi-stakeholder forum for engagement and was humbled to have been asked to Co-chair the last Ehingbeti summit (representing the private sector) in conjunction with Honorable Commissioner for Economic Planning and Budget Sam Egube .
Both the Ministry of Economic Planning and Ehingbeti were set up and pioneered by my team and I and it speaks volumes as to continuity by the state government that these still remain and play such a major role in governance 20 years later. Critical projects such as Lekki Free Zone, Deep sea Port, Dangote Refinery had their roots in Ehingbeti.
Ehingbeti, started in a sleepy town called Akodo with barely 300 people, and has grown to participation of over 15,000 registered attendees from over 10 countries at its last summit in 2021.
Asiwaju introduced and championed bold initiatives. He recognised the critical role of energy and electricity to his plans for changing the trajectory of Lagos's development but was frustrated by political opposition in Abuja. He was more successful in introducing seminal changes in the judiciary.
He also set in motion (excuse the pun) policies culminating in the Blue Line that is on the cusp of being commissioned. I recall that I was charged with responsibility for getting this project off the ground; I worked closely with the World Bank and floated the Lagos Urban Transport Project, which, after legislation, morphed into LAMATA, which in turn is now birthing the state rail programme.
His readiness to delegate authority enabled a turnaround in the fortunes of the civil service, accelerating the pace of activity in state government. In the process, civil servants took greater pride in their work. Tenacious when convinced of policy direction, he reached out and formed coalitions and didn't shrink from taking on established interests.
I have spoken earlier of his having worked in a structured environment before entering politics; this made it easier for people with a similar backstory to enter government. For those of us that fell into that category, having someone willing to support and champion the reforms we sought to introduce made our jobs immeasurably easier. I distinctly remember at the initiation of Ehingbeti that he showed up personally and stayed on site throughout, letting everyone know that he was four-square behind it.
He brought the first wave of private sector people into government in Lagos, seeing beyond the limits of political machineries. He recognised the importance of private sector engagement and enabled its interface.
For the first time, you had a situation where private sector people sat sideby-side with politicians. Both benefitted from it and the polity continues to benefit. Upon my return to the private sector in 2005, one of my first assignments was to lead the board of Chevron Oil to make a donation of Hilux vans to the Lagos State Security Trust Fund, a newly created entity.
Appreciation of the need for this kind of support continues to grow because of this symbiosis.
Asiwaju is often underestimated by people, at their peril. He was fully behind the concept of understanding why Lagos did not work as the vital first step to turning the state round. It took time but he did not relent. He understood and defined the concept of the megacity, and, in embracing it, attracted the attention of the world. Defining who we were helped to rally support domestically and internationally. That in turn gave rise to the several major reforms such as infrastructure, revenue generation, ICT, amongst others.
He broke the ceiling in terms of budgetary expectations. When he took over the reins of government, budgets only allowed for small, incremental growth. He recognised that Lagos could not continue to grow at the pace it was growing and required a quantum leap; he provided the first quantum leap budget. By also focusing on capacity, he was able to make sure the changes were functional. Again, other states followed.
One of Asiwaju's greatest legacies is the change in mindset about governance that he fostered; not just in Lagos but in other states across the country. People now recognise that change is not the responsibility of government alone. Private sector involvement and CSR are all part of that altered mindset. He was able to imagine change and execute on it, and thereby provide a solid foundation for the transformation of one of the world's largest megacities
Yemi Cardoso, Chairman of Citibank served as the first Commissioner of Budget & Economic Planning in Tinubu's administration (1999-2007)