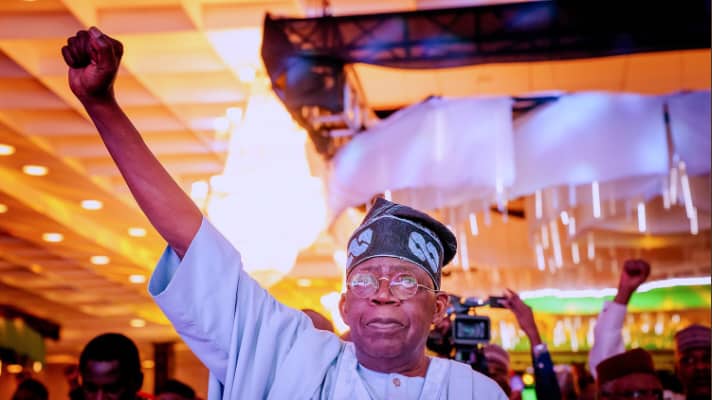 By Dapo Okubanjo
There is not much anyone could write about the politics of President-elect Bola Tinubu that many knowledgeable Nigerians do not know but the 2023 election has been one that reputation counted for nothing and, in Tinubu's case, dented for electoral advantage.
His name has been associated with politics since the 1990s even before he joined other leading pro-democracy activists to rally against the military junta of the late General Sani Abacha.
Tinubu had earlier been elected into the senate to represent Lagos Central at a time the country was on the path to returning to democracy after years of military rule.
But soon the process that was to end with a stalled Presidential election after the then military President Ibrahim Babangida annulled an election that was believed to have been won by the late MKO Abiola.
This more than anything thrusted Tinubu into the national stage as a leading member of the National Democratic Coalition (NADECO) which literally fought the military to a standstill to be the delight of majority of Nigerians.
With the return of democracy in 1999, he was easily elected governor of Lagos state and spent two terms in office, during which he had running constitutional battles with the President Olusegun Obasanjo led administration.
Between when he left office in 2007 and 2015, Asiwaju Bola Tinubu's profile continued to rise, even out of government but he never publicly showed interest in running for an higher office and was seemingly contented with playing the role of a kingmaker in Lagos and the South West geo-political zone.
All through that period, Tinubu was respected by all sides of the political divide as one politician that could not be taken for granted in the political equation
It surprising, he was courted privately and publicly and was believed to have worked for the emergence of Goodluck Jonathan as President even though his then party, Action Congress of Nigeria (ACN), was on the ballot and had former chairman of the Economic and Financial Crimes Commission (EFCC) Nuhu Ribadu as Presidential candidate.
But after the 2015 elections which was won by President Muhammadu Buhari, Tinubu became public enemy number 1 in the eye of opposition elements and their supporters, not because of anything, but for helping to end 16 years of Peoples Democratic Party (PDP) rule.
It however got worse when the Jagaban of Borgu joined the 2023 Presidential race and made the now famous 'emilokan' rallying cry which although was directed at APC members, was given a mischievous twist.
What name hasn't he being called? And what did his traducers not do with his pictures?
A man that was once seen as a major contributor to democratic rule suddenly became a villain so much so that younger Nigerians who had no knowledge of the political struggles of the 1990s were practically brainwashed to see Bola Tinubu as one mafia kingpin that could be blamed for anything from flooding in Abia to poor governance on the fringes of the Lake Chad.
In retrospect, the name calling may not be different from the political strategy deployed by PDP to cast the then candidate Muhammadu Buhari as a Jihadist in the run-up to the 2015 election based on some devious plot Nigerians were later told was concocted by a British PR firm Cambridge Analytica.
So it is indeed possible that the Tinubu slander and defamation came from a similar warped mindset.
But undeterred, the Jagaban soldiered on and covered more ground politically than his closest challengers by the time campaigns were rounding off.
That was also the time that the new cash policy and a nationwide fuel scarcity were threatening to torpedo the campaign but like a truly battle-hardened political warrior, BAT, as he is also known, succeeded in turning adversity into strength with what later became another battle cry that became a popular song in Northern Nigeria.
At the end, Asiwaju Tinubu won majority of votes by securing 8,794,726 votes and got the required 25% of votes in 30 states.
He is also bound to have a good working relationship with the National Assembly where the ruling party has a tidy majority even with a few seats in both chambers still to be decided.
And as Nigerians look forward to the inauguration of the country's 16th Head of state, what seems like the most difficult part of the political hurdle to the Presidency may yet be the easiest considering how fractious the Presidential race was.
But it will be difficult to bet against Tinubu bridging the gap knowing how vast his network of contacts are and his deftness in the game of politics.
Who will dare bet against the last man standing?
Dapo Okubanjo is a journalist and member of APC Professional Forum writes from Abuja