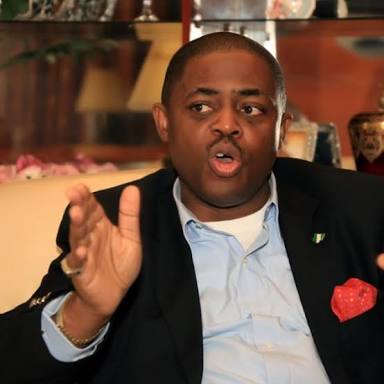 By Eniola Opeyemi in response to Femi Fani-Kayode's "Today Is Osinbajo's Turn To Be Rubbished, Dumped By The Cabal, It's Tinubu's Turn Tomorrow"
FFK political lineage tracks to people like Bode George and Good luck Jonathan… "Ajègbodò tó n wá eni kúnra" (The guilty one is always looking for an accomplice).
As a youth from Southwest Nigeria, I grew up learning the ethics and values of the land from elders of reputable character who have good intentions for the society. Through this, our societal values have gotten the best recommendations and our tribe is widely acknowledged, arguably, the finest. But FFK has refused to accept proper "home training".
From the best pedigree, Professor Yemi Osinbajo SAN, has been well groomed and today, he is one of the finest experts known in his field, both in the classroom and the court room. Osinbajo is so grounded in his field that he is an institution all by himself such that groups and individuals eulogize him even before he came on board as the Vice President of the Federal Republic of Nigeria. Then how can you rubbish an established personality who wasn't known through politics? Besides, he has always exhibited a distinct, flawless and unquestionable character which has stood the test of time over the years?
Reading through Femi Fani Kayode's article, one cannot but come to conclusion that not all ADULT are intelligent.
Egbon is so inconsistent that after he feigned Opposition during Jonathan's regime, he later took a U-turn and accepted a position under the same government he once ridiculed with gaiety: Need we look further? Perhaps Egbon is idle and expecting the Buhari govt to extend a hand to him? Perhaps in the next generation.
Fani-Kayode, who was the Director of Publicity for ex-President Goodluck Jonathan's presidential campaign organization during the 2015 election, has a N4.9billion fraud case still hanging on his neck.
Bros FFK, one can no longer walk both sides of the street at the same time. In case you have not noticed, the politics of principle has, since 2015, defeated the politics of posturing. If you have any sense of propriety, the least you can do is to retract the Corrupt piece and apologize for this latest bunkum.
Osinbajo has said on countless occasions that there is no rift between himself and the President, but in egbon's figment of EVIL imaginations, he has concocted falsehoods because that is where he benefits.
The Vice-president however knew the enemies and detractors are at work, always seeking to dwarf his statue (like the faceless Cabals) in order to delude the public that they are taller than he is. They seek to divert the gullible from his NOBLE and constructive courses into the barren land of petty and strife and fruitless CONTROVERSY. Yeah, quite a few, like FFK, is taller in height than him, but clueless unlike him.
Femi-Fani Kayode is simply a fascist coward; he cannot ever match the feat of the Ikenne born Senior Advocate of Nigeria. The vice-president has the right character to maintain cordial relationships in government unlike egbon's known Rascal attitude that often tends towards bringing down all relationships.
If Fani-Kayode is right in his disposition, he should show us the evidence. But he has none in existence. He has cooked up stories to get his cock and bull shit-bills paid, perhaps by PDP clueless OPPOSITIONS.
For the umpteenth time, FFK should stop playing the Pig whose favorite activity is dragging others in the mud. For now, he should hold his PEACE until he gets a clean bill from the EFCC.