Herdsmen/farmers clashes: FG will not dictate to states on land use- vp Osinbajo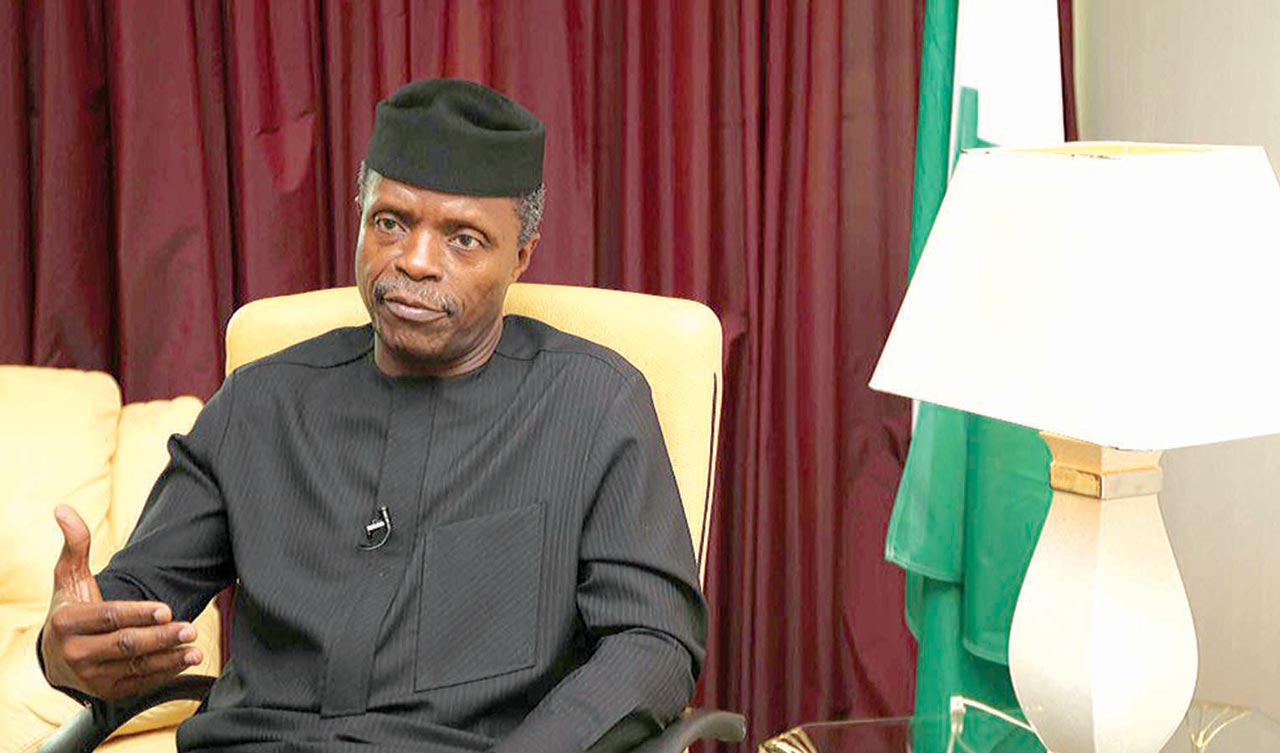 *Says President is very concerned & working hard to resolve the crisis
*"I do not know of any one issue that has given him more concern or on which he has spent more time with Security Chiefs as this particular issue."
*No one is giving land to anyone, as is being falsely alleged. Instead, it is our view that States that are willing and which have set aside land for development should cooperate with willing investors in commercially viable, government-supported ranches or livestock production centres for commercial use.
SPEECH BY HIS EXCELLENCY VICE PRESIDENT YEMI OSINBAJO, SAN, GCON, AT THE NATIONAL SECURITY SUMMIT AT THE NAF CONFERENCE CENTER AND SUITES, ABUJA, ON 

THURSDAY FEBRUARY 8, 2018

.
Protocols.
I am deeply grateful to the distinguished and honorable members of the National Assembly for this very kind invitation, to speak at this crucial National Security Summit. And I especially commend the distinguished majority leader of the Senate, Senator Ahmed Lawan who leads the ad-hoc committee on Security Infrastructure. I also want to say a special thank you to the Senate President for giving me the opportunity of declaring this meeting open.
Hosting this summit underscores your recognition, that the primary business of government is law and order. And by government, I mean the Executive, Legislature and the Judiciary.
I am sure that distinguished members will recall, that the National Economic Council, comprising the Federal and State governments, had held a similar security summit in August last year, at which we had the eminent company of the leadership of the National Assembly, the Chief Justice of Nigeria and all Service Chiefs and several other stakeholders.
That Summit was important because it took into account the several security challenges our country have faced over the years and currently still facing. Also in September 2017 the month after, the federal government, after a year-long consultation with stakeholders, hosted a Stakeholders' Conference on a 10 – year plan themed "Search of Sustainable Livestock Development and Peaceful Co-existence". That plan was launched at that conference in September. I am going to talk a bit about some of the issues that were raised at that conference. 
This very important security summit is an important part of the on-going engagements with stakeholders on the security concerns of our nation.
I am extremely pleased and support fully the Senate President when he said the challenges of our security infrastructure are the concern of all of us and not just those of us in government but all of who are concerned about the peace and harmony of our nation.
Your Excellency, distinguished members of the National Assembly, Nigeria entered the New Year on a tragic and bloody note; 73 persons were murdered in Benue State by persons who were suspected to be herdsmen. To the North, in southern Kaduna, Kaduna State, a traditional ruler and his pregnant wife were murdered in their home. Down south, in Rivers, a cult murdered more than 20 innocent persons returning from a church vigil. On the 3rd of January, 14 worshippers were killed in a mosque at Gamboru, and on the 17th of January, a suicide bombing attack in Maiduguri claimed 10 lives.     
These incidents immediately served as a reminder that there is no room for complacency in the task of securing Nigeria, even against the backdrop of the remarkable progress we've recorded in the most critical of our security challenges at a time: the fight against Boko Haram.
Indeed, Boko Haram is a good starting point for a conversation about security in Nigeria as we go on to the more current and contemporary concerns we have. How a small band of religious proselytizers evolved into the biggest threat to the sovereignty of Nigeria in five decades is a question that has occupied and perhaps, even defied researchers and law enforcement agencies for years.
In 2015, when the Buhari administration took office, much of Northern Eastern Nigeria lay beneath the palpable shadow of the terrorist group. In the two and half years since then, our military has done a remarkable job, reclaiming Nigerian territory, rescuing tens of thousands of civilians, and routing Boko Haram. Today the group is a shadow of itself, forced to resort to cowardly suicide bombings and other attacks on soft targets in a desperate bid at attention-seeking.
Boko Haram was by no means the only security challenge we inherited when we took office in 2015. Cattle rustling, pronounced in the Northwest; clashes between farmers and herdsmen in the North Central region in particular and spreading out to other regions of Nigeria, militant activity in the South-south and parts of the Southwest, simmering ethnic agitation in the Southeast, and kidnapping across the entire country. There was also the Islamic Movement of Nigeria (IMN) in the Northwest, increasingly emboldened to challenge the authority of the State.
The scale and breadth of these security challenges, especially because they occurred in far flung locations in the country, profoundly tasked the nation's security architecture. I want to say that because of the spread and diversity of these threats, the nation's security architecture was stretched, engaging in several parts of the country and with the numbers that we have, that in itself posed a problem for tackling as robustly as possible, many of the challenges that we faced.
But we must say on behalf of the security agencies that they have been deliberate and determined in their responses. For obvious reasons, we have since assuming office, prioritized the anti-terrorism campaign in the Northeast.
Understandably, as Boko Haram has receded in the public consciousness – in the 2017 Global Terrorism Index reported that deaths from terrorism dropped 80 percent in Nigeria in 2016; the biggest decrease worldwide – other security challenges have shuffled forward to take the place of Boko Haram threats.
This does not mean that these challenges are newly-emergent. What is new, is our approach and determination to contain these threats and protect the lives and property of all Nigerians. This determination can mostly be seen in the way our security agents in particular have dealt with Boko Haram and several of the threats in parts of the country.
Over the last three years, some of Nigeria's deadliest criminal kingpins have been arrested or killed. I think credit must go to the security agencies for this. Khalid al-Barnawi, head of the al-Qaeda linked Ansaru terror group, and one of the most wanted terrorists in the world, arrested in Kogi State in April 2016; kidnap kingpin Evans (arrested in Lagos State), Dracula (arrested in Delta), Vampire (arrested in Imo last year). One of the more recent ones is Don Waney, cultist and mastermind of the New Year's Day attack in Rivers State, killed during a joint operation by the Military and the DSS at the end of 2017. We will not relent in our efforts to bring all of these criminals and others to justice.
Since the beginning of the year, following the massacre in Guma and Logo local governments in Benue, the issue of violence by suspected herdsmen has dominated national attention. And rightly so, as Mr. President himself said, "I am a soldier, I have seen death in warfare but the callous killing of innocent people especially women and children is cowardly and despicable in the extreme and it must prevented or stopped and the perpetrators must be punished".
In his statement of commiseration to the Governor of Benue State Mr. President said and I quote "This is one attack too many, and everything must be done to provide security for the people in our rural communities, I have ordered the security agencies to find and capture the perpetrators, they must face justice."
Anyone who has seen the viciousness of the killings, and the wantonness of the damage to property, is bound to be stupefied by the horror.  I was in in Dong village in Adamawa, where herdsmen had attacked the village and killed many. But the vicious killing of Fulani women and children in the same local government in Adamawa State is worthy of mention.
Let me preface this by saying that every Nigerian is entitled to adequate security from government for their lives and livelihoods, government may slip in that responsibility often but I must say never deliberately. Every killing demeans us as a people. Every killing undermines the authority of the State.
This is why the suggestion sometimes, that because President Buhari is Fulani he has ignored the killings by herdsmen is both untrue and unfair. In any event, herdsmen and farmer clashes resulting in deaths have been with us for at least two decades. And I have worked with him for three years now, and I do not know of any one issue that has given him more concern or on which he has spent more time with Security Chiefs as this particular issue.

What then is being done about security? The approach of the government has been to deploy mobile police forces to troubled areas and also both the army and airforce, the Nigerian Army formations and units in Benue State for example, especially 72 Special Forces Battalion, have consistently maintained Forward Operating Bases at the flash areas covering Guma, Logo, Katsina-Ala and Agatu Local Government Areas.
The operation has the generic name Operation MESA, but it is nicknamed Operation ZENDA in Benue State. The Army had within the last few days scaled up the size of troops and equipment in Agatu, Guma, Katsina-Ala and Logo Local Government Areas of Benue State.
The Army also recently deployed troops at Awe and Tunga Local Government Areas of Nasarawa State, in order to monitor and block the gaps that were presumed to be used as staging points by armed herdsmen to attack communities in Benue State. 
Additionally, troops of 93 Battalion, Takum in Taraba State, also occupy blocking positions as well as maintain constant liaison with troops in Benue State.
Furthermore, the command and control structure of the Army formations and units in Benue and contiguous states have been reorganized.
Accordingly, more troops were deployed and the Commander 707 Special Forces Brigade was reassigned to Taraba State for effective command and control of troops operating in the entire Benue/Taraba general area. And next week, the Nigerian Army will flag-off Exercise AYEM AKPATUMA, to checkmate the activities of armed bandits and militias in Benue, Taraba, Nasarawa and environs. 
Although generally the security forces, the entire infrastructure, have performed creditably given their resource constraints, the problem is that in some of the worst killings, security agents were simply not there in time. Whenever that happens as was the case in Logo, Guma, and Mambilla last year, the failure to protect the lives of the innocent is inexcusable, and we cannot rationalize or diminish that failure of our security apparatus of government in any way.
One direct consequence of the scaling up of military and police presence in these parts of the country most vulnerable to attacks by armed herdsmen and other such attacks, is the arrest and detention of hundreds of suspects. And it is in this vein that we will require not only the full investigation of these cases, but also the cooperation of the Judiciary, to enable the speedy dispensation of justice, so that those who have committed these heinous offences are brought to book and are seen to have been brought to book.
One thread running through all of the security challenges in Nigeria is the proliferation of light arms and small weapons. This age-old problem appears to have intensified in recent years on account of the fall of the Libyan Government under Muammar Gaddafi in 2011. These events unleashed large numbers of well-trained fighters, as well as the contents of Gaddafi's armories.
Today, all across West Africa security and intelligence agencies are seeing the devastating impact of these mercenaries, and their arms and ammunition.
Complicating our situation in Nigeria, is the porous nature of our more than 4,000km of borders, which allows the easy flow of illegal weapons. To combat this, we are devoting increased resources to our Customs and Immigration agencies, as well as upgrading the Presidential Committee on Small Arms and Light Weapons into a well-resourced Commission for all of the movement of arms going back and forth through our borders.
Another issue worth taking into account is the ECOWAS Transhumance Protocol which Nigeria signed in 1998. This guarantees free movement to pastoralists, herders across the sub-region. As signatories to that Protocol, we are obliged not to restrict the movement of herders and their cattle from other ECOWAS countries.
This has added a further complication to the problems we already have, besides most foreign herdsmen are exposed to the firearms market noted earlier and are unknown to the local farming populace. What we are doing and must continue to do, is to ensure robust documentation of all entry and exit through our borders, and as we develop new methods of cattle breeding, we must get those coming through other countries to comply with the laws of Nigeria.
Because we know that the security solution is only one dimension of a multifaceted issue, we are also working with the State Governments and Local Communities. In January the Ministers of Interior and Agriculture, on behalf of the President, met with the affected State Governors, and Security and Intelligence Agencies, to discuss workable solutions.
The President and I have at various times this year held Stakeholder Meetings to bring all concerned parties to the table and discuss ways of ensuring peace and security.
On January 15, President Buhari met with Benue political, traditional and religious leaders. A week ago, I met with traditional leaders from the Batta and Bachama Communities of Adamawa State. I also met with Fulani groups, the Myetti Allah and several other such groups.
These meetings and consultations are crucial, human beings have not yet to my knowledge, developed another way of reaching understanding aside from dialogue.  There can and will be no lasting peace without dialogue, and that there can never be too much dialogue regarding a matter that involves the safety of the lives and property of Nigerians.
We are also mindful of the peacebuilding efforts of some State Governments. In Plateau State, for example, the Government constituted a Peace and Reconciliation Committee to work with the Berom and Fulani communities which had been at loggerheads for years.
The Government also went ahead to establish the Plateau State Peace Building Agency, the first of its kind by any State Government in Nigeria. Since its creation in 2016, the Agency has fulfilled its mandate of resolving conflicts and tackling the underlying causes and triggers. The results have been encouraging; Plateau State, once the hotbed of ethnic and communal violence in the North Central, has enjoyed a great deal of peace in the last two years.
While some tensions continue to flare up every now and then, there has been none of the high-intensity violence which we have seen in other States. In neighbouring Kaduna State, there have also been efforts to ensure lasting peace. In September 2017, the State Government inaugurated a Peace Commission under the Chairmanship of the Most Reverend Josiah Idowu-Fearon, Secretary-General of the worldwide Anglican Communion, and founder of the Kaduna Center for the Study of Christian-Muslim Relations.
The Federal Government fully endorses these peacebuilding efforts, and will continue to give our support and assistance to State Governments in this regard.
We are also, with the collaboration of States, and the Governors of Benue, Plateau, Adamawa and along with seven other Governors, have constituted the working group which I chair, where they have been seeking to proffer solutions to some of the problems associated with farmer/herdsmen clashes, but in particular, how to ensure that there is a plan for cattle breeding and rearing which takes into account, contemporary methods of doing so in other parts of the world.
Also in collaboration with the States and other stakeholders, we have been developing solutions to the issues of resource scarcity which is at the heart of the conflicts – the increasing competition for grazing land and water heightened by climate change. All stakeholders agree that we must now develop new ideas to prevent clashes between herdsmen and farmers; in particular enabling the cows and herders to become more sedentary. It is obvious that the physical movement of cattle in an endless journey on the move, must now begin to take a different shape. We cannot afford it even from the economic perspective, there must be another way.
We believe when cattle is sedentary, it will improve the productivity of the cattle. Our beef cattle Sokoto Gudali adds 0.5 Kg per day while the Brahma in Brazil which is bred in a ranch adds 2.5kg per day. Our dairy cows produce 1 litre per day, whereas in other parts of Africa, there is production of almost 15 – 20 litres per day.
There is also a clear sense which I think must be appreciated, that the Federal government cannot dictate to States what to do with their land. This is so because the Land Use Act of 1978 puts land under the control of Governors on behalf of their States. Also, the Supreme Court in the case of Attorney General of Lagos State versus the Attorney General of the Federation in 2004, held that use of land resources and permits for such use, lie firmly in the hands of State Governments. Even for use of Federal lands in the States according to the Supreme Court, building or development control permit must be sought from the Governors of the States.
However in several States, especially in the North, there are duly gazetted grazing reserves. A majority of these grazing reserves are degraded and are without pasture or water especially in the dry season.
Grazing routes leading to these reserves, must also be secured. The grazing reserves to be effective and operate effectively, should operate as ranches or livestock production centres on a commercial basis.  The ranches will have adequate water from boreholes, salt points and pasture.
The locations would serve both as forage points, but also centres for providing extension services to boost animal care, feeding and veterinary facilities, and even abattoirs. Because the ranches are commercial ventures, cattle owners will pay for its use.
It is important to note that by and large, in consultation with stakeholders, all agree that where adequate provision is made on a commercial basis, there is no reason why there won't be cooperation to use those ranches because there are both economic and social benefits for everyone, including herders.
Aside from States that have gazetted grazing areas, so far about 13 States have agreed to allocate 5,000 hectares of land for the ranching or livestock production. We must emphasis that in arriving at any of these decisions in the States, the States, Federal Government and all of the Stakeholders have to seat together and work out solutions that will benefit everyone. This cannot be done by fear or force, people have to work together to ensure that there is adequate consultations.
Let me reiterate, that on no account will any lands be seized or forcefully taken to create these ranches or grazing areas. All insinuations to that effect should be disregarded. No one is giving land to herdsmen, as is being falsely alleged. Instead, it is in our view that States that are willing and which have set aside land for development should cooperate with willing investors into commercially viable, government-supported ranches or livestock production centres for commercial use.
Let me close by summarizing some policy objectives that we need further work on, some of which will benefit from both Legislative and Judiciary cooperation.
The first is that the nature of our security challenges are complex and nuanced. Securing Nigeria's over 923,768 square kilometers and its 180 million people, requires far more men and materials than we have at the moment. It also requires a continual re-engineering of our security architecture and strategies. This has to be a dynamic process. For a country our size to meet the 1 policeman to 400 persons UN prescribed ratio, would require nearly tripling our current police force, far more funding of the police, military and security agencies is required.
Secondly, we cannot realistically police a country the size of Nigeria centrally from Abuja.    State Police and other community policing methods are clearly the way to go.
Thirdly, we must intensify existing collaboration with our neighbours in the Chad Basin, especially border communities to prevent the movement of small arms, and disarming armed pastoralists and bandits who go through our borders day after day.
Lastly, we must avoid the dangers of allowing these conflicts to harden to religious or ethnic conflicts. This is the responsibility of political, religious and all other parts our leadership elite in Nigeria.
Thank you very much for your kind attention.
It is now my special privilege to declare this very important summit open.
Released by:
Laolu Akande
Senior Special Assistant to the President on Media and Publicity
Office of the Vice President
February 8, 2018