Technology and creative Sectors Boost Nigeria's Global Profile – VP Osinbajo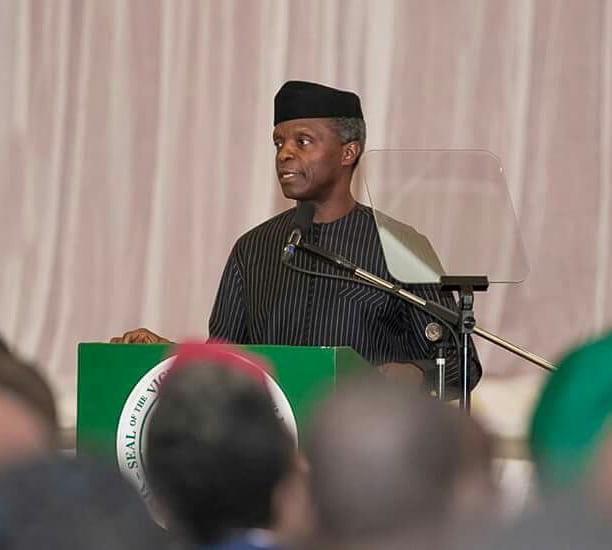 The technology and creative sectors contribute a great deal in terms of employment and have contributed enormously to boosting Nigeria's global profile, according to Vice President Yemi Osinbajo, SAN.
Though Nigeria is still ranked at 134 in ICT development, Prof. Osinbajo said, "the creative sector still contributes just over 1.4 per cent to GDP, stressing that, "the contribution of the technology and creative sectors go beyond macro-economic benefits to the advancement of Nigeria's young working population and preparing them for the digital future which, indeed, is already here."
Prof. Osinbajo was speaking at the inauguration of the Advisory Group on Technology and Creativity, a part of Industrial Policy and Competitiveness Advisory Council which was established by Mr. President in 2017.
The Advisory Group is to bring together relevant ministers and heads of agencies, along with leading business people in order to boost public-private partnership, which is inevitable as the public sector account for only eight per cent of national income.
The Vice President said, "With regard to the creative industry, the Federal Government also recently took action to include the sector among those that will benefit from pioneer status. Efforts are also underway to tackle piracy in term of intellectual property and copyright and to secure financial resources to support the sector.
"The Bank of Industry already has the N1 billion Nolly fund to support production. Such gesture demonstrates the interface between the technology and creative sector, especially with regard to financing, infrastructure and policy."
Inaugurating the Council, Osinbajo urged that, "the work of the Advisory Group must add value to the existing policies by coming up with an inclusive and all-embracing roadmap for promoting the technology and creative sector so that they can create jobs, contribute to growth and improve the well-being of Nigerians."
Members of the Advisory Group include Ministers of Communications Technology; Industry, Trade and Investment, Information and Culture; Science and Technology; governor of Central Bank of Nigeria, Executive Vice Chairman, Nigerian Communications Commission; Director General National Information Technology Development Agency.
Others include the Director General, Nigeria Film Corporation; Managing Director, Bank of Industry; Director General, National Export Promotion Council and the Executive Secretary, Nigerian Investment Promotion Council. Private sector members of the Group include Mosopeoluwa Olasebikan – Civic Hub; Funbi Falayi – Leadspace; Oloho Omame – Endeavor; Kola Aina – Ventures Platform; Kola Oyeneyin –Venia Hub; Ismaila Sanusi – Colab Kaduna; Daser David – Nhub Jos and Adeyinka Adekeye – Founders Hub.