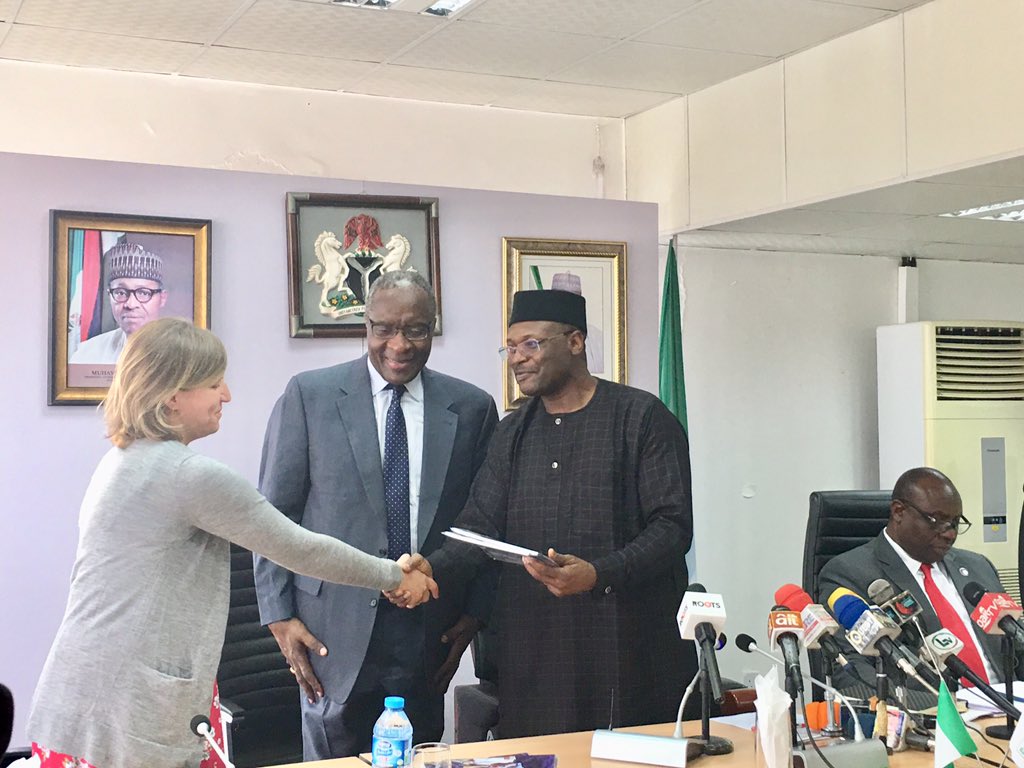 The International Republic Institute (IRI) and the National Democratic Institute (NDI) has praised Nigeria's electoral agency, the Independent National Electoral Commission (INEC) for introducing far reaching reforms prior to the 2019 general elections.
The United States based group made the commendation at a press conference held at the Benue Plateau Room, Transcorp Hilton, Abuja on Tuesday.
In its final report, the IRI/NDI noted that its comprehensive analysis of the electoral process includes important recommendations ahead of Nigeria's 2023 general elections.
"This final report builds on the findings and recommendations of three pre-election assessment missions in July 2018, September 2018, and December 2018 as well as preliminary statements released following the February 23, 2019 presidential and National Assembly elections and the March 9, 2019 gubernatorial and state House of Assembly elections," Dr. Daniel Twining, IRI President said.
The groups, however, noted that the last-minute postponement of the presidential and National Assembly elections on the morning of February 16 and delays in opening some polling units and other administrative challenges on Feb. 23 undermined public confidence in INEC.
Ambassador Derek Mitchell, NDI President called for a national dialogue on election reforms. "The 2019 elections highlighted for many Nigerians the need for a national conversation about the country's democratization since the 1999 transition to civilian rule."
He added that, "We hope this report may both spur and contribute to enriching that national conversation."
The final report provides recommendations to enhance the credibility of elections in Nigeria going forward, including areas of improvement for political party conduct, civic engagement, election security, and legal frameworks around election disputes.
Honourable Simon Karu representing Kaltungo-Shongom in Gombe state in the House of Representatives said the National Assembly will do its share in ensuring that electoral reforms are implemented.
"There are lots of reforms, what we need is implementation. Policies and laws should be implemented by NASS. There should also be comprehensive education of the larger society. We need proper engagements of youths and strategic implementations not just for 2023.
"We should be able to guard our votes; I will project it to the NASS when the opportunity arises. For the rural areas, we should use a collective effort to get internet network to those areas just like the banks. We should not wait for 2020, the private bodies should rise up and not just leave it to the Federal Government. Telecommunications bodies should arise to plant network in these areas to," he urged.
He noted that INEC's conduct of the 2019 election was a notch higher than that of 2015. "In previous elections, accredited voters ended up not voting and their ballots were thumb printed falsely just to meet the figure of those accredited.
"But in 2019 elections, INEC came out to say although this figure were accredited, not all of them voted due to one reason or another.
The high-level delegation for the joint Nigeria International Election Observation Mission included His Excellency Festus Mogae, former president of Botswana; Her Excellency Vaira Vike-Freiberga, former president of Latvia; Her Excellency Fatoumata Tambajang, former vice president of The Gambia; Ambassador Johnnie Carson, former U.S. assistant secretary of state for African affairs; Randy Scheunemann, vice chairman of IRI's board of directors; Ambassador Derek Mitchell, NDI president; and Dr. Daniel Twining, IRI president, along with 40 observers from Africa, Europe, and North America. Five thematic experts were also deployed to provide in-depth analysis on key issues identified during the pre-election assessments: electoral violence, election administration, inclusivity and the political environment.