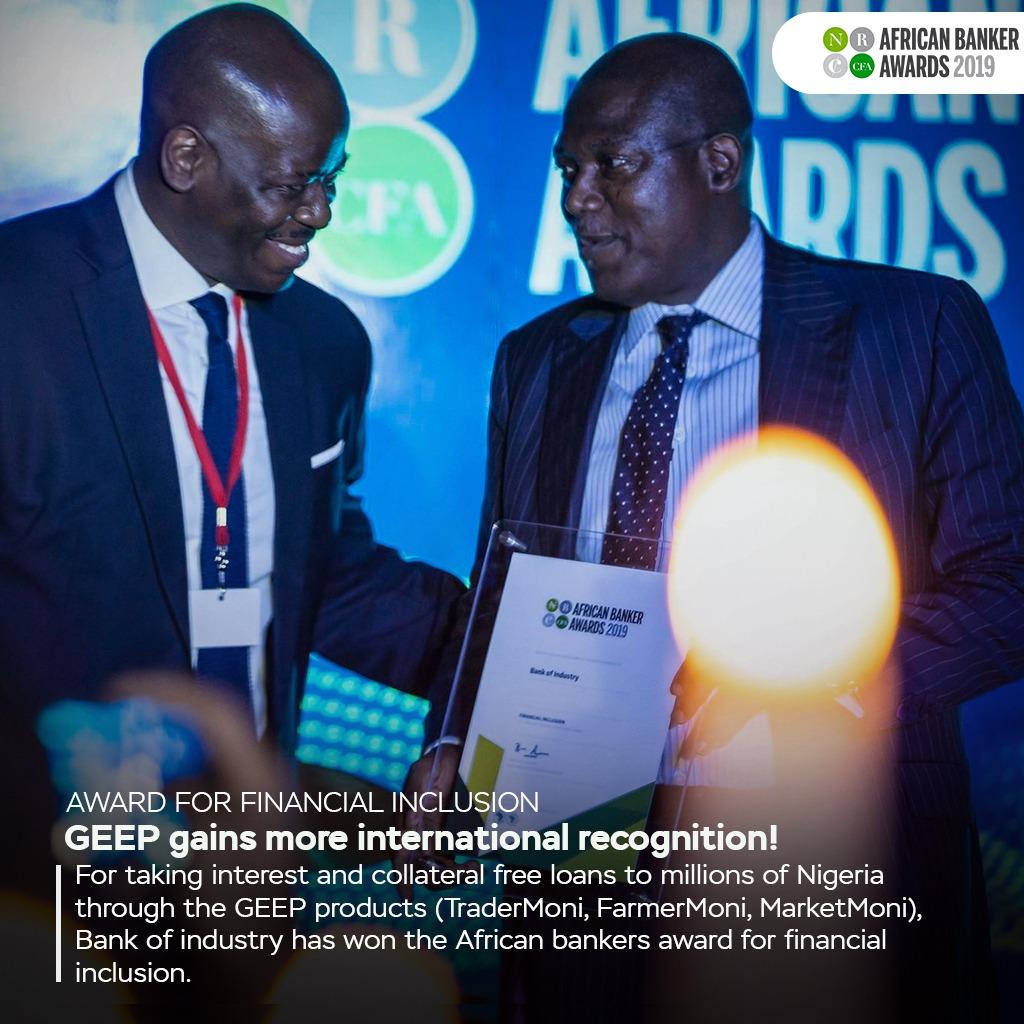 The FG's enterprise empowerment and financial inclusion programme GEEP (Government Enterprise Empowerment Programme), has been awarded as the most impactful financial inclusion programme in Africa. The award was given to the executing body, Bank of Industry at the African Bankers Awards, which was hosted by African Banker magazine in conjunction with Business in Africa Events and held during the Annual Meetings of the African Development Bank (AfDB) in Malabo, Equatorial Guinea.
According to the award documentation, the African Banker's Award for financial inclusion is for the organization, product or program that has best succeeded in delivering financial products and services to wider parts of society, particularly to the most disadvantaged and low-income segments, ultimately contributing to financial inclusion, development, and growth.
The Government Enterprise Empowerment Programme (GEEP) which was launched as a product of the Social Investment Programme (SIP) has benefitted over 2 million local entrepreneurs across the 3 GEEP projects: MarketMoni, FarmerMoni, and TraderMoni; this makes it the largest government-led microcredit program globally. These 3 programs empower micro-enterprises with interest-free and collateral-free loans to grow their businesses.
MarketMoni targets small businesses with soft loans from N50,000 to N100,000 while FarmerMoni targets local smallholder farmers with loans starting at N250,000 and a buy-off guarantee on there produce. TraderMoni having the widest reach due to the target demography has given loans starting at N10,000 to over 1.8 million beneficiaries.
The awards event featured financial institutions and projects from all 54 countries in Africa, as well as the international community. Other award categories and winners at the event include: Investment Bank of the Year (ABSA Capital), Best Retail Bank in Africa (Ecobank ETI), Innovation in Banking (KCB – Kenya), Regional Bank of the year (East Africa – KCB, Kenya; West Africa – Orabank; North Africa – Banque de l'Habitat (Tunisia); Southern Africa – Mauritius Commercial Bank; Central Africa – BGFI, Gabon), Central Bank Governor of the Year (Tarek Amer, Central Bank Governor– Egypt) among others.
Of the over 2 million beneficiaries of the GEEP, the vast majority of these micro-enterprises are petty traders, merchants, enterprising youth, and agricultural workers in over 1600 clusters and markets across all 36 states of Nigeria, and the federal capital. These traders and artisans are financially marginalized, having no access to corporate financial services like a savings account, mobile banking, loan facilities, and the likes. The GEEP, especially the TraderMoni programme, is designed to adequately cater for this majority of the nation's economy by simply using their mobile numbers as simple means to access all the above listed financial facilities.
Apart from easy access to these loans, TraderMoni beneficiaries are given a proper and convenient payback plan. For example, beneficiaries of the first tranche of the loan, which is N10,000, are given a payback plan of N430 weekly for 6 months. This repayment does not necessarily have to be done in a commercial bank. The Bank of Industry has designed repayment vouchers sold by TraderMoni agents across all markets listed on the programme.
So far, thousands of impact stories have been recorded from with beneficiaries narrating how the GEEP has empowered them to expand and sustain their businesses while significantly increasing their incomes.