Adoke's Lame Attempt to Rope Osinbajo in his Soiled Garments – ISD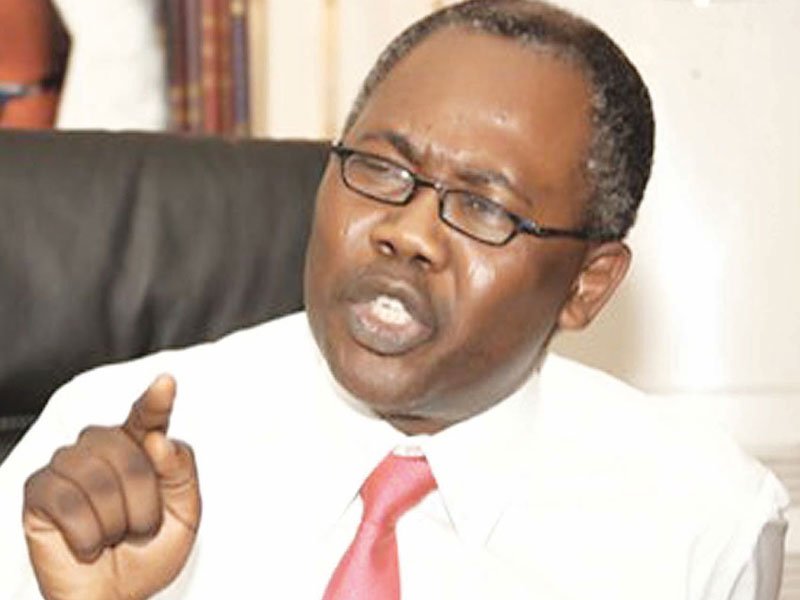 We have read the incredible effort of the former Attorney General Mohammed Bello Adoke to drag the Vice President, Prof Yemi Osinbajo into the mess of scandals and corruption for which he has become well known, it is a lame attempt, the Initiative To Save Democracy has stated.
In a statement signed by its President, James Akinloye, while responding to the recent release of Adoke's book, the group noted that it was sad that a senior lawyer and former Attorney General had been economical with the truth is his book.
"The facts remain the facts, Pfizer broke every law or norm associated with conducting clinical experiments, most importantly by proceeding without an Ethical Committee Review of its then proposed clinical experiment. Essentially, children were used in a drug trial without their parents' knowledge, much less consent. Adoke was counsel to Pfizer."
"The unfortunate outcome of this clinical trial was that some of the victims died, while others suffered debilitating injuries that made them disabled for life. In 2007, SimmonsCooper Partners working with other firms represented the Federal and Kano State Governments to hold Pfizer accountable for its past and continuing conduct."
"As retribution, a victims' fund of over $35 Million was established for monetary compensation of the victim families. An infectious disease hospital was constructed and equipped in Kano as part of the negotiated outcome for the misconduct. As Pfizers lawyer, Adoke is fully aware of all these facts."
"The Halliburton case was nothing like the cases against Pfizer. The Halliburton case, its existence and conduct only became known in the context of criminal investigations. Adoke in his book presents no evidence of a civil case filed in court against Halliburton. So why then does he attempt to compare the Pfizer case with the Haliburton?"
"There is no record of any court proceedings; criminal or civil. There is no evidence of retribution by the companies involved to the Federal Government or victims of their conduct. The allegations against Halliburton and their operatives were corruption and economic/financial crimes for which many were prosecuted abroad, and served, or are currently serving jail terms."
The group noted that the EFCC was an independent body that was free to act at its own discretion, stating that any person who tried to influence its actions was committing a threat to good governance, a conduct the Vice President would not be seen ever engaging in.
"And almost every Nigerian that follows public affairs diligently would easily appreciate the fact that the Vice President is never the type to try to use the EFCC in anyway against the law and decent course of event, let alone the fictional ideas expressed by the disgraced former Attorney General."
"It is so disgraceful that a lawyer like Adoke will not confront serious and substantial corruption allegations against him in the Halliburton and Pfizer matter, but instead go fishing for excuses that cannot fly as he put forward against the Vice President in his self serving missive of a book."
"Individuals or organisations that find themselves under investigation by the EFCC should seek transparency in their affairs to clear their names rather than smear the settlement attained by the legal justice system."
"For a senior lawyer, a former Attorney General, and one who is under investigation for corrupt practices, Adoke's book which took four years to come up with, does little to establish clarity on the allegations and much less to portray his service as meritorious."
"Though this is not entirely surprising, Adoke is a man who is fraught with corruption at every point his name is mentioned. From Halliburton to Malabu. Take particular instance of the notorious role he played with the Malabu Oil Scam that cost Nigeria a whopping sum of $1.2 Billion. Today Adoke is dodging prosecution and continues to hide from the accountability of his role in the forgery of documents and the corrupt transfer of the OPL 245 from Malabu Oil to Shell Nigeria and Agip."
"This is the classical Adoke: a man who has used his privileged position to permit, endorse and create fraud for the corrupt. Now he seeks to launder his stained image with a book that makes fictional claims and untrue events."
The group noted the book written by the former Attorney General wrote left more questions unanswered as to his transparency and stewardship while in office.
"Adoke's book has raised pertinent questions about his forthrightness, character and conduct in service – and the obvious lack of honesty and integrity."