KIKI OSINBAJO: THE SINS OF HAVING INFLUENTIAL PARENTS … by Opeyemi Eniola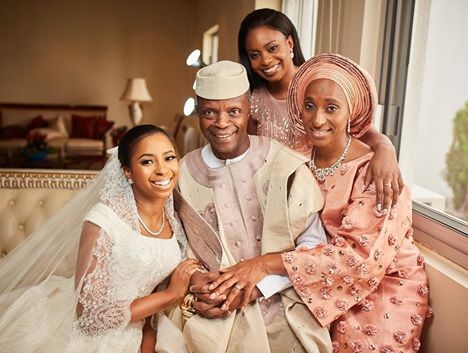 Life itself is a continuous process, why the essence of having children if not to train them to be useful to themselves, the family and the nation. One would quickly come to the conclusion that life is not run-off-the-mill. Meanwhile, in this part of the world, especially in this era of ours, the political atmosphere has taken another dimension; the players and actors of politics have successfully built hatred across ethnic divides, religion and even lasting segregation between all social classes.
We have different parents who have different beliefs about the modalities of training their children to be successful. In 2019, while contesting for Nigeria's vice-presidential seat, the Peoples' Democratic Party Vice Presidential candidate, Mr. Peter Obi said his two graduate children did not own cars.
Obi said he had trained his children to be self-reliant, adding that he had chosen not to join people who crave primitive acquisition.
According to a publication on Punch newspaper on January 3rd 2019, Obi said "I have two graduates who are working, a boy and a girl, and the two of them don't own any car because they haven't made enough money to buy a car."
"They were here for the Christmas, and I was talking to some people about them and the person said he saw my son and that he always jumps on buses and tricycles.
"Some people don't like it that way. They believe I am rich and that my children should not be trekking, and that they should be provided cars.
"But I believe they do not have the money, so they have to trek.
"Who will give them cars — is it me? My money is my own; so, they should work for theirs."
The famous business man turn politician, Chief Moshood Kashimawo Abiola, once had a fierce financial competition with his son, Kola, who claimed to be richer than his dad.
Folarin Falz Falana, the son of prominent activist and legal luminary, rose to the top of his music career even without getting the blessings of his parents at the initial stage. Chief Femi Falana, SAN, while addressing young Nigerians, admitted that his son wouldn't have gotten what he gets in a day for a monthly salary in his chambers. What about the daughter of Femi Otedola, DJ Cuppy and many others?
Every parent's dream is to see their child(ren) do better to beat their records in their respective career choice. One beautiful thing about the present African bred is that they have taken the present in their hands irrespective of their background, not being over reliant on their parents.
Then who sees the wrong in Kiki Osinbajo's Strive?
Recently, I read a publication on the daughter of Nigeria's vice -president, and I appreciate the fact that she was not caught living a lavish lifestyle, but rather built a niche of her own. One wouldn't have expected less from the daughter of a Pastor, a Professor, a Senior Advocate of Nigeria and of course, the most populous black nation's vice president.
Kiki narrated how she built 'Glam'd Africa', her fashion brand, despite the challenges of being "born with a silver spoon".
Kiki could have chosen to remain silent and pretend it is not her outfit, but she wanted every young African to learn from her actions and strive to be great, especially for the children of the rich who rely solely on their parents.
Kiki said: "I may have been born with a silver spoon, but no one can say I don't work hard. A few years ago, I decided to start my own business and, now, I look back and wonder what I was thinking. Turning somewhere into my own little empire,"
While exalting the youths, the daughter of Nigeria's vice – president said:
"I urge emerging talents and entrepreneurs never to give up on their dreams irrespective of how daunting and unachievable they might seem at the onset.
"Never give up on your dream no matter how big and unreachable it seems. People feel those in the limelight can do anything. Everyone's circumstances are different but we all have our own challenges," she wrote.
"Going through the fear and adding criticisms or the burden of nay-sayers makes it even harder. Don't let your challenges define you, let it fuel you."
I have just a question for those that aren't proud of Kiki's achievements; how many of you would want your children to fail? Because most tantrums thrown is just hatred attached to politics or the phenomenon of having a "well to do" background.
Having parents that are rich or influential is not an excuse not to surpass their achievements, it should rather be a solid foundation to greatness.
I appreciate Kiki for being a good model of an African child and I also congratulate the Osinbajos for this great gift to their family.