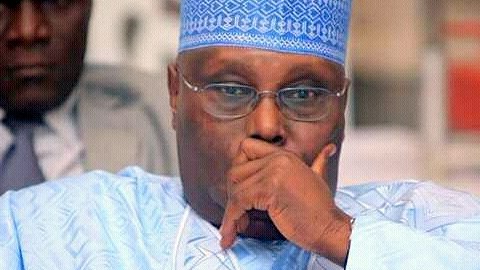 Former Vice President and presidential candidate of the People's Democratic Party(PDP) Alhaji Atiku Abubakar has been accused of inciting his followers to anarchy in the run up to the election.
Making this accusation in a press statement in Abuja yesteday, the Buhari Media Organisation (BMO) also accused Atiku Abubakar of contravening the terms of the peace accord signed by all Presidential candidates at the instance of the National Peace Committee.
In a statement signed by its Chairman Niyi Akinsiju and Secretary Cassidy Madueke, BMO said Atiku Abubakar's recent posturing "is a blantant exhibition of bad faith.
"When the former Vice President and his party failed to show up for the agreement signing ceremony on a flimsy excuse, we raised an alarm that it was because they were not prepared to commit themselves to terms of the accord.
"Rather than focus attention on convincing Nigerians that Atiku Abubakar could do better than what President Muhammadu Buhari and the All Progressives Congress (APC) have done in only three and half years, they have resorted to character assassination and inflammatory comments.
"It all started with pushing lies and false news to paint the President and his family in bad light. Now the PDP Presidential candidate is subtly instigating his supporters to anarchy having realised that majority of Nigerians are favourably disposed to re-electing the President".
"So for us at BMO, it is not surprising because this is what they had in mind when they initially refused to endorse the agreement"
The group also noted that Atiku, who few months ago, said he would focus on issues, has in recent times been launching personal attacks on the President and government institutions.
This, it says, is with a view to discrediting all institutions that would be involved in the forthcoming elections.
"With about a month to the Presidential polls, the opposition candidate has, directly and through proxies, been attacking President Buhari, the Independent National Electoral Commission (INEC) and the Police.
"The plan is clearly to discredit the President and relevant institutions in the run up to the election as well as instigate opposition supporters to resort to violence even before the first ballot is cast.
"Or how can anyone describe a situation where a former Vice President would boldly, without facts, tell PDP social media influencers that President Buhari is bent on stealing votes on February 16.
"He also alleged that the President was out to manipulate the electoral process by ensuring that 'his relative' collates the results even after INEC had cleared the air on Amina Zakari and her role at the National Collation Centre.
"Does it not amount to paving way for violence once it is clear that the outcome of the election does not favour him, as it is obvious from the manner the PDP is losing key members and its campaign losing steam?
"What is more shocking is that the PDP Presidential candidate through his supporters few days ago warned Anambra state governor Willie Obiano to stop campaigning for President Buhari.
"If this is not a call to violence by the militant arm of the opposition against a political leader for expressing his democratic right, we wonder what it is", BMO said.
The group consequently urged former Head of State General Abdulsalami Abubakar and other members of the National Peace Committee to call PDP and its Presidential candidate to order.