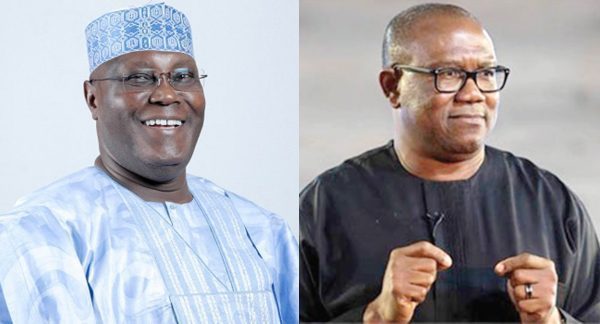 The Presidential candidate of the Peoples Democratic Party (PDP) Atiku Abubakar has continued to show the whole world that corruption would be a state policy if he ever becomes President of the country.
The Buhari Media Organisation (BMO) says that it came to this conclusion after watching Atiku Abubakar and his running mate Peter Obi on "The Candidate", a live television programme on next month's presidential election.
In a statement signed by its Chairman Niyi Akinsiju and Secretary Cassidy Madueke, the group said: "we know that it is not a coincidence that both men made Freudian slips on how they would encourage acts of corruption if (God forbid) they get to the Presidential Villa.
"As was expected with Atiku on the podium, the anchor peron opened the programme by asking the former Vice President to give his thoughts on corruption; but, after defining it as the act of using public office for private gains, it was shocking that the PDP Presidential candidate did not see anything wrong with his company (INTELS) getting the concession rights to some of the nation's Ports in 2006 when he was Vice President and head of the privatisation process.
"Not even Obi, his running mate, saw corruption, nor conflict of interest in his decision to invest Anambra State government's funds in his private business, at a time he was governor of the State
"All these show that the Atiku/Obi ticket would elevate their wheeler-dealer mentality to the level of state craft to the detriment of the average Nigerian, after all he had previously made it clear he would enrich his friends."
The group also questioned the PDP Presidential candidate's readiness to shield corrupt individuals from prosecution if they return looted funds.
It wondered why Atiku would say it is more prudent to grant amnesty to looters rather than put them up for trial.
"But what many would find befuddling is how he prefers amnesty for high profile, politically exposed persons and then cite Turkey as an example of where it worked.
"What he left out is that Turkey, under President Recep Tayyip Erdogan, has a criminal code that criminalises various forms of corrupt activities even, if it is just an attempt to corrupt a public official. Individuals in that country may be incarcerated for up to twelve years for simple bribery offences while Companies may face seizure of assets or income as a penalty.
"The example of Malaysia and Kenya which attempted to grant amnesty to corrupt persons in exchange for the return of looted funds, but failed, showed that applicable sanctions are the best way to confront corruption in high places.
"The success story of the President Buhari administration in assets forfeiture in the last three years shows that seizing assets and funds found to be proceeds of corruption, and also prosecution, can serve the purpose of double deterrent, especially now that the courts have given legal backing to Executive Order 6."
The Pro-Buhari group added that the PDP Presidential candidate and his running mate again showed that their campaign is based on lies, with the way they reeled out unverifiable statistics and data.
"Even before the programme ended, fact-checks showed that Atiku and Obi dished out lies on issues ranging from Nigeria's GDP in 2015, to security challenges before the Buhari administration.
"We make bold to say that these individuals cannot be trusted with power at a time that Nigeria is just recovering from sixteen years of misrule. Any outright sale of government owned enterprises to cronies and friends at giveaway rates can only lead to catastrophic consequences," the group warned.