FG'S Maintenance Policy is to Empower Nigerians at the Base of the Economic Pyramid – Fashola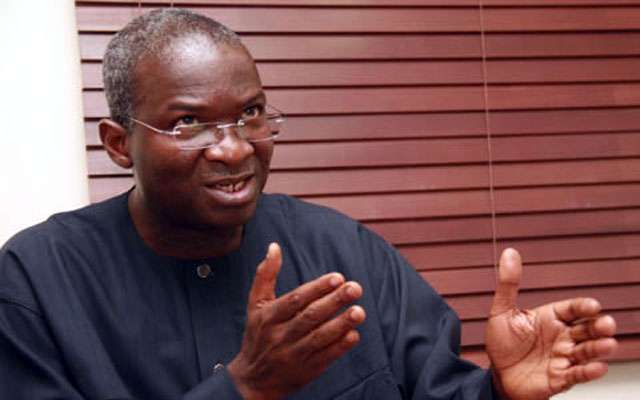 FG'S Maintenance Policy is to Empower Nigerians at the Base of the Economic Pyramid, Enable Small Businesses Grow
The Minister of Power, Works and Housing, Mr. Babatunde Fashola SAN, Thursday in Abuja, briefed the Press on the recently approved National Infrastructure Maintenance Framework saying it is a choice of the Buhari Administration to drive the small business sector, skill utilization and to move the economy from growth without jobs to growth driven by new jobs that reward services.
Addressing newsmen at a conference, attended also by Heads of Ministries, Departments and Agencies as well as Parastatals and Members of the National Assembly, among other stakeholders, Fashola said, however, that the Framework, which applies to public buildings for now, would ultimately extend to other public assets like roads, bridges, rail, power installations and other infrastructure of a public nature.
The Minister, who said the Framework was approved on January 9, 2018, explained that the Federal Executive Council's approval meant that "after decades of agonizing about lack of maintenance, the Buhari government has chosen to act", describing it as "policy decision of enormous profundity", as, according to him, "the records do not indicate that any such policy decision has previously been taken at the federal level".
He said the decision to approve the Framework was provoked by a memorandum from the Ministry of Power, Works and Housing that challenged the conventional thinking that "Nigeria does not have a maintenance culture", adding, "The memorandum argued and FEC agreed, that maintenance of infrastructure, whether public or private, is not a cultural issue but an economic one".
According to him, the memorandum showed that in the built industry, only about 23 per cent of the workforce was employed by Design (6%), Construction (15%) and Governance (2%), while the remaining 77 per cent were employed by Maintenance and Operation adding, "the Council was persuaded to accept that while skill training and vocational centres exist almost nationwide for training artisans like plumbers, painters, bricklayers, welders, tilers, electricians etc., there is a lack of National policy that makes the practice of these vocations economically worthwhile on a sustainable basis".
The Minister said available data showed that many people trained in vocations such as Plumbing, Carpentry, Tiling, Masonry, Painting, Bricklaying, Welding, Electrical installations etc often resort to other vocations in which they do not have training such as riding motorcycles and tricycles in order to make a living.
Giving details on what the Framework entails, Fashola said the first step would be to conduct Site Assessment of the affected buildings involving measurements, valuation and data collation, all of which, he noted, require the employment of people to carry out the process thereby creating jobs even from the very first step, adding that it would also provide for credible data such as lettable space, value of the property and so on "which could form the basis of the economic decisions or even actions in emergency periods".
The next step, the Minister said, would be Condition Assessment which would also, according to him, require people to be trained and employed to assess the conditions of affected buildings from foundation to roof and for mechanical and electrical sustainability for purpose adding that the maintenance programme would then be developed from the assessments as to what jobs would need to be done to restore the building to fitness while award of maintenance contract, also based on the assessments, would then be following the existing procurement law.
Citing an example, Fashola, who said the Ministry carried out a pilot programme on nine buildings comprising a Federal Government College, a Federal Hospital, a Federal Court building, a federal prison, a federal secretariat and four office buildings belonging to the Ministry, pointed out that in one of the sample buildings leading up to the memorandum to FEC, out of 63 air-conditioning units, 11 required replacement or repairs while windows, doors, tiles, roofing materials, plastering works were also identified that required replacement or repair.
And in another building, he said, out of about 30 toilets or so, about 12 were not functional, providing jobs for those in the Plumbing business, pointing out that buildings owned by parastatals, airports and others were yet to be reached where such jobs were likely waiting for skilled workers.
"This provides a window of opportunity for small businesses who are into facility management and for young graduates of building technicians, architecture, engineering and even technical schools to register for these contracts", he said adding that successful bidders would then be in a position to employ artisans to execute the maintenance contract they have won in the bid.
Fashola said each Ministry, Department and Agency (MDA) would be responsible for its own procurement for its own building after training of their designated personnel by the staff of the Ministry of Power, Works and Housing who would guide them through the framework approved by the Federal Executive Council, adding that because data is critical to the programme, "each MDA will file data with the Ministry of Power, Works and Housing who will centrally manage data and use it to advise government and brief the public, while the MDA reserves the right to keep its own data".
Reiterating that the implementation of the Framework would start with public buildings, the Minister, who noted that the award of contracts would not only drive employment for artisans but the demand of manufacturing and suppliers of parts like wood, pipes, paint, tiles, electrical fittings, windows and tools, in addition to those of cleaning items like soap, detergent, polish, varnish etc, declared, "This is the economy that we see ahead as we set out to implement this approval as we progress".
On the cost of implementation, Fashola said the pilot survey showed that the nine buildings would cost about N40.3 billion to reconstruct, while it would cost N922 million per annum to maintain them, which is about 2.3 per cent of cost of replacement, adding that if maintenance was pursued the buildings could last their lifespan of between 50 and 60 years and instead of using N40 billion to replace existing buildings it could be used to expand and provide more buildings for the nation's growing population.
"Just these nine buildings will require about 400 people to keep them well maintained a year. For example, the school will require at least 30 people to be employed per school for maintenance; and the federal government owns 104 Unity schools which potentially will require 3,120 maintenance staff. So you can see the economy we see when this extends to all our hospitals, all our courts, all our prisons, all our police stations, all our universities and covers all public buildings", the Minister said.
Comparing the new economic initiative to the Lagos Green Economy, Fashola declared, "This is an economic choice by this government to drive the small business sector, to drive skill utilization and to move the economy from growth without jobs to growth driven by new jobs that reward services".
The Minister also disclosed that President Buhari also in January signed the law to protect people living with disability from discrimination and exclusion thereby "raising the bar for construction, services and a new way of life for Nigerians", adding, "We have five years to comply, and this requires that all our buildings must have lifts and well-designed ramps for people confined to their wheelchairs, not hills they cannot use on their own.
"We must modify all our toilets with support for our brothers and sisters who are living with disabilities, as we must build sidewalks for them to use our roads without colliding with vehicles. Our airports and parking lots in buildings must become compliant with international best practice by providing corridors and facilities for people living with disabilities at arrival and departure points, while a minimum number of slots clearly designated must be provided for vehicles owned by people living with disabilities", he further explained adding that this was another opportunity for jobs to re-design, to re-model, to retrofit all assets nationwide to comply with the law as signed by Mr President.
"This is Nigeria that beckons upon us from today and the immediate future. A Nigeria where public infrastructure works because they are maintained; a Nigeria where everybody has a secure sense of belonging because they can use their skills and labour to earn a decent income and retain their dignity, a Nigeria where government cares for the people living with disability by providing the basic minimum facilities that gives them a sense of belonging to demonstrate their ability", the Minister said.
Pointing out that Government has taken the leadership role to provide the policy and the how to make the present Nigeria possible, Fashola urged all and sundry to take ownership of the platform of opportunities and make it work. "It is now your responsibility and mine to take ownership of this platform of opportunities and make it work for all of us", he said.
Responding to questions during the interactive session with the media and other stakeholders, Fashola explained that the maintenance contracts that would emerge from the implementation of the framework would be funded through appropriation adding that the members of the National Assembly were invited to also take note of the Framework and work out modalities in the annual budgets.
On how to engage artisans and technicians who are already in government and those outside governments, the Minister explained that the Head of the Civil Service of the Federation would provide clarification adding that there are certain levels of entry that government has dispensed with and some of the artisans fall within those entry levels while the services are now contracted out.
Also responding to the question on whether or not there would be sanctions for non-compliance, Fashola said the implementation would be largely by voluntary compliance adding that just as an individual would not wait for sanction before repairing broken down domestic utilities, MDAs would not need sanctions before embarking on maintenance of their facilities.
Earlier in their goodwill remarks, Head of the Civil Service of the Federation who was represented at the occasion and the Director General, National Orientation Agency hailed the Framework as highly commendable in a country where maintenance culture had been jettisoned for decades while the Chairmen, House Committees on Works and Housing in the National Assembly, Hon. Dr. Abubakar Kannike and Hon. Mahmud Mohammed respectively, commended the Ministry for coming up with the Maintenance initiative pledging to play their role in ensuring that it gets consideration in the nation's annual appropriations.