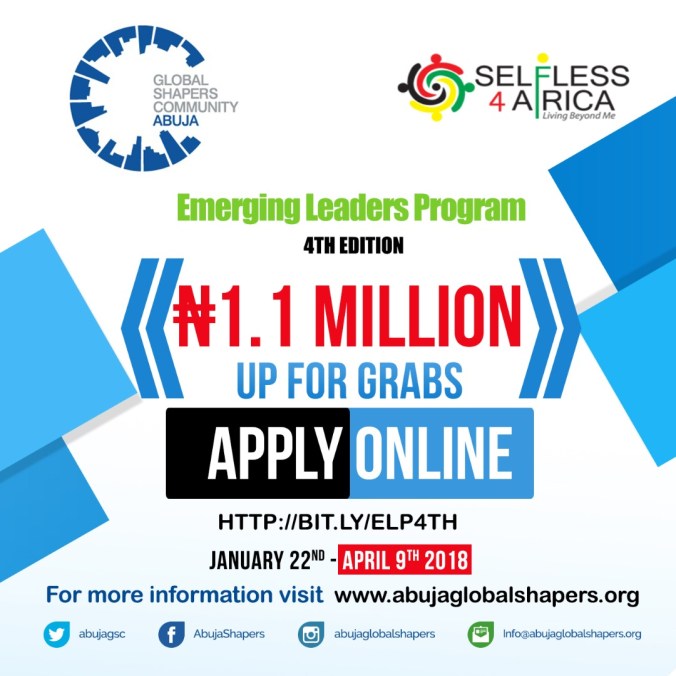 The ELP programme is a project in partnership with Selfless for Africa Inc. which seeks to give grants to young people in Tertiary Institutions across Nigeria to embark on projects that show exemplary leadership and address a prevalent problem in the community. The students are required to form a team of 3 to 5 students and undertake a community focused project. The aim is to provide young teams with sufficient funds in order to fix a problem with sustainable solutions.
Applications are open from January 22nd  – April 9th, 2018.
About the Award
This is a community service award scheme sponsored by Selfless for Africa Inc. and supported by the World Economic Forum Abuja Global Shapers. It will be focused on developing young people in our communities and exposing them to community development initiatives.
This is a volunteering and community service initiative for tertiary institution students across Nigeria. The teams from various tertiary institutions are expected to choose a deprived community in Nigeria, identify a project that can be implemented to benefit the community at large and present a proposal focused on developing/empowering people within that community.
The scheme will encourage the youth of Nigeria to believe in themselves and cultivate the act of volunteerism, community service and patriotism.
Prizes:
Winning team to receive a sum of NGN 1,100.000 as project implementation funds and stipend
showcase of groups efforts across sponsors communication channels (websites, fund raising events etc)
Access to wide range of mentors from the Abuja Global Shapers network and Selfless for Africa Inc.
How to apply
Identify a community in Nigeria that needs support
Fill the application forms here
Deadline is 9th April 2018.