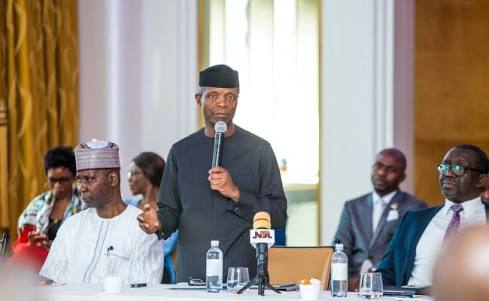 A political group has urged Nigerians to ignore the fake news that Vice President Yemi Osinbajo has resigned from his position.
The Initiative to Save Democracy (ISD) described the unscrupulous rumour as the desperation of the Peoples Democratic Party to stir unnecessary controversy in the South West of Nigeria.
President of ISD, Sunday James Akinloye, urged Nigerians especially Yorubas to shun all fake news emanating from the PDP. "This is completely laughable. How can some people concoct a story that is entirely false, sending thousands of Nigerians into frenzy over nothing?
"This shows that the PDP is desperate and they will stop at nothing to lay their hands on Nigeria's treasury but their plans will not work, in fact, it is dead on arrival.
Akinloye stressed that Nigerians must be wary of any story from PDP because they are the masters of fake news. "They claimed in 2015 that President Muhammadu Buhari was going to Islamize Nigeria once he is voted in but we found that that is a lie.
"They claimed he was Jubril from Sudan and they even claimed that he could not stand or campaign for himself but the man has proven them wrong over and over again.
"The PDP is a destructive party and nothing good can come out of them. The foundation of PDP is faulty and the only thing they know is propaganda and lies even to the detriment of the lives of many Nigerians.
Akinloye urged Nigerians to ensure that the PDP is permanently shut out from Nigeria's treasury for the progress and good of the country.
"They have said it, they want to enrich themselves and their friends, and they do not care about the common man on the street.
"They say they want to come and share the money, we must not allow that to happen. We must be steadfast in the slow and steady path we have embarked upon.
Quoting the Bible, Akinloye said Nigerians must understand that what we sow, is what we will reap. "If we sow Atiku and his corruption, then we will reap hardship from this evil seed. We must be careful what we wish for.
He urged Nigerians to disregard the UK, US and EU, stressing that they are only after their selfish interests. "Before President Buhari came on board all our looted monies were stashed in banks in the UK, US and EU.
"Since President Buhari was elected not only have we stopped laundering our monies to these countries, we are demanding that they return the money with them.
"They are not happy that Nigeria is on the path to prosperity, they want us to perpetually be under them asking for grants and loans.
He urged all Nigerians to vote overwhelming for the APC because that is the only party that can assure us of progress. "Our forefathers say that a good name is better than silver and gold. We must always remember this, always," he said.